'You' Season 2 Breakout Star Ambyr Childers Says Candace 'Really Challenges' Joe: 'Everything Is Turned Up a Notch'
Joe Goldberg is back to ruin the life of yet another unsuspecting young woman on You Season 2. However, his deadly antics won't come without a few challenges.
The new season of the Netflix original series premiered Thursday, reintroducing the murderous stalker Joe, played by Penn Badgley, with a new name—he goes by Will now—in the new location of sunny California. Of course, his move from New York City following the death of his last target, Beck (Elizabeth Lail), means his heart is now free to obsess over someone new. But the sociopathic killer's new life in Los Angeles isn't expected to be as breezy as he hoped, especially when he discovers his mysterious ex-girlfriend Candace—who was believed to be dead throughout most of Season 1—has followed him to the West Coast.
Candace, played by Ambyr Childers, arrives in California with one specific intention: Vengeance.
"All of [Candace and Joe's] back story is going to be revealed in Season 2, and everything is turned up a notch for both of them," Childers told Newsweek during a phone interview ahead of the premiere. "Candace really really challenges Joe, and she puts herself in front of him. They play a really fun cat and mouse game throughout the season."
Read on for more of Newsweek's conversation with Childers below.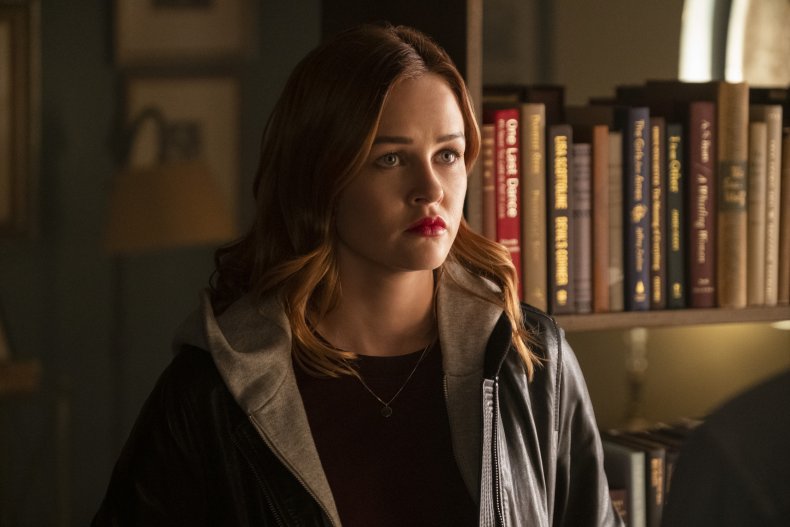 How are you feeling about the release of Season 2?
I'm excited. I'm really excited. I think it's going to be a great season. It's similar and different from the first one. I know that sounds weird to say—but it's different because of the new cast, and it's similar in the fact that we're still dealing with Joe, who's now Will.
What does Candace want from him?
Candace is not a murderer, but she wants justice. That's the most important thing. She wants Joe to be real and honest about who he really is and the things that he's done. She wants to stop him from doing it again. She obviously witnessed him in all these romantic situations, and because of his desperation for love, he ends up hurting people in the process.
What do you think about the way people reacted to the show and campaigned for it to have a second season?
It's great. I think there's a part of our culture that's following the show views it like a bit of a fantasy. There's parts of it that are really interesting and very truthful where a lot of people can relate, and then there's this other sick, twisted side of our culture that likes this darker side of a love fantasy. I get it, but it's not healthy. [Laughs]
What's your advice to someone who encounters a person like Joe?
If you make it out alive, I don't know—Call the police? It's so funny because I had a situation the other day and I, unfortunately, had to call the police regarding to this innocent baby that was out basically being neglected. I called the police three times—every single time I called I couldn't get through. The line was busy. So, honestly, I don't know if calling the police is the best idea. That got me thinking if something really was wrong, I couldn't call the police. They were out to lunch or something. It's crazy. They must be flooded with calls. So I don't know. I never really thought about what to do in a Joe situation. I think I would have to fight. It's scary because love can be deceiving. You just have to protect yourself. It's amazing how much of ourselves we put out there on the internet and social media. The show definitely makes you question how easy it is for someone to get your information, and that's why internet safety is important. You have to be aware of what you're putting out there, and be smart. It's easy to be blinded by love and charm, but you have to really take your time and get to know someone. Everyone's not like him but you still have to be smart and aware of what you're doing and who you're doing it with.
The show really seems to capitalize on the dangers of when love becomes an obsession.
Love definitely is a healthy emotion to feel, but you have to know the difference. I think a lot of people are in these obsessive relationships, friendships, marriages, even parents with their children and it's unhealthy. It's unhealthy for both parties to become co-dependent. The show definitely shows the extreme sides of love and obsession, and unfortunately, we live in a world where we struggle to love things in a healthy way. There are so many addictions across the board—from relationships with people to relationships with social media—especially being in Los Angeles, and it's really unhealthy. It leads to more issues and more problems, and we're not focusing on the things that are important in life.
We need to focus on teaching people the boundaries of love, establishing boundaries as an individual and being able to stand up to those boundaries and setting them up for yourself, even if it's just between you and your phone, or you and a loved one. We get so entangled with these emotions, and I think we need to take a step back and observe the relationships around us and see how healthy or unhealthy they are and what needs to be done to make them better. If you know your own boundaries you're going to have more self-worth, self-love and you'll inspire other people to do it.
How was your experience working with Penn Badgley?
Penn is so sweet. He's so sweet. It's crazy he plays this character so well. I told him, 'You are like such a great f**king actor!" He's such a sweet man, and to see him play this deranged murder—It really shows how talented he is.
If there's one thing that can be learned from Candace's storyline, what is it?
There's a good amount of strength and determination that she has and fear that comes with the circumstances she's putting herself in to. It's easy just to turn your back and walk away from a situation, but when you know there are other people's lives that are at stake, then you definitely have to step in.
She's kind of like a vigilante?
Yes. I've been saying that about her a lot. I feel like she is a vigilante. She has nothing to lose. What you'll find out, what happened to her in her storyline. But when you have everything taken from you, you have nothing to lose. You can only build yourself up from there.
Describe You Season 2 with three words.
Love. Obsession. Determination.