'You' Season 2 Release Date on Netflix, Trailer, Plot and Everything We Know
The psychological thriller You will premiere on Netflix by the end of the year.
Penn Badgley, the show's star, announced the news with a post to his Twitter account on Tuesday, revealing a short teaser that included a December 26 release date.
Badgley plays Joe, who in Season 1 began a relationship with a woman named Beck (Elizabeth Lail) after he had stalked her for some time. The first season chronicles the whirlwind romance between Joe and Beck, ultimately focusing on Joe's behavior.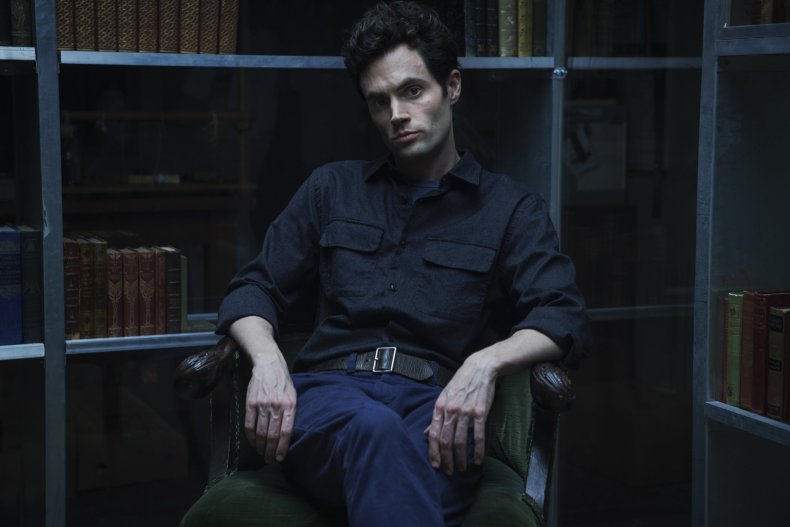 The first season is based on a novel, also titled You, from Caroline Kepnes and You showrunner Sera Gamble confirmed to Cosmopolitan that Season 2 will follow the plot of the book series' second installment, Hidden Bodies.
Hidden Bodies follows Joe as he relocates to Los Angeles and begins to date a woman he meets at the city's Soho House.
"Joe Goldberg is no stranger to hiding bodies," the book summary reads. "In the past ten years, this thirty-something has buried four of them, collateral damage in his quest for love. Now he's heading west to Los Angeles, the city of second chances, determined to put his past behind him."
Badgley received praise for his portrayal of Joe, but also generated a bit of controversy as some fans expressed their attraction to the fictional character. Others slammed the show for idealizing an abusive relationship.
In response, Badgley joked about Joe's psychopathic tendencies while speaking to Newsweek in January.
"In my mind and my delivery, it was so tongue-in-cheek that I was amused," he told Newsweek of Twitter responses to his character. "I've been amused by people's reactions, not horrified. And I think we all anticipated a lot of these reactions, to be honest. It's not a surprise that everybody thinks that he's a charming character. That's kind of the point."
Badgley added that it's not always easy to step into the shoes of such a dark character.
"Look, I'm an actor, and it is somehow fun to act almost no matter what you're doing, but I think I found that I was testing that limit," Badgley said. "I do think there's something unique about this show in that there is no justice. I think what's responsible to do at this point, given the kind of reaction people are having to it, is to not try and stake a claim. You can't tell people how to feel about it."
Season 1 of You premiered in September 2018 on Lifetime. The show announced it was moving to Netflix after the first season finished airing.