What's the Age Difference Between Love Quinn and Theo Engler in 'YOU' Season 3?
It would be fair to say Joe (played by Penn Badgley) and Love's (Victoria Pedretti) relationship in YOU Season 3 isn't exactly the healthiest of marriages. In Episode 1 of the new season, Joe cheated on his wife with his neighbor Natalie (RIP) and in Episode 2, Love set eyes on her teenage neighbor, Theo Engler (Dylan Arnold).
From the outset, there is a significant age difference between the pair, with Love's mother Dottie (Saffron Burrows) berating her towards the end of the season for sleeping with a college student. Her mother's opinion does not stop Love, who continues to welcome Theo's advances.
Victoria Pedretti told Newsweek all of the details about their relationship.
**Warning: This article contains spoilers about YOU Season 3**
What's the Age Difference Between Love Quinn and Theo Engler in 'YOU' Season 3?
Theo Engler is the son of Natalie Engler (Michaela McManus) and the stepson of Matthew Engler (Scott Speedman).
He is a troublesome college student with a strained relationship with his stepfather, particularly following the death of Natalie.
From the outset, it is clear Theo is significantly younger than Love and towards the end of the season, it is revealed he is 19-years-old.
Unfortunately, Love's exact age has never been revealed in YOU, however, in the book Hidden Bodies which serves as the show's inspiration, Love is 35-years-old.
Victoria Pedretti who plays Love is 26-years-old, so we can assume Love is aged somewhere between her late 20s and early 30s.
Throughout YOU Season 3, Love cares for Theo, often booking him Uber's home and helping him deal with his grief. In Episode 5, when Joe is away on a boy's trip to the woods, Love decides to give in to her desires and sleeps with Theo.
From then on, the pair cannot keep their hands off each other, no matter how much Love tries her best to stay away from him. Her suppressed feelings for him are so strong, she begins to even fantasize about sleeping with him whilst she is having sex with her husband Joe. Not that Joe isn't having the same thoughts about Marienne (Tati Gabrielle) whilst with Love.
Speaking to Newsweek, Love Quinn actress Victoria Pedretti described Theo and Love's relationship as "strange and interesting."
Pedretti said: "I mean, [it's] a pretty like strange and interesting relationship.
"I think so much of this season she is trying to get Joe to desire her. We are, you know, taught especially through media. I don't know if this is biological, I don't think it is, but we find our value as women so much of the time of being perceived as desirable, and when she doesn't find that with Joe and it just kind of falls into her lap with Theo.
"I mean he becomes pretty infatuated with her right away, not unlike Joe kind of way, not unlike that rom-com kind of way that we're taught can be somewhat irresistible and so she finds herself in this relationship where there is a lot of the components of Joe, but this person does really seem like he's trying to offer her as much as he has and nurture her but it's also like, deeply inappropriate.
"I don't know what to say about it. It's really kind of sweet to me that these two oddballs are able to support each other in their time because I can't deny the fact that Love really does offer him some sound advice about being in the public eye and dealing with grief. So they really do connect on a lot of different things."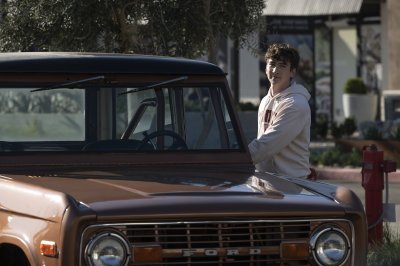 Sadly, things between Theo and Love did not work out, far from it. In the end, Love turned against Theo and tried to kill him, after he finds out Love and Joe were behind his mother's death. Somehow, Theo survived the near-death experience but the same could not be said for Love, who was brutally killed by Joe.
On Theo's fate, Pedretti teased Love would have regretted her actions. She said: "Ultimately, it ends in a way that's very tragic for both of them. I don't think Love felt like there was anything else she could do at that moment to protect her child. But it's, it's something she definitely doesn't want to do."
YOU Season 3 is streaming on Netflix now.