'You' Season 3: Netflix Release Date, Cast, Teaser Trailer and Plot Details Revealed
Serial killer Joe Goldberg (played by Penn Badgley) is returning for a the third season of hit Netflix series You.
Despite discovering that his new partner Love Quinn (Victoria Pedretti) is just as much of a murderous obsessive as he is in the Season 2 finale, Joe decided to stay with her after learning that she is pregnant.
Although their move to the suburbs at first promised a fresh start for them both, Joe soon dived into his creepy dialogue about their neighbor when they arrived at their new digs.
Nevertheless, the new teaser trailer for the series suggests it is his child who will be the focus of his concerns this year, as he tries to be a better father than he ever had.
Here's everything you need to know about You Season 3 - including the release date, cast and teased plot...
When is You Season 3 out on Netflix?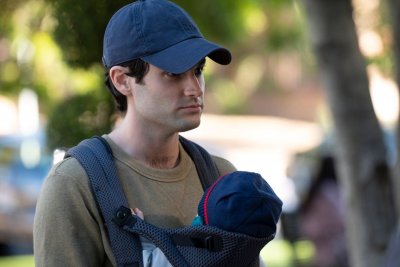 The third season of You premieres on October 15 on Netflix.
Most shows launch at 12 a.m. PT, which would be 3 a.m. ET.
What was revealed in the new teaser trailer?
In the brand new teaser, Joe removes a white frosted celebration cake from a transparent box (much like his infamous glass cage), before he starts decorating it with blood red icing.
He says: "People these days will make their kids anything to get attention. And despite your mother's background and your grandma's determination to call your Forty Reincarnated, I know better.
"A boy is not what we expected and I would be lying if I said the thought of a mini-me was purely exciting and not without challenges. Let's just say I'm hoping he'll do as I say, not as I do."
He vows to change for his child, highlighting the importance of naming him something "strong but not intimidating, classic but not basic."
Joe lands on Henry, which feeds into Joe's love of books given the number of characters in literature who come with that name.
He adds: "Choosing your name is the first of a lifetime of decisions I'll make to give you the best life possible. To protect you, to shape who you will become. Who are you going to be?"
After this, he cuts a piece of cake that reveals the release date for the new series: October 15.
Who's in the cast of You Season 3?
Of course, Badgley and Pedretti return to the fold as Joe and Love, but more characters come into the story after the pair move their new family to the suburbs of Los Angeles.
One is mom influencer Sherry, played by Shalita Grant, and librarian Marienne, played by Tati Gabrielle of Chilling Adventures of Sabrina fame.
Saffron Burrows also returns as Dottie, Love's mother, who is in this series grieving over the loss of her son Forty.
The object of Joe's new obsession, their nextdoor neighbor Natalie, is played by Michaela McManus, while other supporting roles are played by Dylan Arnold and Travis Van Winkle.
The third season of You comes to Netflix on October 15