'You Understood the Assignment': Student's Baking TikTok for School Project Goes Viral
What started as an assignment for a college student's marketing class has resulted in a now-viral video on TikTok, earning more than 750,000 views since it was posted.
Taylor Thomas posted a video of her decorating a Valentine's Day-themed cake on the TikTok account @taysbakeshop. She explains that she is in her final semester of college and is taking a social media marketing class. One of the assignments, Thomas says, is to grow and manage a new social media account.
"I decided to make a TikTok account dedicated to my baking," she says.
In her voiceover, Thomas explains that she is decorating a cake in honor of Valentine's Day approaching. She jokes about the irony of the cake theme and says it was her least favorite holiday.
"I'll probably end up spending it doing homework and buying myself flowers," she says with a laugh, before encouraging viewers to comment how they'll be spending Valentine's Day.
"If you enjoyed this video, please give it a 'like.' I'm really trying to get an A in this class."
The result was a dessert with dripped chocolate on its sides, sprinkles at the bottom, and a red, pink and white ombre frosting. Chocolate-covered strawberries and rosettes topped the finished cake.
Thomas told Newsweek there is not a minimum number of followers she or her classmates must meet. Rather, the goal is to apply what they've learned in class and understand what worked and what did not work.
"We have to set goals and report on our progress but there is no minimum since nothing is truly predictable when it comes to social media," she explained. "Sometimes you're just lucky."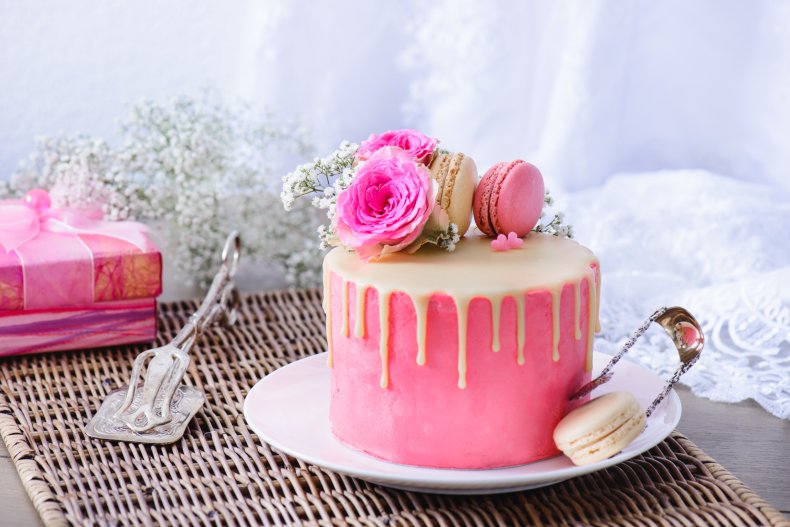 Viewers were thrilled to see the completed dessert and wished her luck in the class.
"Get that A babe!" TikTok commenter chloedaum wrote.
"Yes bae you understood the assignment," angelicaxomae commented.
One viewer offered words of encouragement, as well as a filming tip for the next video.
The verified TikTok for popular baking brand Betty Crocker also commented on the clip. "LOVE," the company's account enthused, including a heart-eyed emoji.
Since posting that clip, Thomas posted another two videos, this time showing how she decorated sugar cookies. She also asked her new followers what content they were interested in seeing.
She said she would work on videos showing off some recipes in addition to her decorating videos.
The TikTok account @taysbakeshop has four videos so far, and Thomas has earned more than 21,000 followers.
Thomas told Newsweek she has been baking since she was 12 years old and knew she wanted to start a TikTok account dedicated to her baking.
She explained that she took a year off after she graduated high school and worked in the bakery department of Wegmans, a grocery store chain. In addition to working in the bakery department, Thomas said she also made custom cakes and cookies for her friends and families.
The baking account was a last-minute change for Thomas, who was originally going to make an account dedicated to completing bucket list items she wanted to do before graduating from school. She explained she thought baking might be too much work, noting that she lives at school and can only bake when she is at home.
"I decided at the last minute to switch it to a baking account," she said.
Thomas said she plans to continue posting to the account, even after she finishes her class.
"This is something I have always wanted to do," she said. "I just needed to find the time to do it. So this class kind of gave me a reason to get it started."
Although Thomas has a few videos on her personal account that went somewhat viral, she was surprised and is grateful for the amount of support she's received.
"I was so shocked that random people I don't even know are invested in my grade in the class," she said. "It's definitely mind-blowing."
Food and baking videos are popular on the video-sharing platform. At the time of publication, videos with the hashtag "baking" had a combined total of more than 14 billion views on TikTok.
"TikTok's flexible editing format allows creative chefs to whip up step-by-step video recipe directions that are easy to follow and visually delicious," according to a piece published in Mediakix. "Most of the cooking trends that gain popularity are simple, easy to prepare concoctions with an artistic twist."
Update 01/26/22, 3:10 PM ET: This story has been updated with comments by Taylor Thomas to Newsweek.