'You Will Not Summon Me': Dave Chappelle Responds to Trans Community After Netflix Backlash
Comedian Dave Chappelle responded to the transgender community in a new stand-up set, saying that he will not be "summoned" following the controversy over his Netflix special The Closer.
In a five-minute video posted on Instagram, Chappelle revealed the impact that the backlash had on the release of his new documentary, Untitled. Speaking to the transgender community directly, the 48-year-old comedian said he's open to a conversation—but under certain conditions.
"I am more than willing to give you an audience, but you will not summon me. I am not bending to anybody's demands," he said.
Chappelle claimed that the press falsely reported that he refused an invitation to speak with transgender employees at Netflix, who staged a walkout following his special, which included controversial jokes about the transgender community.
"If they had invited me, I would have accepted it, although I am confused about what we're speaking about. I said what I said, and boy, I heard what you said. My God, how could I not? You said you want a safe working environment at Netflix. Well, it seems like I'm the only one that can't go to the office anymore," Chappelle said.
TV personality Ashlee Marie Preston reportedly invited the comedian to join the protesters and said he "chose not to show up."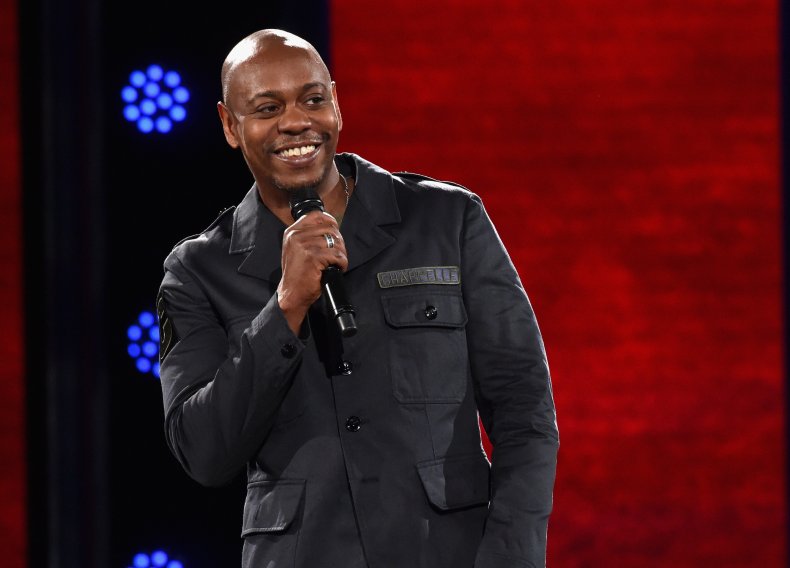 As the crowd cheered, Chappelle told the audience that it isn't him versus the "LBGTQ community" despite what the media says. The comedian said he doesn't want the transgender community to be blamed, claiming it's all really "about corporate interests and what I can say and what I cannot say."
Chappelle went on to praise Netflix co-CEO Ted Sarandos for being the only person in the industry who hasn't "canceled" him yet. The comedian said he previously received invitations to attend film festivals for his documentary, but they were rescinded following the backlash over Chappelle's jokes.
He then directly addressed the transgender community.
"And if you want to meet with me, I'd be more than willing to, but I have some conditions," he said. "First of all, you cannot come if you have not watched my special from beginning to end. You must come to a place of my choosing and a time of my choosing. And thirdly, you must admit that Hannah Gadsby is not funny."
Gadsby is an Australian comedian whose Netflix special Nanette focuses on her personal experience with gender and sexuality and her childhood. She won a Peabody Award and an Outstanding Writing for a Variety Special Emmy for the special.
Chappelle concluded by saying that he wants people to be able to see his documentary even though he understands why investors are hesitant to touch it. He's offering select screenings for the documentary in 10 American cities.
"You can not have this conversation and exclude my voice from it. That is only fair," he said. "You have to answer the question 'am I canceled or not?'"