Three in 10 Americans Believe U.S. Will Be Invaded Within 10 Years: Poll
Nearly one-third of Americans believe the United States could be invaded by a foreign power sometime in the next decade, according to a recent YouGov poll that indicated public pessimism about the country's future.
Quizzed on the likelihood of 15 "dire political scenarios" in the next 10 years, 31 percent of respondents said it was at least somewhat likely that the U.S. would be invaded by a foreign country. 12 percent felt it was very likely.
The U.S. has been the dominant power in the postwar era and continues to field the world's most advanced military force. American defense spending amounted to $801 billion in 2021, nearly three times that of China's $293 billion, according to the Stockholm International Peace Research Institute.
However, China's rapid rise to become a potential adversary in Asia, and ongoing security challenges posed by Russia in Europe despite its post-Cold War decline, have caused concerns among policymakers in Washington, whose anxieties appear to have trickled down to the general public.
Half of those polled by YouGov said the U.S. was at least somewhat likely to lose its superpower status—with responsibilities across the Atlantic and Pacific—in the next 10 years, including 20 percent who said it was very likely.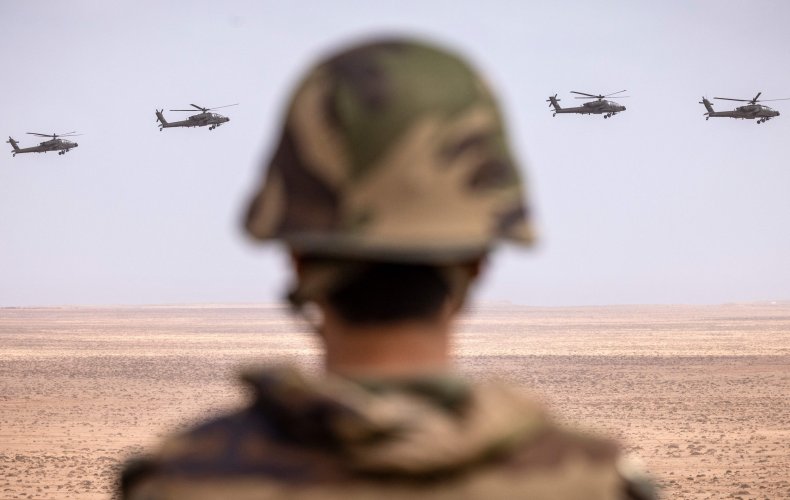 Respondents also had a bleak outlook for America's domestic prospects, according to the survey. Forty-seven percent of respondents felt a "total economic collapse" was either somewhat likely (27 percent) or very likely (20 percent). One in four said a civil war between Republicans and Democrats was at least somewhat likely, and over one-third (37 percent) felt similarly about a civil war in general.
Some 31 percent of those polled said it was at least somewhat likely that the U.S. becomes "a fascist dictatorship," compared to 21 percent who said the country could become "a communist dictatorship."
YouGov's survey, published on September 7, conducted online interviews of 1,000 U.S. adults between September 1 and 4.
The pollster asked half its respondents about the likelihood of each scenario occurring in the next 50 years instead of 10. It found the results to be generally consistent across both time frames, its report said.
Overall, voters who identified as Republicans were more pessimistic about America's future in the coming decade than were Democrats. Among the biggest divides in opinion were seen on questions about a total economic collapse (65 percent vs. 38 percent) and the possibility of the government confiscating privately owned firearms (48 percent vs. 17 percent).
However, both polled similarly (56 percent vs. 55 percent) on the likelihood of the U.S. losing its superpower status by 2032.