'You'll Die Alone at Home': Travel Nurse Warns Hospitals Have 'No Beds' in TikTok Video
A traveling nurse is warning people not to get complacent about the survival rate of COVID-19 because if hospitals are overwhelmed with COVID patients, it means they can't treat people who suddenly need help for any number of other ailments.
About 78 percent of America's Intensive Care Unit beds are occupied and as the nation grapples with a winter surge of COVID-19 cases, only about 17,500 beds remain available, according to the Department of Health and Human Services (HHS). Officials are pleading with people to get vaccinated against COVID-19 to help prevent an even greater surge in hospitals because large numbers of unvaccinated people being hospitalized can have a trickle-down effect on vaccinated people.
Lex, who says she's a nurse and goes by @travelingnurse on TikTok, posted on the social media app on Wednesday that she "wished" people understood that COVID isn't the only threat to people when hospitalizations surge. She acknowledged that people may be comfortable taking their chances at surviving COVID given the 1.6 percent fatality rate, but asked if they're comfortable with their odds of surviving a massive stroke without being hospitalized because emergency departments are "overflowing with patients."
"No beds means no beds. No beds for your stroke. No beds for your heart attack. No beds for your car crash. No beds for your sick child," she said in her video. "You die alone at home. Your parents die alone at home."
Since the start of the pandemic, Americans have been urged to take preventative measures to help flatten the curve of cases in an effort to reduce hospitalizations. Two years later, hospitals are still being overwhelmed with patients, leaving states to ration care or send patients out of state to receive care.
Complicating America's response to the COVID-19 pandemic is a staffing shortage among nurses. Hospitals nationwide are struggling to adequately staff facilities as nurses left the industry in massive numbers due to better financial opportunities, burnout and the emotional toll associated with caring for sick and dying patients during the pandemic.
Dr. Panagis Galiatsatos, a physician at Johns Hopkins University, previously told Newsweek that having good treatments or adequate numbers of ventilators or beds means little without sufficient staff levels.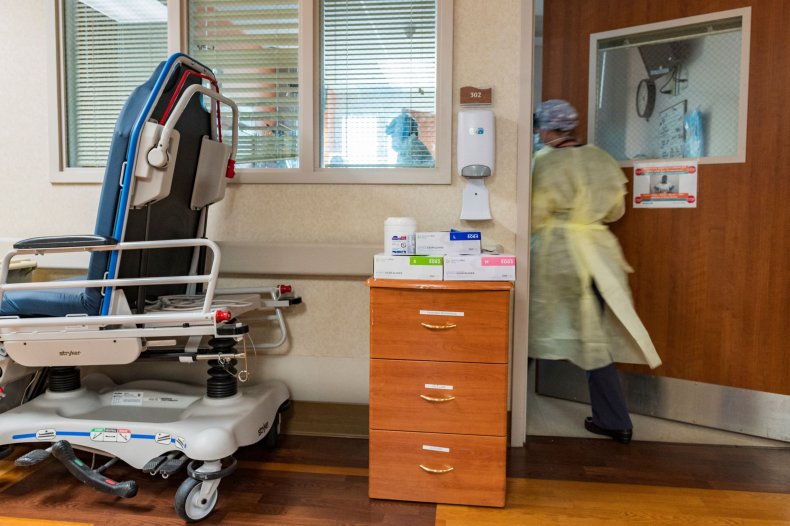 "The worst feeling is knowing you don't have enough staff. Patients will die without enough staff. That's the kicker. That's the one resource I don't have the ability to implement," Galiatsatos said.
The United States is averaging about 7,878 new hospitalizations a week, according to data from the Centers for Disease Control and Prevention (CDC), and more than 60,000 people are currently hospitalized with COVID-19.
Hospitalizations are predominantly being fueled by the Delta variant, which, until this week, was the dominant variant in the United States. However, it's possible that could change because of how highly transmissible the new Omicron variant is. Omicron quickly overtook Delta as the dominant variant and while it's so far shown to largely cause much more mild disease than Delta, global health officials are cautioning against dismissing it as a "mild" virus.
Dr. Maria Van Kerkhove, COVID-19 technical lead for the World Health Organization (WHO), cautioned that anytime a virus causes a surge in cases, there will be people who need to be hospitalized. Those extra hospitalizations coming at a time when Delta has fueled surges in people needing care mean there could be added strain on health care systems and people will die.
Lex isn't the only person warning about the impact surges in COVID-19 hospitalizations can have on vaccinated individuals. As cases surged over the summer, Dallas County Judge Clay Jenkins warned parents that there were no Intensive Care Unit beds available for 100 miles so their child will have to "wait for another child to die" if they need a bed.
During his Tuesday remarks, President Joe Biden also put the blame on hospitalization surges on unvaccinated individuals and noted that an overwhelmed hospital means someone with cancer, a heart attack or another serious illness may not get a bed and lifesaving care.