Young Adults, Hit the Hardest by Unemployment, Are Using Their Savings to Pay for Food During Pandemic
A new survey from Travis Credit Union found that nearly 40 percent of young Americans had to use their emergency savings during the pandemic, with the bulk of those funds going to food.
Seven in 10 young Americans who tapped into their savings spent the money on food. Nearly half used the money to cover utilities, and over 40 percent used it to pay their mortgage or rent.
Of the 2,000 millennials and Gen Zers surveyed, those who had to rely on their funds amid COVID-19 used, on average, a third of their total savings, setting many of them back on their financial goals.
The survey found that the majority of young adults in America are not satisfied with their savings. And among the 1 in 10 who do not have a savings account, more than three-quarters said they do not make enough money to save.
The search for a job that will pay the bills with extra to spare has become even more difficult due to the economic fallout of the pandemic, which has left more than 30 million Americans unemployed.
A Pew Research Center analysis of government data found that young workers are also most likely to be hit the hardest by coronavirus layoffs. Workers in retail trade and food services are the most vulnerable to job cuts.
"Young adults were more vulnerable in the economic fallout from the COVID-19 outbreak because they were much more likely than other workers to have jobs in businesses most affected by the need for social distancing, such as restaurants and hotels," Rakesh Kochhar, a senior researcher at Pew Research Center, told Newsweek.
Nearly half of workers ages 16 to 24 are employed in these service-sector establishments, which puts 9.2 million jobs on the line as these industries shuttered brick-and-motor stores in response to government lockdowns and stay-at-home orders.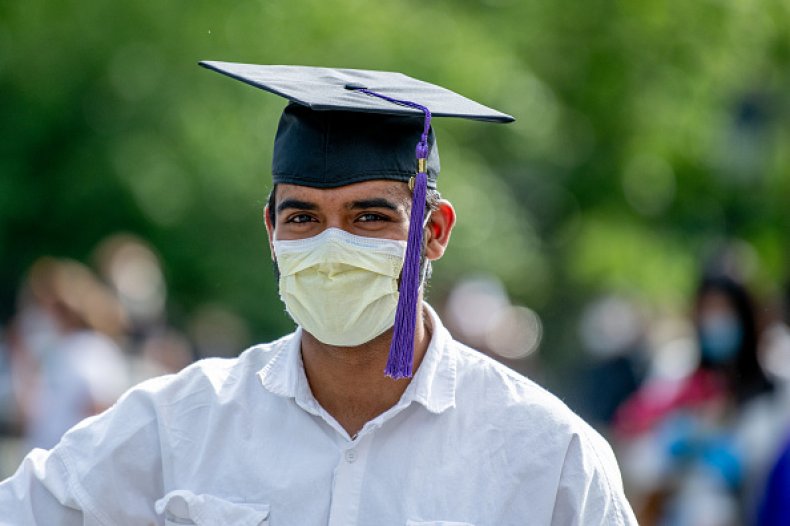 Another survey from the Pew Research Center found that half of the oldest Gen Zers, ages 18 to 23, reported that they or someone in their household had lost a job or taken a pay cut as a result of the pandemic.
On the other hand, job insecurity had less of an impact on older populations. The next generation down, 40 percent millennials said the same while only a quarter of baby boomers reported feeling the economic consequences of the outbreak.
The uncertainty that looms over young Americans is not new to this demographic.
"We've seen crises influence young adults' financial strategies before – one in three said the 2008 economic recession impacted their approach to money and many began to become more aware of their spending and started saving sooner," Kylie Moore from Digital Third Coast told Newsweek on behalf of Travis Credit Union.
"So already, young Americans were smart about saving their money – 90 percent have a savings account and another 40 percent have emergency fund worth an average of $23,950. Nevertheless, a majority said that witnessing the effects of COVID-19 and the current state of the economy will push them to shape their financial habits moving forward. Many plan to take a closer look at their spending and better manage their money while others are planning to contribute more to their savings or emergency fund," she added.
Despite eight in 10 respondents saying they feel anxiety when it comes to saving money, three in four also said they remain optimistic about their financial future.
However, experts from the Travis Credit Union are predicting a larger economic crash as a result of the pandemic than that of the 2008 crisis.
"The global fallout of the 2008 economic crisis was not as swift as today's, which was felt worldwide in less than six months. While social distancing efforts are meant to curb the spread of the virus, they have also created a massive burden on the global economy and strained the global supply chain," Moore said.
Updated 4:09 p.m ET: This story has been updated with comments from Rakesh Kochhar.
Updated 4:56 p.m. ET: This story has been updated with additional comments from Kylie Moore.