The End Of Early Marriage: Young Americans Would Rather Go To College Than Say 'I Do'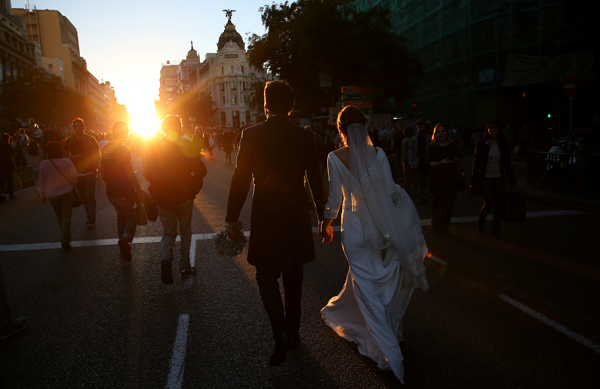 Young Americans live a drastically different life than baby boomers did when they were the age that millennials are now. Most baby boomers were married with children when they were in their twenties—and some had already been divorced by the time they reached the age at which most young adults even start to consider marriage today.
A recent study conducted by the National Center for Family and Marriage Research at Bowling Green State University looked the differences between baby boomers when they were 25-to-34-year-olds in 1980 compared to millennials who are currently 25 to 34. The study found marriage and family life was just one of the areas of stark difference between the groups during early adulthood.
The study, which compared U.S. Census data from 1980 to 2015, found nearly 70 percent of baby boomers—generally people who were born between 1946 and 1964—were married in 1980 while only 41 percent of 24-to-34-years-old were married in 2015. Twenty percent of baby boomers were unmarried in 1980 and 12 percent had already been separated or divorced by 1980.
Meanwhile, more than half of millennials had never been married when they were 24 to 34. Fifty-three percent of young adults were single in 2015 and only seven percent had been separated or divorced by that year.
The BGSU study also noted a majority of baby boomers—84 percent—lived in independent households or with their significant others when they were 24-to-34-years-old in 1980; just 30 percent of millennials weren't living with their parents or a family member in 2015.
However, young Americans appeared to be a lot more inclined to go to college and start their careers than boomers were during the ages of 24 to 34. In 1980, 23 percent of 24-to-34-year-olds were in college and only 23 percent had attained their bachelor's degree or higher. Thirty-two percent of millennials, on the other hand, had some college experience when they were 24-to-34-years-old in 2015 and 35 percent of them had education beyond a bachelor's degree.
Despite the differences in education, baby boomers and millennials were both in the workplace when they were in the 24-to-34 age group. In 1980, 74 percent of that demographic reported working within the past week—like the 74 percent of people in the same age group in 2015.
The study appears to be in line with a separate study conducted by the Pew Research Center in 2016 that found adults 18 to 34 were more likely to still be living with their parents than on their own or with a spouse/partner.