Matt Jackson Explains Why The Young Bucks Left Twitter
The biggest non-in-ring All Elite Wrestling story came after Matt and Nick Jackson - The Young Bucks - decided to quit Twitter before the new year. And now, one of the Jackson brothers gave their reason for the decision.
Matt wrote a note on his Instagram account explaining why he and his brother decided to leave Twitter permanently.
First off, I acknowledge how ridiculous it is that I even need to talk about this, but it's clearly a distraction. My brother & I decided to leave Twitter permanently a few days ago. We realized it took precious time away from our families who've already sacrificed enough time as it is. Also, we've noticed how it seems to stifle our creativity. Lastly, after taking numerous breaks this past year from Twitter, we found it to be healing to our mental health, so getting off completely was the next step. This will not change how we interact with our amazing fans, as we'll continue to put out our best content online. Never be afraid to say hello to us whether it's on social media or in person. Thanks so much for the support. We love you all very much. Happy holidays!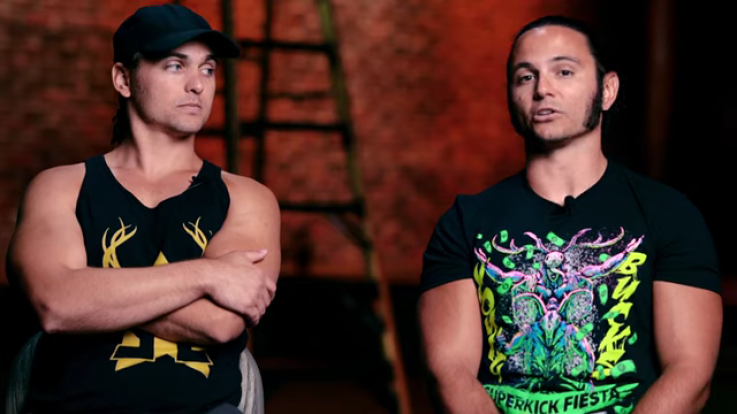 The Young Bucks left Twitter over the weekend, citing the social media platform's "toxicity" as a prime reason. Nick Jackson deleted his personal account while Matt converted his into the tag team's official account, but don't expect it to engage with its followers the way AEW EVPs did.
Matt and Nick's departure from Twitter comes at an interesting time for the duo and All Elite Wrestling as a whole. Following months of generally positive reaction to the promotion and Dynamite, AEW's weekly live television show, the last few days have not been as kind.
The December 18 episode of Dynamite was met with the most criticism from the wrestling fanbase following the decision to end the show with The Dark Order, a stable that has failed to foster favor with AEW fans.
It was also the most derided segment of the week, as one of the masked wrestlers of The Dark Order was shown missing his punches on Dustin Rhodes. The mistake even prompted attention from fellow wrestlers Randy Orton and Tama Tonga.
In true Young Bucks fashion they parodied the moment on this week's episode of Being the Elite, the webseries/travel vlog show that Matt and Nick Jackson along with Kenny Omega and the rest of AEW use to entertain its fansbase and further storylines.
The Jackson brothers have assured their fans that they will still interact on Instagram and through episodes of BTE, but if you're looking to engage with them on Twitter, you'll be out of luck for the foreseeable future.
Matt Jackson Explains Why The Young Bucks Left Twitter | Sports