Small children were captured on video posted to social media in Portland, Oregon on Wednesday holding protest signs and saying "F*** the police" into the camera.
Portland has become the epicenter of controversy as protests over racism and police brutality occurred in the city for over 50 consecutive days. President Donald Trump authorized federal law enforcement agents to patrol the demonstrations. Many Democrats criticized the presence of the federal agents in the city, referred to the agents as members of Trump's "secret police"
The phrase first entered mainstream American culture in 1998 when hip hop group N.W.A. released the song "F*** tha Police." Wednesday's video, allegedly taken outside Portland's federal courthouse, featured the youngsters repeating the phrase which has become a rallying cry for those calling for an end to racism within police culture. Donald Trump, Jr. retweeted the video adding, "These parents should be ashamed of themselves."
Warning: this video may contain language and imagery that may be offensive to some readers.
President Trump has singled Portland out as a symbol of unrestrained protests, pointing the finger at local leaders including Portland Mayor Ted Wheeler. Trump has referred to Wheeler as a member of the "Radical Left." Wheeler has asked for the removal of federal agents, saying that their presence is "actually leading to more violence and more vandalism."
Trump defended his decision to surge agents into the city on Sunday.
"We are trying to help Portland, not hurt it," Trump tweeted. "Their leadership has, for months, lost control of the anarchists and agitators. They are missing in action. We must protect Federal property, AND OUR PEOPLE. These were not merely protesters, these are the real deal!"
Wheeler engaged protesters in conversation outside the Justice Center and Federal Courthouse in Portland on Wednesday night. Crowd dispersion measures were taken by federal agents, which resulted in Mayor Wheeler getting tear gassed. According to a statement from the Portland Police Department, Portland officers "did not engage with any crowds and did not deploy any CS gas. No arrests were made by Portland Police."
After the tear gas incident, Wheeler tweeted Thursday that the incursion of federal agents into Portland must end.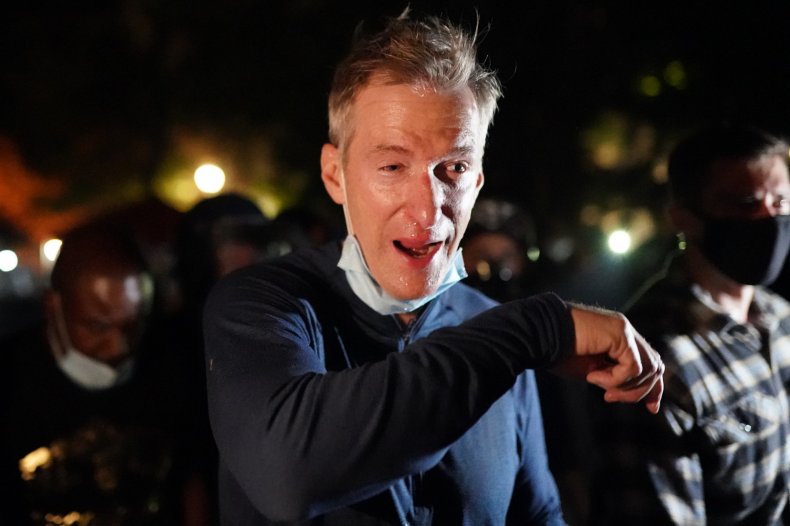 "What I saw last night was powerful in many ways," Wheeler wrote. "I listened, heard, and stood with protesters. And I saw what it means when the federal government unleashes paramilitary forces against its own people."
"It is unconscionable and un-American," Wheeler continued. "We are all committed to change—this must stop so the work can move forward."
Newsweek reached out to Mayor Wheeler's office for comment.
On Wednesday, Trump indicated he would be sending federal agents into Chicago, Illinois and Albequerque, New Mexico as part of a federal initiative called Operation Legend.
U.S. Attorney General William Barr said during a Wednesday news briefing that the federal officers are "'street' agents and investigators who will be working to solve murders and take down violent gangs." Barr also referred to the operations as "the standard anti-criminal activities we have carried out around the country for many decades."