A young Democrat said during a live interview on Fox News that he will likely support former President Donald Trump in the 2024 election.
Jahmiel Jackson, a Black Gen Z student at the University of Chicago, said he is "mostly geared" toward supporting the current GOP front-runner when asked about his voting intention. Records obtained by Newsweek confirm that Jackson, who has discussed conservatism on TikTok, is a registered Democrat.
Trump has been indicted four times this year and has pleaded not guilty in all cases, which involve an alleged hush money payment, mishandling of classified documents, his role in the January 6, 2021, Capitol riot, and whether he and his allies attempted to overturn the 2020 election results in Georgia. He maintains an approximate 42.5-percentage-point lead over his second-closest GOP primary opponent, Florida Governor Ron DeSantis, according to recent polls.
"I have seen the pullout of Afghanistan from Joe Biden, and I watched him check his watch during the funeral of the servicemen," Jackson said on-air. "I think if we were to go to a war, I'm prime-aged to be drafted and I don't want him to check his watch while they're burying me.
"I don't believe that [Biden's] a competent commander-in-chief, and he'd probably blame my death on climate change in the same way he blamed the pullout in Afghanistan on Donald Trump."
The watch reference refers to the 13 U.S. troops, including 11 Marines, who were killed in a suicide bombing at Kabul's Hamid Karzai International Airport in August 2021.
Trump and Biden have have traded barbs, blaming one another for the ill-intended consequences of the Taliban takeover in Afghanistan following what some consider a botched pullout following two decades of war and American military presence.
The former president agreed with the Taliban that he would pull forces from Afghanistan by the spring of 2021. Before leaving office, he pulled 2,500 troops and imposed a May 1 deadline for a complete vacating of troops.
In August 2021, Biden blamed the Trump administration for signing a deal with the Taliban that left them "in the strongest position militarily since 2001."
In April of this year, following his first indictment in Manhattan, Trump—who originally commended Biden's decision as "a wonderful positive thing to do"—called Biden and his administration "morons" for the way they withdrew after a government admission that the evacuation should have been conducted less hastily.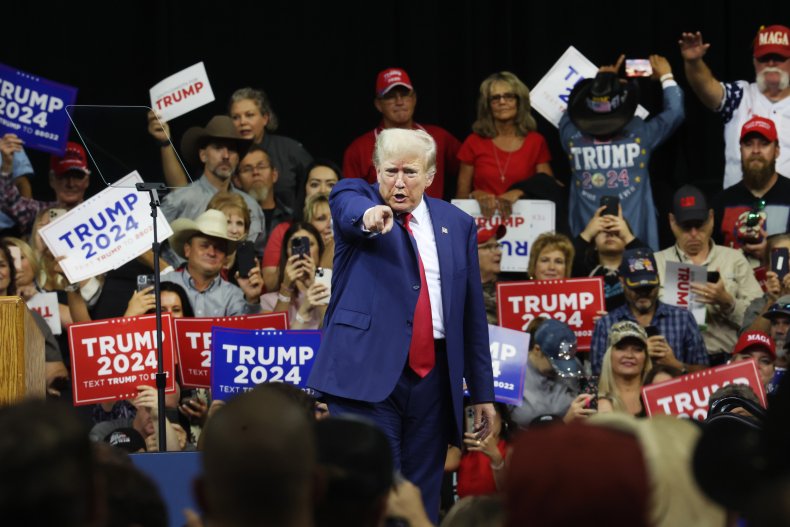 White House spokesman John F. Kirby said that the administration "clearly didn't get things right" in Afghanistan. He referenced how quickly the Taliban took control in the country following the fall of the Afghan government—just months after the administration acknowledged that Taliban fighters were outnumbering U.S. personnel upon Biden taking office.
Trump received more political good news Friday.
A Reuters/Ipsos poll conducted online from September 8-14 found that he is leading Biden in seven swing states that could ultimately decide the 2024 election should they meet in a rematch.
Trump led Biden, 41 percent to 35 percent, in Arizona, Georgia, Michigan, Nevada, North Carolina, Pennsylvania and Wisconsin.