Young Dolph's Partner Mia Jaye Asks How to Tell Kids 'That Daddy is Never Coming Home'
Mia Jaye, the longtime partner of rapper Young Dolph, who was recently murdered in Memphis, addressed his death in a series of social media messages posted Thursday.
"God give me strength...Adolph I love you with all my heart and soul," Jaye wrote in one message posted in her Instagram Stories.
In another, she wrote, "Question is: How am I going to tell my babies that daddy is never coming home?"
Young Dolph, whose real name was Adolph Robert Thornton Jr., was shot and killed on Wednesday at a Memphis cookie shop. He and Jaye had two children—a daughter named Ari and a son named Tre—together before his death at age 36.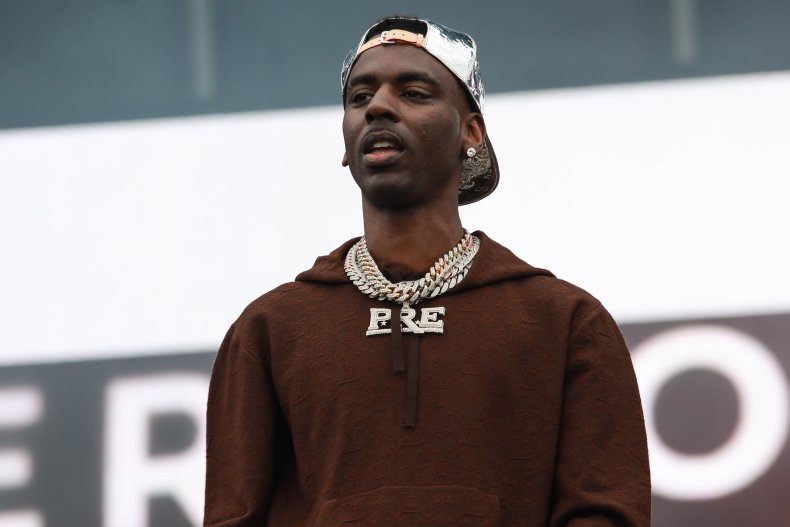 Memphis police are still searching for two suspects who opened fire on the rapper at Makeda's Cookies store. A security camera captured footage of the suspects exiting a white, two-door Mercedes Benz before the shooting.
"The suspects approached the victim while he was inside the business and shot the victim several times," the Memphis Police Department said in a Thursday statement. "The suspects then fled the scene. No arrests have been made. The investigation is ongoing."
The department posted the statement on Facebook, where it also shared photos of the suspects and their vehicle. People with any information are encouraged to contact the Memphis homicide unit at (901) 636-3300 or Crime Stoppers at (901) 528-CASH.
Young Dolph released his debut studio album, King of Memphis, in 2016. His highest-charting album was Rich Slave (2020), which debuted at number four on the Billboard 200. His most recent album, Dum and Dummer 2, came out in March 2021 and was his second collaborative effort with Key Glock. During his lifetime, Young Dolph dropped dozens of mixtapes and seven solo albums.
Jaye is the CEO of the retail brand Shop Momeo, which recently started an initiative called "Black Men Deserve to Grow Old" in August. The campaign is dedicated to raising money and awareness for families who have lost males due to violent crime. She started the cause in honor of her brother, who was also shot and killed.
Among Jaye's Instagram Stories on Thursday was a video of Young Dolph watching their daughter, Ari, doing sit-ups.
Jaye also thanked people for their outpouring of condolences.
"Thank you to everyone for all of your prayers, love, support, calls, messages...I may not see them all but when my eyes are not full of tears, I catch a few," she wrote. "Nonetheless, all the genuine positive vibes, energy and prayers are welcome...because Lord knows I need them."