Young, Gay and Murdered in Junior High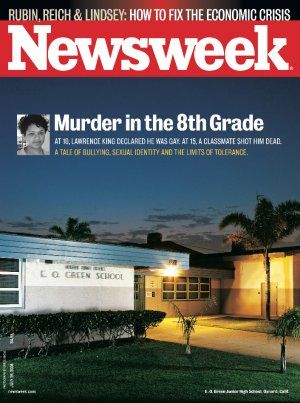 At 15, Lawrence King was small—5 feet 1 inch—but very hard to miss. In January, he started to show up for class at Oxnard, Calif.'s E. O. Green Junior High School decked out in women's accessories. On some days, he would slick up his curly hair in a Prince-like bouffant. Sometimes he'd paint his fingernails hot pink and dab glitter or white foundation on his cheeks. "He wore makeup better than I did," says Marissa Moreno, 13, one of his classmates. He bought a pair of stilettos at Target, and he couldn't have been prouder if he had on a varsity football jersey. He thought nothing of chasing the boys around the school in them, teetering as he ran.
But on the morning of Feb. 12, Larry left his glitter and his heels at home. He came to school dressed like any other boy: tennis shoes, baggy pants, a loose sweater over a collared shirt. He seemed unhappy about something. He hadn't slept much the night before, and he told one school employee that he threw up his breakfast that morning, which he sometimes did because he obsessed over his weight. But this was different. One student noticed that as Larry walked across the quad, he kept looking back nervously over his shoulder before he slipped into his first-period English class. The teacher, Dawn Boldrin, told the students to collect their belongings, and then marched them to a nearby computer lab, so they could type out their papers on World War II. Larry found a seat in the middle of the room. Behind him, Brandon McInerney pulled up a chair.
Brandon, 14, wasn't working on his paper, because he told Mrs. Boldrin he'd finished it. Instead, he opened a history book and started to read. Or at least he pretended to. "He kept looking over at Larry," says a student who was in the class that morning. "He'd look at the book and look at Larry, and look at the book and look at Larry." At 8:30 a.m., a half hour into class, Brandon quietly stood up. Then, without anyone's noticing, he removed a handgun that he had somehow sneaked to school, aimed it at Larry's head, and fired a single shot. Boldrin, who was across the room looking at another student's work, spun around. "Brandon, what the hell are you doing!" she screamed. Brandon fired at Larry a second time, tossed the gun on the ground and calmly walked through the classroom door. Police arrested him within seven minutes, a few blocks from school. Larry was rushed to the hospital, where he died two days later of brain injuries.
The Larry King shooting became the most prominent gay-bias crime since the murder of Matthew Shepard 10 years ago. But despite all the attention and outrage, the reason Larry died isn't as clear-cut as many people think. California's Supreme Court has just legalized gay marriage. There are gay characters on popular TV shows such as "Gossip Girl" and "Ugly Betty," and no one seems to notice. Kids like Larry are so comfortable with the concept of being openly gay that they are coming out younger and younger. One study found that the average age when kids self-identify as gay has tumbled to 13.4; their parents usually find out a year later.
What you might call "the shrinking closet" is arguably a major factor in Larry's death. Even as homosexuality has become more accepted, the prospect of being openly gay in middle school raises a troubling set of issues. Kids may want to express who they are, but they are playing grown-up without fully knowing what that means. At the same time, teachers and parents are often uncomfortable dealing with sexual issues in children so young. Schools are caught in between. How do you protect legitimate, personal expression while preventing inappropriate, sometimes harmful, behavior? Larry King was, admittedly, a problematical test case: he was a troubled child who flaunted his sexuality and wielded it like a weapon—it was often his first line of defense. But his story sheds light on the difficulty of defining the limits of tolerance. As E. O. Green found, finding that balance presents an enormous challenge.
Larry's life was hard from the beginning. His biological mother was a drug user; his father wasn't in the picture. When Greg and Dawn King took him in at age 2, the family was told he wasn't being fed regularly. Early on, a speech impediment made Larry difficult to understand, and he repeated first grade because he had trouble reading. He was a gentle child who loved nature and crocheting, but he also acted out from an early age. "We couldn't take him to the grocery store without him shoplifting," Greg says. "We couldn't get him to clean up his room. We sent him upstairs—he'd get a screwdriver and poke holes in the walls." He was prescribed ADHD medication, and Greg says Larry was diagnosed with reactive attachment disorder, a rare condition in which children never fully bond with their caregivers or parents.
Kids started whispering about Larry when he was in third grade at Hathaway Elementary School. "In a school of 700 students, you'd know Larry," says Sarah Ranjbar, one of Larry's principals. "He was slightly effeminate but very sure of his personality." Finally, his best friend, Averi Laskey, pulled him aside one day at the end of class. "I said, 'Larry, are you gay?' He said, 'Yeah, why?' " He was 10. Averi remembers telling Larry she didn't care either way, but Larry started telling other students, and they did. They called him slurs and avoided him at recess. One Halloween, someone threw a smoke bomb into his house, almost killing the family's Jack Russell terrier. In the sixth grade, a girl started a "Burn Book"—an allusion to a book in the movie "Mean Girls," where bullies scribble nasty rumors about the people they hate—about Larry. The Larry book talked about how he was gay and falsely asserted that he dressed in Goth and drag. And it ended with a threat: "I hate Larry King. I wish he was dead," according to one parent's memory of the book. "The principal called my wife on the phone and she was crying," Greg says. "She found the book, and said we needed to do something to help protect Larry." His parents transferred him to another elementary school, hoping he could get a fresh start before he started junior high.
E. O. Green is a white slab of concrete in a neighborhood of pink and yellow homes. In the afternoons, SUVs roll down the street like gumballs, the sound of hip-hop music thumping. Once the students leave the campus, two blue gates seal it shut, and teachers are told not to return to school after dark, because of gang violence. Outside, there's a worn blue sign that greets visitors: this was a California distinguished school in 1994. The school is under a different administration now.
E. O. Green was a comfortable place for Larry when he arrived as a seventh grader. He hung out with a group of girls who, unlike in elementary school, didn't judge him. But that didn't mean he was entirely accepted. In gym class, some of his friends say that the boys would shove him around in the locker room. After he started dressing up, he was ridiculed even more. He lost a high heel once and the boys tossed it around at lunch like a football. "Random people would come up to him and start laughing," Moreno says. "I thought that was very rude." One day, in science class, he was singing "Somewhere Over the Rainbow" to himself. Kids nearby taunted him for being gay. "He said to me, 'It's OK'," says Vanessa Castillo, a classmate. " 'One day, they'll regret it. One day, I'll be famous'."
Larry's home life wasn't getting any better. At 12, he was put on probation for vandalizing a tractor with a razor blade, and he entered a counseling program, according to his father. One therapist said Larry might be autistic. At 14, Larry told Greg he thought he was bisexual. "It wouldn't matter either way to me," Greg says. "I thought maybe some of the problems would go away if we supported him." But the therapist told Greg he thought that Larry was just trying to get attention and might not understand what it meant to be gay. Larry began telling his teachers that his father was hitting him. Greg says he never harmed Larry; still, the authorities removed Larry from his home in November 2007. He moved to Casa Pacifica, a group home and treatment center in Camarillo, five miles away from Oxnard.
Larry seemed to like Casa Pacifica—"peaceful home" in Spanish. The 23-acre facility—more like a giant campground, with wooden cottages, a basketball court and a swimming pool—has 45 beds for crisis kids who need temporary shelter. Every day a driver would take Larry to school, and some weeks he went to nearby Ventura, where he attended gay youth-group meetings. "I heard this was the happiest time of his life," says Vicki Murphy, the center's director of operations. For Christmas, the home gave Larry a $75 gift card for Target. He spent it on a pair of brown stiletto shoes.
In January, after a few months at Casa Pacifica, Larry decided to dress like a girl. He went to school accessorized to the max, and his already colorful personality got louder. He accused a girl to her face of having breast implants. Another girl told him she didn't like his shoes. "I don't like your necklace," Larry snapped back. Larry called his mom from Casa Pacifica to tell her that he wanted to get a sex-change operation. And he told a teacher that he wanted to be called Leticia, since no one at school knew he was half African-American. The teacher said firmly, "Larry, I'm not calling you Leticia." He dropped the idea without an argument.
The staff at E. O. Green was clearly struggling with the Larry situation—how to balance his right to self-expression while preventing it from disrupting others. Legally, they couldn't stop him from wearing girls' clothes, according to the California Attorney General's Office, because of a state hate-crime law that prevents gender discrimination. Larry, being Larry, pushed his rights as far as he could. During lunch, he'd sidle up to the popular boys' table and say in a high-pitched voice, "Mind if I sit here?" In the locker room, where he was often ridiculed, he got even by telling the boys, "You look hot," while they were changing, according to the mother of a student.
Larry was eventually moved out of the P.E. class, though the school didn't seem to know the extent to which he was clashing with other boys. One teacher describes the gym transfer as more of a "preventative measure," since Larry complained that one student wouldn't stop looking at him. In other classes, teachers were baffled that Larry was allowed to draw so much attention to himself. "All the teachers were complaining, because it was disruptive," says one of them. "Dress code is a huge issue at our school. We fight [over] it every day." Some teachers thought Larry was clearly in violation of the code, which prevents students from wearing articles of clothing considered distracting. When Larry wore lipstick and eyeliner to school for the first time, a teacher told him to wash it off, and he did. But the next day, he was back wearing even more. Larry told the teacher he could wear makeup if he wanted to. He said that Ms. Epstein told him that was his right.
Joy Epstein was one of the school's three assistant principals, and as Larry became less inhibited, Epstein became more a source of some teachers' confusion and anger. Epstein, a calm, brown-haired woman with bifocals, was openly gay to her colleagues, and although she was generally not out to her students, she kept a picture of her partner on her desk that some students saw. While her job was to oversee the seventh graders, she formed a special bond with Larry, who was in the eighth grade. He dropped by her office regularly, either for counseling or just to talk—she won't say exactly. "There was no reason why I specifically started working with Larry," Epstein says. "He came to me." Some teachers believe that she was encouraging Larry's flamboyance, to help further an "agenda," as some put it. One teacher complains that by being openly gay and discussing her girlfriend (presumably, no one would have complained if she had talked about a husband), Epstein brought the subject of sex into school. Epstein won't elaborate on what exactly she said to Larry because she expects to be called to testify at Brandon's trial, but it's certain to become one of the key issues. William Quest, Brandon's public defender, hasn't disclosed his defense strategy, but he has accused the school of failing to intercede as the tension rose between Larry and Brandon. Quest calls Epstein "a lesbian vice principal with a political agenda." Larry's father also blames Epstein. He's hired an attorney and says he is seriously contemplating a wrongful-death lawsuit. "She started to confuse her role as a junior-high principal," Greg King says. "I think that she was asserting her beliefs for gay rights." In a tragedy such as this, the natural impulse is to try to understand why it happened and to look for someone to blame. Epstein won't discuss the case in detail and, until she testifies in court, it's impossible to know what role—if any—she played in the events leading to Larry's death.
Whatever Epstein said to Larry, it's clear that his coming out proved to be a fraught process, as it can often be. For tweens, talking about being gay isn't really about sex. They may be aware of their own sexual attraction by the time they're 10, according to Caitlin Ryan, a researcher at San Francisco State University, but those feelings are too vague and unfamiliar to be their primary motivation. (In fact, Larry told a teacher that he'd never kissed anyone, male or female.) These kids are actually concerned with exploring their identity. "When you're a baby, you cry when you're hungry because you don't know the word for it," says Allan Acevedo, 19, of San Diego, who came out when he was in eighth grade. "Part of the reason why people are coming out earlier is they have the word 'gay,' and they know it explains the feeling." Like older teenagers, tweens tend to tell their friends first, because they think they'll be more accepting. But kids that age often aren't equipped to deal with highly personal information, and middle-school staffs are almost never trained in handling kids who question their sexuality. More than 3,600 high schools sponsor gay-straight alliances designed to foster acceptance of gay students, but only 110 middle schools have them. Often the entire school finds out before either the student or the faculty is prepared for the attention and the backlash. "My name became a punch line very fast," says Grady Keefe, 19, of Branford, Conn., who came out in the eighth grade. "The guidance counselors told me I should not have come out because I was being hurt."
The staff at E. O. Green tried to help as Larry experimented with his identity, but he liked to talk in a roar. One teacher asked him why he taunted the boys in the halls, and Larry replied, "It's fun to watch them squirm." But Brandon McInerney was different. Larry really liked Brandon. One student remembered that Larry would often walk up close to Brandon and stare at him. Larry had studied Brandon so well, he once knew when he had a scratch on his arm—Larry even claimed that he had given it to Brandon by mistake, when the two were together. Larry told one of his close friends that he and Brandon had dated but had broken up. He also said that he'd threatened to tell the entire school about them, if Brandon wasn't nicer to him. Quest, Brandon's defense attorney, says there was no relationship between Larry and Brandon, and one of Larry's teachers says that Larry was probably lying to get attention.
Like Larry, Brandon had his share of troubles. His parents, Kendra and Bill McInerney, had a difficult, tempestuous relationship. In 1993, Kendra alleged that Bill pointed a .45 handgun at her during a drunken evening and shot her in the arm, according to court records. She and Bill split in 2000, when Brandon was 6. One September morning, a fight broke out after Kendra accused her husband of stealing the ADHD medication prescribed to one of her older sons from her first marriage. Bill "grabbed Kendra by the hair," and "began choking her until she was almost unconscious," according to Kendra's version of the events filed in court documents. He pleaded no contest to corporal injury to a spouse and was sentenced to 10 days in jail. In a December 2001 court filing for a restraining order against Kendra, he claimed that she had turned her home into a "drug house." "I was very functional," Kendra later explained to a local newspaper, in a story about meth addiction. By 2004, she had entered a rehab program, and Brandon went to live with his father. But he spent years caught in the middle of a war.
While his life did seem to become more routine living with his dad, Brandon's troubles resurfaced in the eighth grade. His father was working in a town more than 60 miles away, and he was alone a lot. He began hanging out with a group of misfits on the beach. Although he was smart, he didn't seem to have much interest in school. Except for Hitler—Brandon knew all about the Nuremberg trials and all the names of Hitler's deputies. (When other kids asked him how he knew so much, he replied casually, "Don't you watch the History Channel?" Brandon's father says his son was interested in World War II, but not inappropriately.) By the end of the first semester, as his overall GPA tumbled from a 3.3 to a 1.9, he was kicked out of his English honors class for not doing his work and causing disruptions. He was transferred to Boldrin's English class, where he joined Larry.
Larry's grades were also dropping—he went from having a 1.71 GPA in November to a 1.0 in February, his father says. But he was too busy reveling in the spotlight to care. "He was like Britney Spears," says one teacher who knew Larry. "Everyone wanted to know what's the next thing he's going to do." Girls would take photos of him on their camera phones and discuss him with their friends. "My class was in a frenzy every day with Larry stories," says a humanities teacher who didn't have Larry as one of her students. He wore a Playboy-bunny necklace, which one of his teachers told him to remove because it was offensive to women. But those brown Target stilettos wobbled on.
The commotion over Larry's appearance finally forced the school office to take formal action. On Jan. 29, every teacher received an e-mail with the subject line STUDENT RIGHTS. It was written by Sue Parsons, the eighth-grade assistant principal. "We have a student on campus who has chosen to express his sexuality by wearing make-up," the e-mail said without mentioning Larry by name. "It is his right to do so. Some kids are finding it amusing, others are bothered by it. As long as it does not cause classroom disruptions he is within his rights. We are asking that you talk to your students about being civil and non-judgmental. They don't have to like it but they need to give him his space. We are also asking you to watch for possible problems. If you wish to talk further about it please see me or Ms. Epstein."
Jerry Dannenberg, the superintendent, says the front office received no complaints about Larry, but according to several faculty members, at least two teachers tried to formally protest what was going on. The first was the same teacher who told Larry to scrub the makeup off his face. She was approached by several boys in her class who said that Larry had started taunting them in the halls—"I know you want me," he'd say—and their friends were calling them gay. The teacher told some of her colleagues that when she went to the office to file a complaint, Epstein said she would take it. "It's about Larry," the teacher said. "There's nothing we can do about that," Epstein replied. (Epstein denies she was ever approached.) A few days later another teacher claims to have gone to the school principal, Joel Lovstedt. The teacher says she told him that she was concerned about Larry and she thought he was a danger to himself—she worried that he might fall in his three-inch stilettos and injure himself. Lovstedt told the teacher that he had directions, though he wouldn't say from where, that they couldn't intervene with Larry's sexual expression. (Lovstedt denied NEWSWEEK's request for an interview.) There was an unusual student complaint, too. Larry's younger brother, Rocky, 12, also attended E. O. Green, and the kids started picking on him the day in January when Larry showed up in hot pink knee-length boots. Rocky says he went to several school officials for help, including Epstein. "I went up to her at lunchtime," he says. "I said, 'Ms. Epstein, can you stop Larry from dressing like a girl? The kids are saying since Larry is gay, I must be gay, too, because I'm his brother'."
As you talk to the teachers, many of them say they tried to support Larry, but they didn't always know how. In blue-collar, immigrant Oxnard, there is no gay community to speak of and generally very little public discussion of gay issues, at least until Larry's murder happened. One teacher was very protective of Larry, his English teacher, Mrs. Boldrin. To help Larry feel better about moving to Casa Pacifica, she brought Larry a present: a green evening dress that once belonged to her own daughter. Before school started, Larry ran to the bathroom to try it on. Then he showed it to some of his friends, telling them that he was going to wear it at graduation.
And then there was Valentine's Day. A day or two before the shooting, the school was buzzing with the story about a game Larry was playing with a group of his girlfriends in the outdoor quad. The idea was, you had to go up to your crush and ask them to be your Valentine. Several girls named boys they liked, then marched off to complete the mission. When it was Larry's turn, he named Brandon, who happened to be playing basketball nearby. Larry walked right on to the court in the middle of the game and asked Brandon to be his Valentine. Brandon's friends were there and started joking that he and Larry were going to make "gay babies" together. At the end of lunch, Brandon passed by one of Larry's friends in the hall. She says he told her to say goodbye to Larry, because she would never see him again.
The friend didn't tell Larry about the threat—she thought Brandon was just kidding. There are many rumors of another confrontation between Larry and Brandon, on Feb. 11, the day before the shooting. Several students and teachers said they had heard about a fight between the two but they hadn't actually witnessed it themselves. The next morning a counselor at Casa Pacifica asked Larry what was wrong, and he said, vaguely, "I've had enough." When he got to school, his friends quizzed him about his noticeably unfabulous appearance. He said that he ran out of makeup and hair gel (which wasn't true) and that he had a blister on his ankle (this was true—he'd just bought a new pair of boots). Larry walked alongside Boldrin to the computer class and sat in front of a computer. A few minutes later, a counselor summoned him to her office. She told him that his grades were so low, he was at risk of not graduating from the eighth grade. He went back to his computer. He had written his name on his paper as Leticia King. Most of the campus heard the gunshots. Some described it like a door slammed shut very hard.
On March 7, the school held a memorial service for Larry. Epstein stood at the podium with students who read from notecards about what they liked best about Larry: he was nice, he was unique, he was brave. The band played "Amazing Grace," and two dozen doves were released into the sky. Averi read a poem about how her friend was like a garden seed that grew, and died; Larry's mom wept in the front row. Deep in the audience, an eighth grader turned to one of Brandon's friends and whispered, "That's so gay."
The obvious question now is whether Larry's death could have been prevented. "Absolutely," says Dannenberg. "Why do we have youngsters that have access to guns? Why don't we have adequate funding to pay for social workers at the school to make sure students have resources? We have societal issues." Many teachers and parents aren't content with that answer. For them, the issue isn't whether Larry was gay or straight—his father still isn't convinced his son was gay—but whether he was allowed to push the boundaries so far that he put himself and others in danger. They're not blaming Larry for his own death—as if anything could justify his murder—but their attitude toward his assailant is not unsympathetic. "We failed Brandon," a teacher says. "We didn't know the bullying was coming from the other side—Larry was pushing as hard as he could, because he liked the attention."
Greg King doesn't feel sympathy for Brandon, but he does believe his son sexually harassed him. He's resentful that the gay community has appropriated his son's murder as part of a larger cause. "I think the gay-rights people want it to be a gay-rights issue, because it makes a poster child out of my son," King says. "That bothered me. I'm not anti-gay. I have a lot of co-workers and friends who are gay." That anger was made worse when he heard this summer that Epstein would be promoted to principal of an elementary school. "This is a slap in the face of my family," Greg says. Many teachers wonder if the district moved her because she had become a lightning rod for criticism after Larry's death. Dannenberg, the superintendent, says that she was the most qualified person for the new principal job.
The school has conducted its own investigation, though its lawyer won't make it public. But it will likely be brought up when Brandon goes to trial. He is charged with first-degree murder and a hate crime, and is scheduled to be arraigned this week. Hundreds of his classmates have signed a petition asking that he be tried in juvenile court. The district attorney wants him tried as an adult, which could result in a prison sentence of 51 years to life. "Brandon was being terrorized," says Bill, who has set up a public defense fund in his son's name. "He was being stalked almost, to the degree of the school should have never let this happen." What happened to Larry and Brandon was certainly extreme, but it has implications for schools across the country. "If we're going to be absolutely sure this isn't going to happen again," says Elaine Garber, 81, who has served on the school's board for 48 years, "this has got to be discussed some more."
As if anyone has stopped talking—and arguing—about Larry King. He had an entire page devoted to him in the E. O. Green yearbook. On the Internet, he's become a gay martyr, and this year's National Day of Silence, an annual event created to raise awareness of homophobia, was dedicated to Larry. And in Averi Laskey's bedroom, she still keeps a handmade purple get-well card she made for Larry on the day after he was shot. At the time, there was still hope he would pull through. He had survived the night, which the doctors said was a good sign. Averi rounded up dozens of teachers and friends between classes to sign messages of encouragement. "Larry, I miss you. Get better," Boldrin wrote in blue ink. "Keep up your spirit. A lot of people are rooting for you to get better," the principal wrote. Some of Larry's classmates apologized for how he had been treated. A few even left their phone numbers, so he could call them if he ever needed to talk to someone. But when Averi got home that day, she learned that Larry had suffered a fatal stroke. Larry was pronounced brain-dead that afternoon, and the family decided to donate his organs. The following day, Feb. 14, doctors harvested his pancreas, liver, lungs and the most important organ of all, which now beats inside the chest of a 10-year-old girl. On Valentine's Day, Larry King gave away his heart, but not in the way he thought he would.
In the five months NEWSWEEK spent examining Larry King's death, we spoke with several dozen people, including faculty, students and parents. All students named were interviewed with their parents' permission. Some of our sources would speak only anonymously; the school's staff was instructed not to speak to the media because of the criminal proceedings and the possibility of civil litigation. While they agreed to be interviewed on the record, Jerry Dannenberg, the district superintendent, and Joy Epstein, E. O. Green's former assistant principal, were limited in what they could say for the same reasons.
With Andrew Murr and Jennifer Ordoñez