Young Girl Who Suffered Brain Damage From Rare Infection May Have Caught It From Fish Tank
A new report from the Centers for Disease Control and Prevention might answer how a 4-year-old Texas girl was infected by a rare tropical disease. The investigators believe it was possibly through a contaminated fish tank.
Lylah Baker first got sick back in May when doctors diagnosed her with a rare bacterial infection called Melioidosis. Melioidosis, also called Whitmore's disease, is an infectious disease caused by a particular bacteria called Burkholderia pseudomallei.
What's interesting about melioidosis is that it is commonly found in tropical climates and is widespread in northern Australia and Southeast Asia, according to the CDC. The bacteria that cause melioidosis are typically found in contaminated water or soil and can infect humans and animals through direct contact.
According to the CDC, the specific bacteria is only produced naturally in tropical and subtropical environments, so doctors were stumped when several people fell ill with the tropical infection without traveling internationally.
This year alone, the CDC has investigated three separate cases of Burkholderia pseudomallei Infections in Texas, Kansas and Minnesota. None of the three patients traveled outside of the U.S. and it remained unclear how they came in direct contact with the bacteria. In August, the CDC reported that two of those people died.
But a recent report released last week by investigators from the CDC and several state health departments just connected a Maryland case from 2019 back to the woman's freshwater aquarium in her home.
The report stated that the woman got Melioidosis and did not have any international travel history. Investigators tested samples from the woman's home and found three positive samples which were all collected from her freshwater home aquarium which contained imported tropical fish. According to the report, the samples "were a genetic match to the clinical isolate from the patient."
Health officials said in the report that they launched a review into the pet store where the Maryland woman purchased the imported fish. Investigators wrote in the report that "because these vendors might distribute freshwater animals and aquatic plants to pet store retailers throughout the United States, identifying possible source[s] of introduction with B. pseudomallei in the supply chain is essential to public health."
Interestingly, Baker's aunt told USA Today that Baker's pet fish died in February and investigators were interested in testing the contents of the aquarium.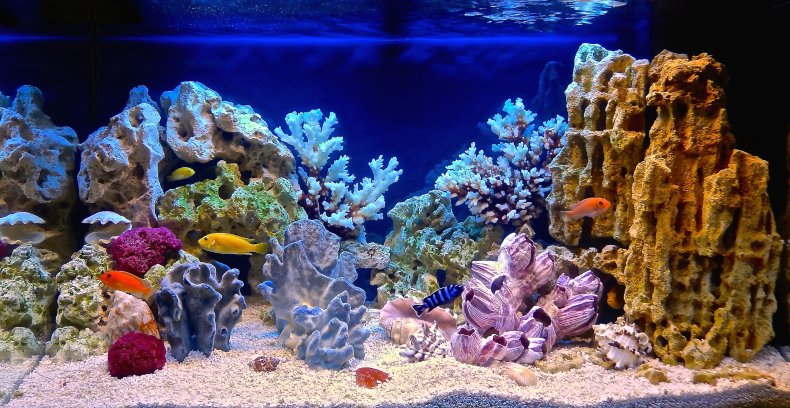 The scientists in the report urged medical professionals to consider the possibility of Melioidosis in patients with similar symptoms to Baker that also had exposure to fish aquariums. "Public health investigators should consider inquiring about pet freshwater fish exposure in patients given a diagnosis of melioidosis who have not traveled to a disease-endemic area or have only traveled to locations inconsistent with the geographic profile of the genome of their isolate," the investigators wrote in the report.
The trouble is that symptoms can take weeks to months to present themselves, and the symptoms vary based on the type of infection. Some broad symptoms include fever, disorientation, stomach or chest pain, and can even lead to diabetes and liver disease, according to the CDC.
To reduce the risk of exposure, experts warn individuals to thoroughly wash their hands with soap and water after touching any materials inside the fish tank.
In the report, they also recommend "wearing gloves to cover any cuts or wounds in the hand while handling fish or aquariums or allowing wounds to fully heal first, avoiding cleaning fish aquariums if immunocompromised or in areas where immunocompromised persons might be present, and not allowing children less than 5 years of age to clean fish aquariums."