No Food, No Jobs, No Future: Turned Away From the U.S. Border, Young Hondurans Say They Are Struggling to Survive
Walking through the gym of a local community outreach center in Choloma, Honduras, 25-year-old Josue Betancourt is reminded of brighter days, when he used to be able to come here to work out with friends.
"You know, I used to be more buff than him," Betancourt grins, gesturing to one of his closest companions, 19-year-old Cristian Perez. "But, because I'm not really eating right now, I can't really lift weights."
Next to Perez—a tall young man with a strapping build—Betancourt's gaunt cheeks and angular frame do stick out. It isn't hard to believe him when he says he sometimes goes days without a meal.
"We've both gone even more than two days without eating at times," Betancourt says. "It's hard... but at the same time, it's an experience that helps you gain strength. That's the way I see it."
But the kind of strength the 25-year-old is talking about cannot be weighed or measured by any scale. It's built through the kind of hardship that is all too familiar to Betancourt and Perez.
For both, trying to build a life in Honduras' third biggest city is a constant struggle. Employment opportunities within Choloma are few and far between. Outside the municipality, it becomes even harder to get hired when employers find out where you're from.
Theater of violence
Put simply, UNICEF Honduras spokesperson Hector Espinal tells Newsweek, Choloma has played "theater to some of the most violent massacres in the country."
One such massacre unfolded in March, just up the road from the outreach center. A group of young men, including teenagers as young as 14, were gunned down in the streets.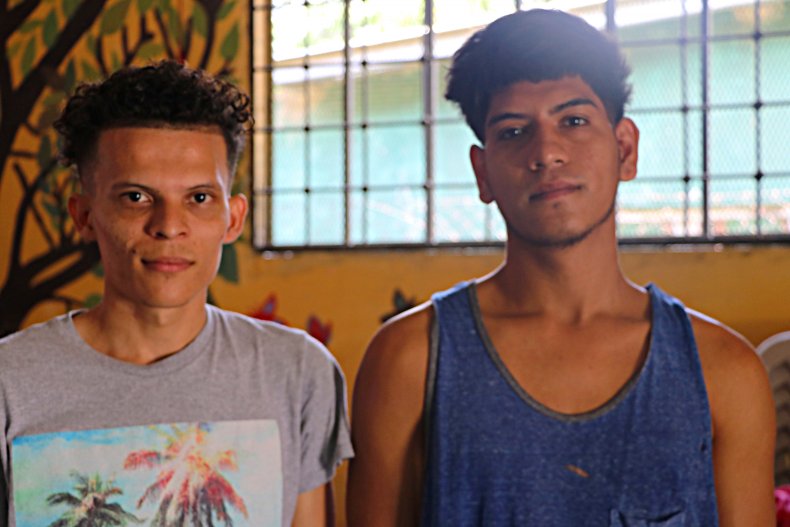 Relatives of the victims have accused Honduras' military police of being behind the mass shooting, but, Espinal says, they have no way of proving that. So far, little has been done to investigate what really took place that day.
Meanwhile, some of the world's most notorious gangs control Choloma's streets, with rival factions "Mara Salvatrucha," or MS-13 and "Barrio 18," or the 18th Street gang, fighting for control across the municipality, little more than a piece of pavement setting their territories apart.
With gangs running the streets and widespread corruption among police, brutal killings abound with impunity. This is despite widespread coverage in the local media, where graphic imagery plays across television screens on a nearly daily basis.
With a dark reputation hanging over the city, just telling an employer that you're from Choloma can cost you a job, Betancourt says.
"These companies discriminate against us because of where we're from," he says. "So, we can't work in companies far from this neighborhood because of that."
Espinal says he knows this to be true. "We've known about this for a while," he says. "If you go to the sweatshops, to economic zones, and say you're from a certain area like Choloma, you are not going to find work."
"That or if they see you with pants or a shirt that might suggest you're part of a gang, or if you have a tattoo, that's enough for you to not get employment," Espinal adds.
'I'd rather just run away'
While employers are less than keen to recruit young people from Choloma, gangs have no such reservations.
"Before, it used to be mostly older people who were part of gangs. Now, young people are the ones that they want," Perez says. "Several friends of mine had been asked to join and then they asked me too. Instead of waiting to have people force me to join, I'd rather just run away."
And so, in January, struggling to find work and striving to stave off pressure to join one of Choloma's gangs, Perez and Betancourt tried to do just that, following in the footsteps of thousands of young men who tried to make the often treacherous journey to the U.S. border in hopes of building a better future.
"At the beginning, it was all fine," Betancourt says of the venture. "We passed through Guatemala and there was no problem."
Once they entered Mexico, however, "from the very beginning, there was danger."
"Four or five times we had to jump off of trains and run... and then sometimes, we would see these people, I don't know if they were gangs or what, but we knew we had to run away from them," he says.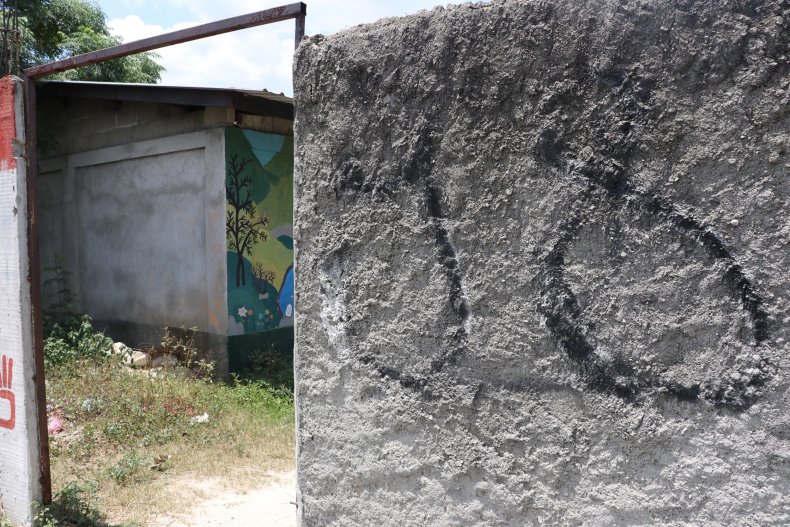 The journey took two months, Perez says. How long it takes, he added, "depends on whether you have money or not. We had no money, so we were just fighting our way. It was difficult and risky and we were always hungry and there was nowhere to sleep."
Once the two friends made it to the U.S. border, a young boy in Mexico helped them cross the Rio Grande, where they found themselves face to face with the U.S. Border Patrol after nearly managing to evade an immigration checkpoint.
"We saw it, so we tried to go around it... but they caught us anyway," Perez says.
The young men were held in the U.S. Customs and Border Protection agency's notorious hieleras ("iceboxes"), the cold and cramped holding cells used to detain migrants apprehended at the border, for at least 72 hours, he continues.
"Just with the number of people held in there, you can't really sleep. It's uncomfortable," Betancourt jumps in.
"That was not a nice experience. We didn't enjoy that," Perez says.
'We have no choice but to leave again'
While the 19-year-old was deported after spending at least seven days in federal custody, Betancourt was held for at least two weeks, though he does not know why.
What he does know, however, is that it won't be long before he and Perez try to make it to the U.S. border again.
"We want to leave again because we can't find work. We have no choice but to leave again," he says.
Asked if President Donald Trump's crackdown at the border worries him, he says no. In fact, he thinks "it's the most absurd thing ever."
"In some ways," Betancourt says, "Trump is right because there are just so many people trying to make it to the U.S. But where would the U.S. be if it weren't for Latinos?"
"The policy of closing doors on migrants will leave the country without working hands and a labor force and, you know, the pay is not a lot of money, but for us, it's so much," he says.
If staying in Honduras was a viable option, Betancourt says, "there would be no reason to leave."
"It's a beautiful country," he says. But a constant cycle of poverty, violence and corruption makes the possibility of building a future here feel impossible.
"I've been around the country and there is a lot of beauty," he continues. "But, for an American who wanted to live here, it would be hard. To live here is just not a good idea."