Young Iranian Woman Who Became Symbol of Protests After Viral Video Killed
Hadis Najafi, the 20-year-old who became an online symbol of the protests against the death of Mahsa Amini in Iran, has been reportedly killed by Iranian security forces during demonstrations in the city of Karaj, near Tehran.
The blonde hair of Najafi appeared uncovered in a clip that went viral on social media, showing the young woman facing Iranian police without wearing a veil, something which is forbidden by law in Iran. Wearing the hijab in public has been compulsory for women in the country—regardless of their faith or nationality—since 1983, four years after the 1979 Islamic revolution.
But Najafi, like many other Iranian women in recent days, was facing police officers with her hair uncovered, and was captured on camera tying them up with a rubber band.
With such a simple gesture, she was making a huge statement against that same law which led to the death of 22-year-old Amini, a Kurdish woman who died of fatal injuries reportedly inflicted while in custody.
She had been detained by the Islamic Republic's "morality police" for wearing the hijab "improperly."
Amini's death has triggered the outrage of tens of thousands of people across Iran and has seen many take to the streets of several cities. For a week, protests have swept the country, with demonstrators facing a violent response by police and authorities.
Women have been at the center of the demonstrations in Iran, with many burning their veils and cutting their hair in protest.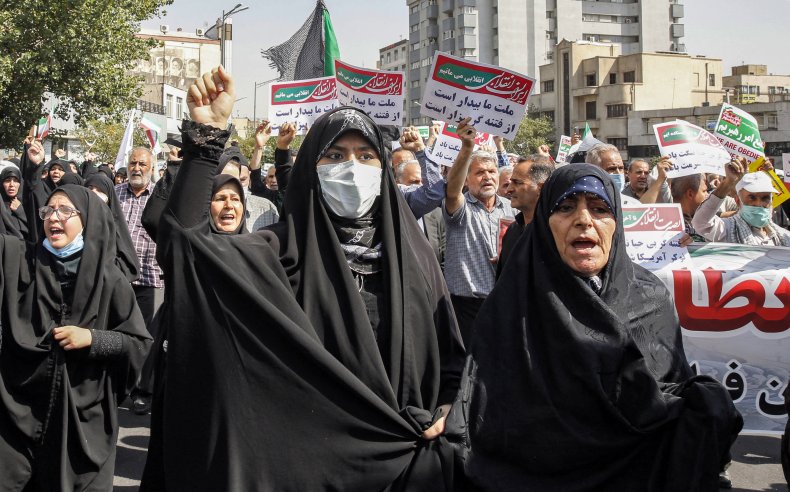 President Ebrahim Raisi was quoted by state media on Saturday saying that the country must "deal decisively with those who oppose the country's security and tranquillity."
In many cities, including the capital, security forces responded to the protests by opening fire against demonstrators.
According to Amnesty International, at least 21 people–including three children—had been killed by security forces on the night of September 21. At least 41 people have now been killed in total, according to a death toll given by Iran's state television on Sunday, though official numbers have not yet been released.
Among those killed, there's Najafi.
Iranian journalist Masih Alinejad reported that the 20-year-old woman was killed after being hit by six bullets in the city of Karaj, according to what Najafi's sister told her. The reporter, who did not specify the date of Najafi's death, described the news as "heartbreaking."
"Hadis Najafi 21 Yr old girl must become another symbol like #MahsaAmini, because she didn't keep silent in the face of tyranny. She got killed for the crime of protesting the brutal death of Mahsa. I call on world to be the voice of #HadisNajafi too. A true hero," Alinejad wrote on Twitter.
The journalist shared a clip from the Najafi's funeral and said she was "a kind hearted girl and loved dancing."
On Sunday, it was reported that Anonymous, the international hacktivist collective known for its several cyber attacks against governments and government institutions and agencies, hacked the database of Iran's Supreme Audit Court and released the data of all members of the Iranian Parliament, including their phone numbers.
Newsweek has contacted the Iranian foreign ministry for comment.