Young Kiev Police Recruits Cause a Stir on Social Media
As part of the project to restore citizens' faith in the police service, the Ukrainian government has recruited a number of young and attractive new officers to the force, who now spend their time patrolling the streets of Kiev... and taking a lot of selfies with passers by.
The new administration fired many of the older officers earlier this year due to problems with corruption and also because many had been involved in the violent clashes during last year's Maidan protests that led to the toppling of the pro-Russian regime of President Viktor Yanukovych.
The country's special riot police unit, known as the Berkut, played a prominent role in the violence against demonstrators, and were blamed for the deaths of around 100 people who were killed in the protests in Maidan Square during February 2014.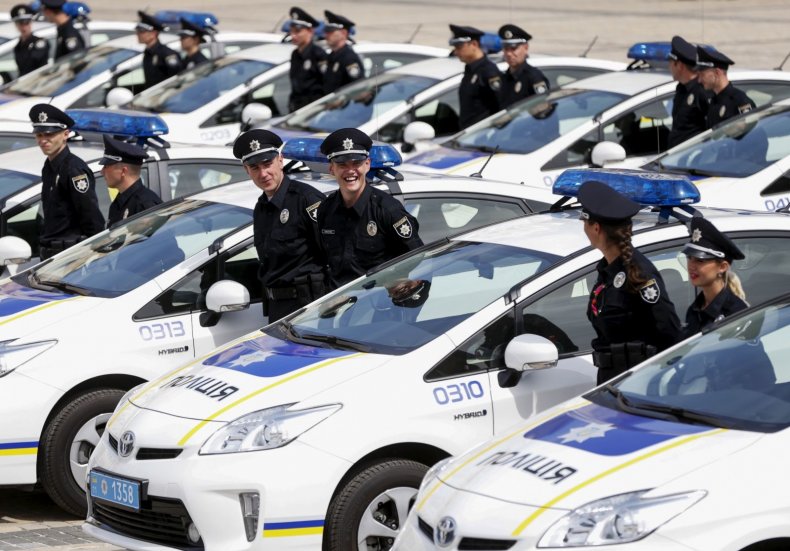 Approximately 2,000 new officers were hired in June, one quarter of which are female, and the force's uniform has also been revamped. Kiev has hired a number of American and Canadian officers to train the eager new recruits.
After heading out onto the streets of Kiev for the first time, Twitter accounts have been awash with images and tweets, praising the new officers, and there are now entire social media pages dedicated solely to the police selfie phenomenon, including a Facebook page set up and run by local news site Nash Kiev.
The hashtag #KyivPolice has been used over 3,500 times on Twitter in the past week alone.
Whilst most comments posted on social media have emphasised their admiration for the new officers, some have even indicated they'd break the law in order to have some time with the police.
One coffee shop in the capital has begun a Facebook campaign promising "free hot drinks" to all police officers who walk through their door, receiving 7,700 'likes' for its efforts.
However, it seems that at least some people are aware that the Ukrainian police's poor reputation will be difficult to shake. One journalist who posted a picture of two police officers in a car captioned the image: "Do not let us down, darlings."
Young Kiev Police Recruits Cause a Stir on Social Media | World