Young M.A Fans Fear for Rapper's Health After Video Surfaces Online
Fans of Young M.A have shared concern for the rapper's health after a video of them getting a haircut went viral.
Young M.A, real name Katorah Marrero, has subsequently spoke out on the topic, defending the original person who shared the video. The clip shows the rapper sat in a hairdresser's chair, showing off their new do.
In the video, the whites of Young M.A's eyes appeared to have a yellowish tinge.Thousands of people expressed their concern for Young M.A's health, while there was also conflict between those making jokes and those defending the "Ooouuu" hitmaker.
The video was originally shared by @fatsdabarber, with Young M.A reposting it to her Instagram Stories. It was then reshared to Twitter by @SaycheeseDGTL where it got over 7.7 million views.
Many people suggested that the 30-year-old rapper could be suffering from jaundice, which is a medical condition when the whites of someone's eyes turn yellow. One of the causes of this is acute liver failure. In June 2021, Young M.A announced on Instagram she had checked herself into rehab to "lose this addiction."
After seeing the video he posted of Young M.A go viral, @fatsdabarber spoke out on Instagram, defending himself against the backlash.
"Y'all got so much to say as if I'm trying to embarrass my dawg. She reposted my video if she didn't want me to record she would have told me. Y'all don't know our bond nor our friendship."
@Fatsdabarber then addressed those worried about Young M.A's health: "What y'all need to do is just send your prayers for her and that's that. She didn't have a haircut in a month and she wanted me to bring her haircut back to life which I did!!! Thank you sis for coming and rocking with me like always. Love ya."
Seeing his explanation, Young M.A stuck up for her friend on her own Instagram Stories.
"We bless don't let that get to u blooda," she wrote. ".. and I told you it was like 4 months," Young M.A added with a laughing emoji.
Young M.A's previous addiction issues were brought up by many online who speculated about her health and suggested it could be alcohol-related, though there is no confirmation that is the case.
Milago Gramz wrote to her 39,000 followers, "If people are so concerned about Young Ma we should see prayers & not ppl tearing her down right?
"Damn wtf happened to young ma? First we saw her in a wheel chair now she's spotted again looking like this?" Twitter user Qura wrote, referring to another viral video from December where Young M.A was spotted using a powered wheelchair in a store.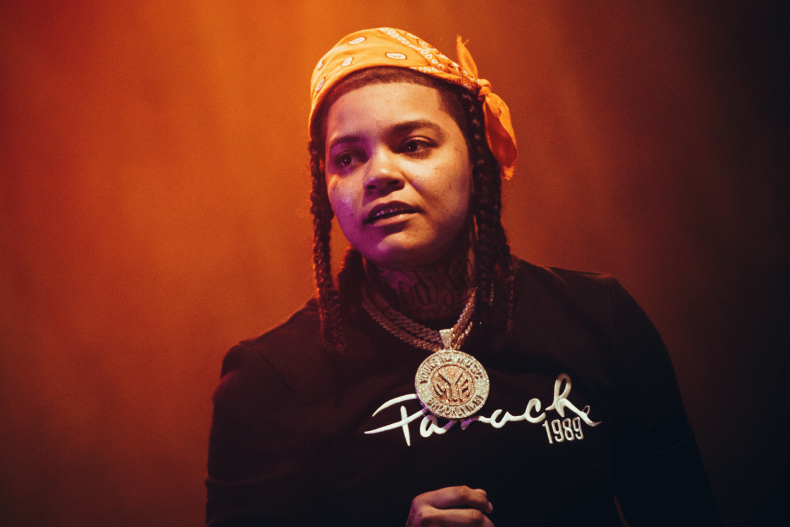 People compared the comments made about Young M.A to the late Chadwick Boseman who was also the subject of speculation before his death in August 2020.
"Internet joking about Young MA the same way y'all joked about Chadwick when he was sick. You people really don't learn," wrote Nuff on Twitter. "I don't like that people are saying rude things about Young MA's appearance..." added @callmekaylav, "Y'all did the same thing when Chadwick Boseman lost weight... we don't know these peoples lives."
Young M.A is a rapper, best known for her song "Ooouuu," and has featured on songs with Eminem, T-Pain and Young Thug. She has also acted in Mr. Robot and directed adult movies.
Newsweek has reached out to Young M.A via email for further comment.