Young Mom Waiting on Platform Faints and Falls Head First Under Moving Train — and Survives
This is the moment a young woman waiting on a platform stumbles forward and falls headfirst under a moving train after feeling faint.
The footage, which Zenger News obtained from the Ministry of Transport of Argentina, shows the woman, dressed in white, apparently feeling unwell and stumbling on the platform.
She then staggers forwards and falls headfirst between two of the moving train's carriages as onlookers clasp their hands to their heads and look away in shock.
One man in a salmon T-shirt can be seen clapping his hands to his head, over his eyes, while a young man and a woman can be seen turning away, with the young man putting his arms around her head to shield her from the scene.
But the footage then cuts to members of staff and commuters helping the young woman back onto the platform, alive and conscious.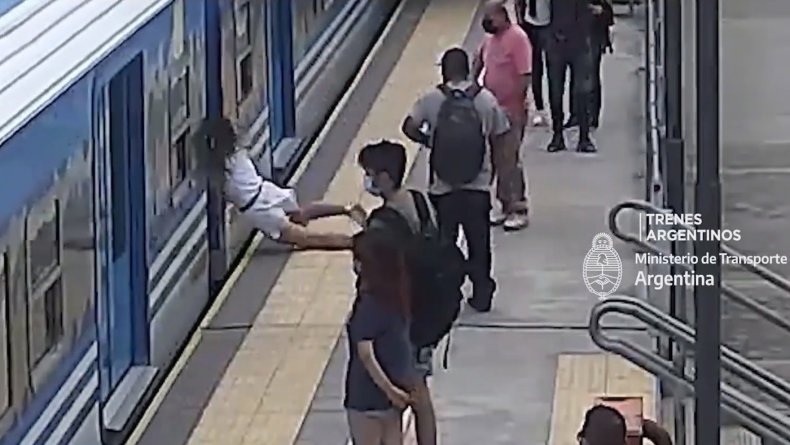 The young woman, who has been named only as 24-year-old Candela, reportedly survived with a fractured skull after the incident, which took place in the city of Gonzalez Catan, which is located in the La Matanza Partido, in Buenos Aires Province, in eastern Argentina, on Tuesday, March 29.
It was not revealed why the images were only made public now.
Candela, who is said to be the mother of a two-year-old girl, unnamed, was reportedly taken to the Alberto Balestrini Hospital and she has since been discharged after a few days of treatment.
The young woman reportedly said that she had been about to board the train to go and eat with some friends when the incident happened. She said: "I don't remember anything about the accident. I only remember when I was lying on the ground, with people around me, and then when I was admitted to hospital."
She added: "I had a rib fracture that punctured my liver and I was quite bad, it took me a few days and it was the most dangerous thing I have ever faced. I also suffered a contusion on the side of my head, above my ear, and as a result of that, I can't hear well. On top of that, I suffered a skull fracture between my nose and my eyebrow."
Candela, who is currently looking for work after her food company went out of business, also said: "I am undergoing treatment for hearing and nutrition issues, and I have to undergo neurological exams."
This story was provided to Newsweek by Zenger News.