Young People Who Binge Drink Could Increase Risk of Stroke, Study Suggests
Young people who binge drink could be at greater risk of developing conditions such as heart disease and stroke later in life, the authors of a study have warned.
Rates of excessive drinking in the U.S. are at an all-time high, and the results should act as a wake-up call to the one in five college-age students who binge drink, the authors of the study, published in the Journal of the American Heart Association, suggested. On average, students consume six to seven drinks per binge-drinking session, exceeding the official binge-drinking definition of five or four drinks for men and women, respectively.
To understand how this affects cardiovascular health, the researchers studied the responses of 4,710 adults between 18 to 45 years old who participated in the U.S. National Health and Nutrition Examination Survey between 2011 and 2012 and 2013 and 2014. The respondents were placed into three categories: nondrinkers, binge drinkers 12 times or fewer a year and high-frequency binge drinkers at more than 12 times a year.
Of the participants, about a quarter of men and just over 11 percent of women binge drank frequently. When it came to binge drinking 12 times or less, 29 percent of men and a quarter of women qualified.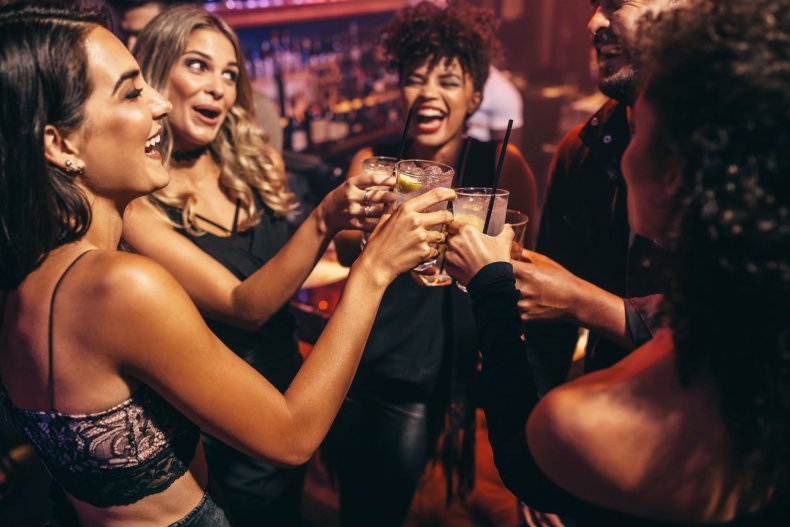 Those who binge drank frequently appeared to be more likely to have risk factors for poor cardiovascular health and stroke at a younger age, including high blood pressure and cholesterol levels, compared with those who didn't.
The researchers also investigated whether alcohol affects young men and women differently. They found men who repeatedly binge drank had elevated blood pressure and total cholesterol, compared with those who didn't consume excessive amounts of alcohol. Women, meanwhile, had higher blood sugar levels.
Having a higher than average blood pressure before the age of 45 has been associated with a significantly higher risk of dying of heart disease later in life.
Related: Drinking alcohol could disrupt cells that help prevent Alzheimer's, study suggests
Mariann Piano, an author of the study and professor of nursing at Vanderbilt University's School of Nursing, warned young people in a statement that they should be aware that the risks of drinking to excess extend beyond short-term poor school performance and an increased risk of accidental injury.
The take-home message, Piano told Newsweek, is that while binge drinking is one of the biggest health dangers facing young adults, unhealthy behavior can be turned around.
"Implementing lifestyle interventions to reduce blood pressure in early adulthood may be an important strategy to prevent cardiovascular disease later in life," she suggested. "As part of this intervention pattern, young adults should be screened and counseled about alcohol misuse, including binge drinking, and advised on how binge drinking may affect their cardiovascular health."
The study is the latest to caution that unhealthy lifestyles among youth could cause side effects that linger into later adulthood. Last month, researchers from Bristol, England, published a study indicating that being overweight as a teenager could change the shape of the heart and the organ's ability to function.
Data on 14,000 healthy 17- to 21-year-olds appeared to show a higher body mass index was associated with an enlarged left ventricle and higher blood pressure.