'Young Royals' Cast: Who Is in the Cast of the Swedish Netflix Series?
Young Royals is streaming on Netflix now and is filled with plenty of drama, romance, and betrayal. The series is a mixture of Elite meets The Crown and features a dreamy young cast playing members of the fictional Swedish royal family. Newsweek has everything you need to know about the cast.
Who Is in the Cast of 'Young Royals'?
Prince Wilhelm - Edvin Ryding
Edvin Ryding stars as Prince Wilhem in Netflix's Young Royals.
The series sees Wilhem enroll at Hillerska, an elite boarding school in Sweden, after he was embroiled in a huge scandal.
At Hillerska, he experiences his first shot at freedom, exploring friendships, his sexuality, and taking a chance at love.
However, his world comes to a standstill when he unexpectedly becomes the next in line to the Swedish throne.
Ryding,18, has been acting since 2009 and is best known for his role as Linus Ek in the crime thriller series Gåsmamman.
His other acting credits including Fröken Frimans krig (Miss Friman's War), Kronjuvelerna (The Crown Jewels), and The Stig-Helmer Story.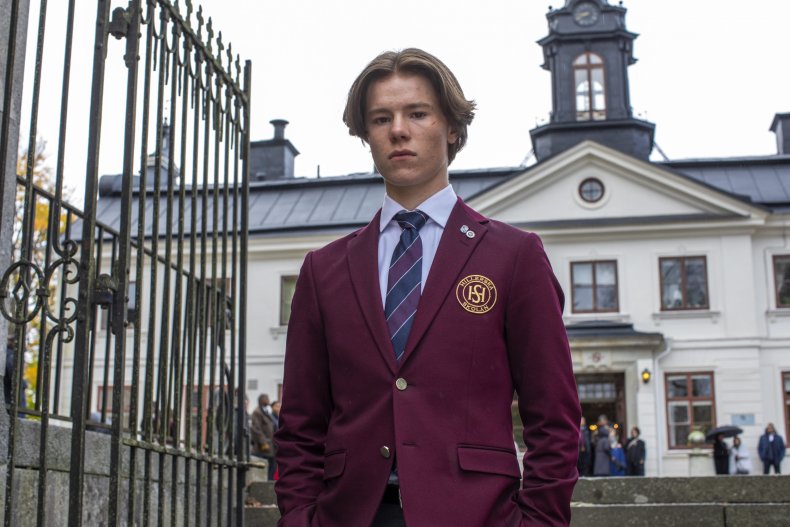 Simon - Omar Rudberg
Swedish singer Omar Rudberg, who was born in Venezuela, plays the role of Simon, Wilhelm's love interest.
Simon is at Hillerska on a scholarship and from the outset, it becomes very clear Simon and Wilhem come from entirely different backgrounds.
Simon has an alcoholic father and commutes to school from the house he lives in with his mother and sister.
Rudberg is a well-known singer who has previously opened shows for Justin Bieber as part of the band Fooo Conspiracy.
He pursued a solo singing career in 2018. He has released the singles "Que Pasa" and "La Mesa."
Erik - Ivar Forsling
Ivar Forsling stars as Erik, Wilhem's older brother and the crown prince of Sweden.
Viewers may recognize Forsling for his role as Jocke in the Swedish series Rebecka Martinsson.
August - Malte Gårdinger
Malte Gårdinger plays Wilhem's cousin August, who is also a student at Hillerska.
At Hillerska, August is the head of the Forest Ridge House residence and the villain of the series.
Gårdinger's credits include the Swedish crime series Morden i Sandhamn (The Sandhamn Murders) and the thriller Jordskott.
Sara - Frida Argento
Frida Argento plays Simon's sister Sara, who is also at Hillerska on a scholarship.
Sara strikes up an unusual friendship with Felice (Nikita Uggla) and is often seen looking out for her brother.
Young Royals is Argento's first major acting role after recently starring in the short film Astrid.
Nils - Samuel Astor
Samuel Astor stars as Nils, a student at Hillerska in Young Royals.
Astor recently starred in the Swedish series Maria Wern as Oscar and also wrote and starred in his own short film Desire.
Felice - Nikita Uggla
Nikita Uggla plays the role of power-hungry and monarchy-obsessed Felice in Young Royals.
Uggla is an up-and-coming actor and Young Royals appears to be her first acting project.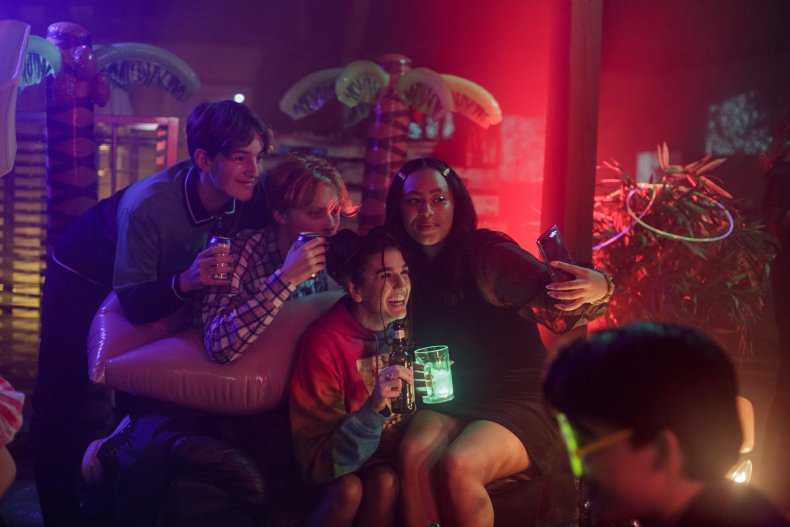 Queen Kristina - Pernilla August
Pernilla August stars as Wilhelm's mother, Kristina the queen of Sweden.
Fans will most likely recognize August from her role as Shmi Skywalker in the Star Wars film franchise.
She is also well known for her work with director Ingmar Bergman and won the Best Actress Award at the 1992 Cannes Film Festival for her role in The Best Intentions.
Linda - Carmen Gloria Pérez
Carmen Gloria Pérez plays Linda, Simon and Sara's mother.
Pérez is best known for playing Captain Vasquez in Lucha Underground.
She is also a successful musician, earning an Independent Music Award nomination in 2019.
Also starring in Young Royals as fellow Hillerska students are Mimmi Cyon as Fredrika, Nathalie Varli as Madison, and Felicia Truedsson as Stella.
Young Royals is streaming on Netflix now.