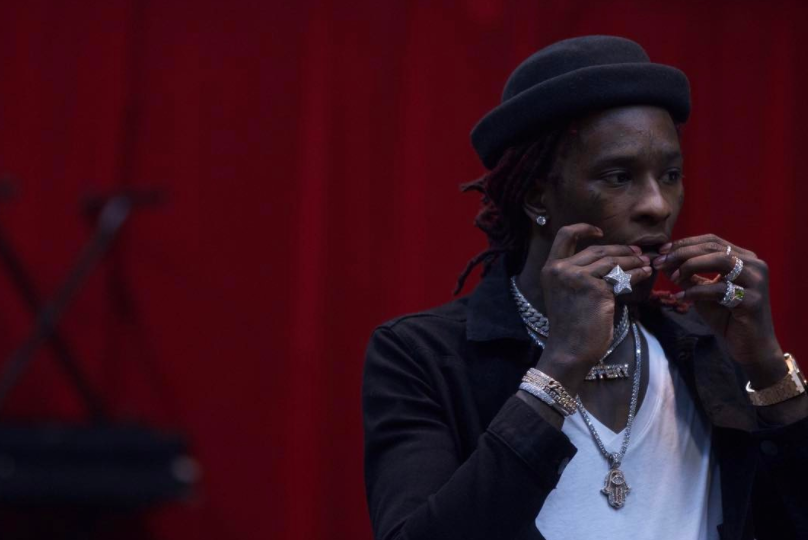 The American rapper Young Thug—whose legal name is Jeffery Lamar Williams—has reportedly been arrested at his 27th birthday party.
Known for hit songs such as "Anybody (featuring Nicky Minaj)" and "Relationship (featuring Future)," Young Thug was taken into custody at a Dave & Busters restaurant in Los Angeles.
According to ABC 7's Josh Haskell on Twitter, the rapper is being held at the Metropolitan Detention Center in downtown L.A. Young Thug is expected to be released in just a short time.
According to NBC Los Angeles, video shot on a cellphone shows Los Angeles Police Department (LAPD) officers carrying a large bag of cash and a Rolls Royce wrapped with yellow police tape.
LAPD have confirmed there were guns found at the scene. Along with his birthday, Young Thug was celebrating the release of his album Slime Language. It is being reported that members of Young Thug's entourage have also been arrested.
LAPD officer Drake Madison confirmed to Newsweek that Young Thug had been booked for possession of a concealed firearm in a vehicle. Bail was set at $35,000. The Hollywood division of the LAPD became aware of large crowds gathering in the area of Hollywood and Highland "due to social media postings related to rapper, Young Thug".
The musician and his entourage arrived in three cars. Several people ran from the vehicles, all of whom were detained by police—including Young Thug. The guns were found during a search of the cars.
Madison said the investigation was still ongoing.
This is a developing story and will be updated when more information becomes available.