Young Trump Fans Reveal the President's Hold on Republican Party's Future at Charlie Kirk-founded Conference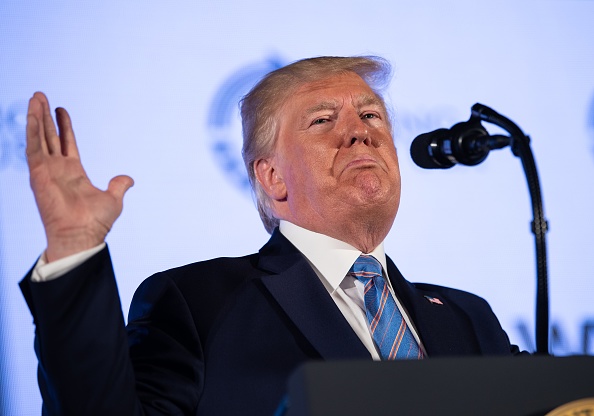 When, as an 18 year old, Charlie Kirk founded an organization called Turning Point USA, it described itself as a ''conservative non-profit" group with the overarching goal of organizing young conservatives politically. It was at the Republican convention in Tampa that Kirk met megabucks GOP donor Foster Friess and persuaded him to fund the fledgling organization. That was the convention that nominated milquetoast Mitt Romney for president.
Seven years later, Kirk and the organization he founded underscore how thoroughly Donald J. Trump has taken over the Republican Party. To get a glimpse of that, all you had to do was attend TPUSA's Student Action Summit, underway this week in Washington. There, some 1,500 young people, most of them high schoolers, celebrated all things Donald. Red MAGA hats were everywhere; many kids wore T-shirts saying "they hate us cuz they ain't us." One young woman saluted a previous GOP hero by wearing a vintage Reagan-Bush 1980 campaign T-shirt.
But this party, now, is not the party of Reagan. That's long gone. As the rapturous welcome they gave Trump at his nearly two-hour speech on Tuesday shows, these kids are not young Reaganites, they are Trumpkins through and through. They are not Young Americans for Freedom, the conservative youth group that has existed for decades (and which Reagan loved); these are the kids of Turning Point USA. And in Kirk's view, echoing Trump yesterday, they are the future. ''I think [Trump] has changed the party forever, and for the better," he says.
There is, Kirk acknowledges, no one or two issues around which these kids rally when it comes to backing Trump (though a break-out session at lunchtime Wednesday on ''the second amendment and personal safety" was packed). These are kids who lean toward standard conservative positions on lots of issues—as does Trump—but his allure, it's clear, is his persona; it's attitudinal. Like Trump, they are proudly patriotic at a time when, they assume, most of the cool kids think patriotism is for dorks. They loathe political correctness—it will still be a potent issue for Trump next year, as it was in 2016—because ''we've had it shoved in our faces all day every day in school and then from the pop culture," says Isabel Brown, who brought Kirk to speak at Colorado State University when she was a student there. And at a political moment when socialism is being given a respectful hearing among high school and college aged kids, a packed ballroom rose to applaud Kentucky Senator Rand Paul when, echoing Trump, he said, ''America will never be a socialist nation."
Any GOP president or candidate would say that, of course. But for the audience, it's a chance to flash a metaphorical finger at the Democratic candidates, who are dangling free college education in front of people just this age.
There is one issue that comes up repeatedly at the conference that shows just how much Trump has changed the party he now leads: "endless wars," as Kirk puts it. These kids love the fact that at the last minute Trump declined to retaliate militarily against Iran when it shot down a U.S. drone earlier this month. Senator Paul got his second loudest ovation when he praised Trump's restraint from getting further involved in the Middle East. Indeed, you come away from the Student Action Summit thinking that National Security Adviser John Bolton should be sending out resumes, because Trump is much closer to these kids on this issue than he is to his hawkish adviser. (And in fact, rumors in D.C. are now widespread that Bolton isn't long for this world.) The muscular ''neocons" of the George W. Bush era have no place in Donald Trump's GOP. ''I want," says Kirk, '' a [GOP] that puts Montana, Michigan and Missouri ahead of the Middle East."
What about race—potentially Trump's deepest vulnerability next year? One young man (who gave only his first name, Trent, because ''I don't really trust the media") concedes that the president probably shouldn't have urged the four progressive congresswomen—aka the "Squad"—to "go back" to where they came from (three were born in the U.S.). But he doesn't believe Trump's a racist. ''They have no issues to run on so they call him a racist. I've been called a racist too,'' says the 17 year old, ''simply because I'm a Trump supporter. But I'm not. My parents know that, my friends know that. So I don't let it bother me. I don't think Trump should either."
Trump is underwater among young people in polling done so far for next year's election. ''I don't think he'll win the youth vote," Kirk allows. ''But I think he'll do better than people expect." That, he noted, is what happened in 2016, when Hillary Clinton won 55 percent of millennials, compared to 66 percent and 60 percent who voted for Obama in 2008 and 2012 respectively. Limit the size of his loss among millennials, says Kirk, and who knows? ''Maybe that will be the thing that puts him over the top."
I don't necessarily believe it, but then again, I live deep in the ''Swamp''—in McLean, Virginia—where my high-school-aged daughter and her friends cannot imagine anyone voting for Trump, no matter how old they are. When I told her I was at the TPUSA conference, she said, with unconcealed horror, ''you know that they're trying to set up a branch at [her high school]?"
Fine, I tell her. The kids I met were unfailingly polite, and most seemed pretty bright. They're normal kids; they're just wearing MAGA hats.