Young Woman and Her Terminally Ill 88-Year-Old Grandfather Graduate College Together
An 88-year-old terminally ill man who first embarked on his higher education journey in the 1950s reached his life goal of attaining a degree and accomplished it with his granddaughter by his side.
Rene Neira and his granddaughter, Melanie Salazar, 23, attended their graduation ceremony at the University of Texas at San Antonio on December 11, when Neira received a degree of recognition in economics and Salazar took home a degree in communications.
Neira, whose health has continued to decline and has difficulty speaking, Salazar said, is now in hospice care, according to NBC's Today. Salazar wheeled her grandfather across the stage to receive his diploma that was decades in the making.
Salazar told Good Morning America that Neira did not want to "take the spotlight away from her," but she insisted they share the day.
"I told him, 'This is our moment. I want to share it with you,'" she told Good Morning America. "I'm so proud of my grandpa and I'm so thankful I was able to have this moment, this memory, with him."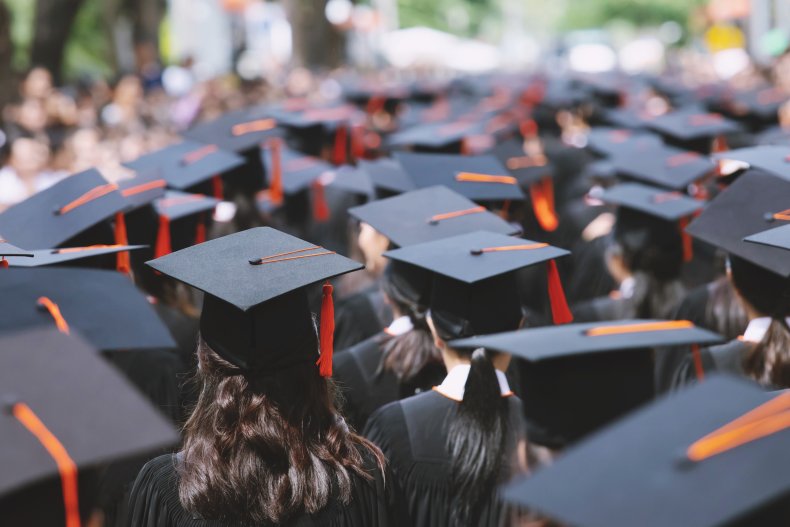 Today noted that Neira started to take classes in the 1950s but took some time off when he got married, started a family and pursued a career in banking. He started taking them once again in the 1980s after his children became adults and again after his wife's death in 2009.
Salazar told the outlet that one of her grandfather's life goals was to earn an economics degree.
Today reported that the two got their collegiate start together at Palo Alto College in 2016. Neira earned his associate degree, and he and Salazar began studying at the University of Texas at San Antonio.
Although they did not share any classes, they made time to spend together.
"He and I would sometimes eat together in the cafeteria," Salazar told Today. "We would study side by side. Sometimes he would need help navigating the school's website for his classes and I would help him. I often would take him to campus and take him back home."
Salazar told Newsweek it was normal to see her grandfather take college classes, but it was a happy coincidence for the two to attend the same schools at the same time.
Neira hit another speed bump just before the COVID-19 pandemic when he suffered a minor stroke. According to Good Morning America, he took a medical leave of absence from school. When classes were moved to an online format, he continued his leave.
Salazar told Good Morning America that she and her family asked if a degree of recognition might be awarded to Neira. University officials agreed, bringing a decades-long pursuit to a gratifying end.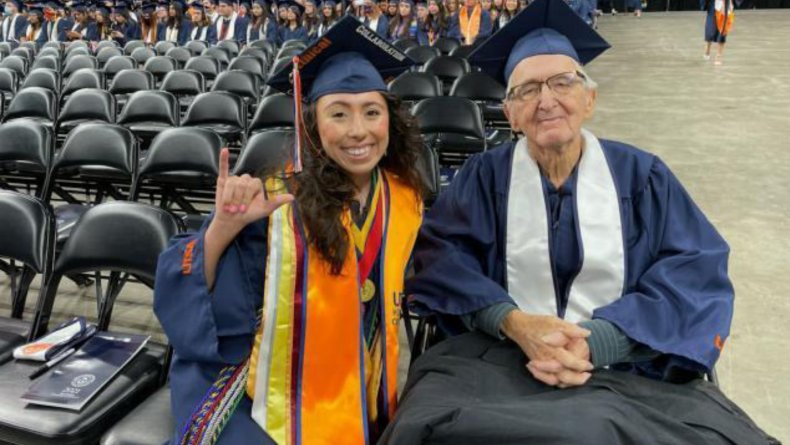 "It was the week of graduation that we were told that he would be able to graduate," she said. "We were really pushing for it because we were hoping, since his health is declining, that he could have that memory before he passes."
Despite facing challenges, Salazar told Newsweek that she believes it was a miracle he was awarded his degree and was able to participate in graduation that day.
She said the family pushed for him to bring his education chapter to a close.
"Since he is nearing the end of his life, he was ready to give up," Salazar said. "However, his family encouraged him and advocated for him, so much that they are probably more proud of him than he is of himself."
She encourages anyone who wishes to go to school to do so and said it is "never too late to go back or to start."
A unique experience from her fellow classmates, she said she looks back and cherishes her time in college because she shared it with her grandfather.
"Very few people can say they got to go through college alongside their grandparent," Salazar said. "I also have the blessing to say we graduated together."
Update 1/10/2022 3:02 p.m. ET: This story has been updated to include comments from Salazar and a new photo.