'Younger' Season 5 Spoilers: Hilary Duff Talks #MeToo Episode and Connection to Kelsey Peters
Actress Hilary Duff is set to reprise her role of Kelsey Peters on TV Land's Younger alongside co-star Sutton Foster's Liza Miller Tuesday.
Younger is entering Season 5, but it's not abstaining from fresh storytelling. Since its debut in 2015, it's earned praise from critics and grown a strong fanbase because it's much more than the average rom-com show. The series delicately tackles the issue of ageism in the modern-day workplace, and it has no intention of halting such a narrative while also addressing the #MeToo era. Aside from this, the show additionally focuses on the ever-evolving female friendship, which is properly displayed between Duff and Foster's televised characters.
"Everything major happens in the beginning of this season. It kind of lays out a different groundwork—it's so cool," Duff, 30, told Newsweek. "Lots of people are finding out Liza's secret in the first episode, which is such a great way to start because it's been a while now. It's time for that to happen with some of the relationships."
While Younger is technically a comedy, the critical darling's writers have successfully interwoven timely events into its storylines. Season 3 tackled the election, but Season 5 dives right into #MeToo and Time's Up territory in its premiere episode through sexual harassment in the workplace. Edward L.L. Moore (Richard Masur), a troublesome author who works at the show's fictionalized Empirical Publishing House, has behaved inappropriately with Foster's Liza before. Writers took the opportunity to examine the repercussions of such misconduct through Moore, which Duff said is "kind of fun to watch the creepy old man get what he deserves."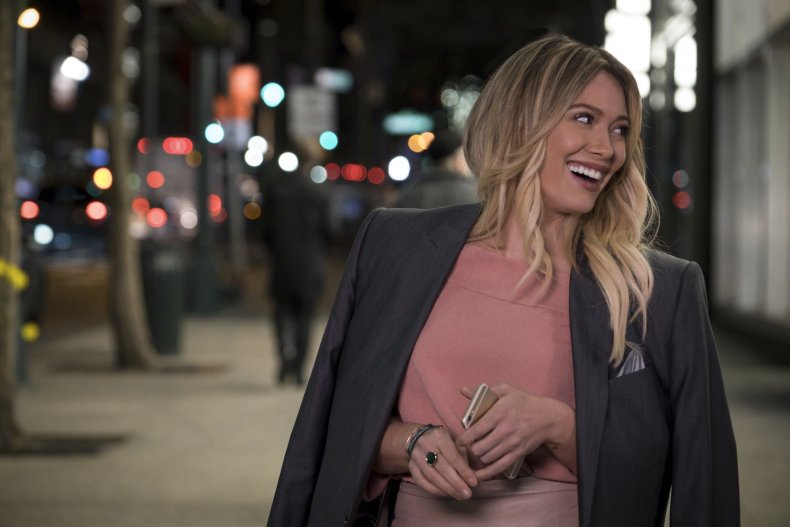 "We tackle the #MeToo issue, which is so relevant and so important in the news right now. It's awesome for our writers to do, and I just love that," Duff said. "We're a comedy, so…it's serious but we're [a show that runs for] 30 minutes. It's kind of quick, it happens and we're moving on…We kind of have the perfect set up for it."
Ageism, while not the sole focus on Tuesday's episode, is still a staple topic throughout Season 5. The revelation of Liza's older age allows this subject to further unfold, but Duff's Kelsey additionally suffers different effects of ageism-related discrimination. "Kelsey doesn't get taken seriously because she's not old enough, but she's coming with all of the successful books right now in the company," Duff explained to Newsweek. "She's fighting for her voice be heard and for people to let her take risks and chances, instead of sticking to some old model that's not working anymore. Then you see Liza not being able to get a job because of her age, when look at all that she brings to the table."
Duff, in some ways, can relate to her televised character. While Kelsey has worked to prove herself in the publishing world due to her age, Duff has worked to prove herself in Hollywood outside of her former Disney persona: Lizzie McGuire. Duff played Lizzie as a teenage girl, but the character has resonated with audiences since its 2001 debut.
"I don't necessarily feel like I haven't gotten a job because I'm older yet," Duff said. "I definitely feel like I go out for [acting] roles that are really serious. I'll go back and read four and five times, then, at the end of the day, they're like: 'Oh, she's Lizzie McGuire.' 'She's Hilary Duff.' 'She's so well-known.' I can do just as good of a job as anyone else. It's hard to fight against, 'She's too well-known.'"
Duff said joining Younger has allowed her "to do different stuff that's not so far off from who I am." TV Land announced Monday that its renewed Younger for Season 6, which allows Duff to reprise her role as Kelsey once again. "I think it's been a really great opportunity for me," Duff said. "I know the path of my career, I know what I'm good at and I love being a relatable character to women."
Season 5 of Younger premieres Tuesday at 10 p.m. ET on TV Land.