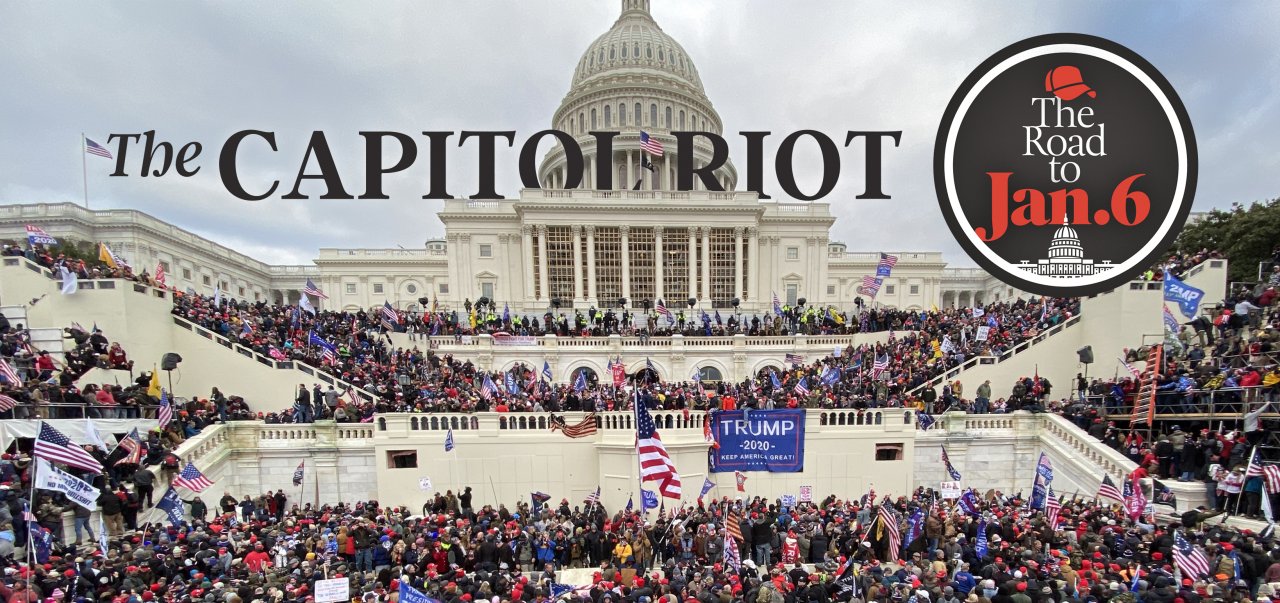 'Your Days are F--king Numbered': Threats Rained Down on Election Officials
In this daily series, Newsweek explores the steps that led to the January 6 Capitol Riot.
Michigan's Senate and House offices were closed December 6 in response to "credible threats of violence," Senate Majority Leader Mike Shirkey said in a statement that Sunday night.
Armed protestors had gathered that weekend outside the Detroit home of Michigan Secretary of State Jocelyn Benson.
"As my four-year-old son and I were finishing up decorating the house for Christmas on Saturday night, and he was about to sit down to watch 'How the Grinch Stole Christmas,' dozens of armed individuals stood outside my home shouting obscenities and chanting into bullhorns in the dark of night," the top election official for the state said.
According to Michigan Attorney General Dana Nessel, protestors at Benson's house could be heard shouting "You're murderers" within earshot of Benson's son's bedroom. Nessel, in a tweet, accused the pro-Trump demonstrators of "mob-like behavior [that] is an affront to basic morality and decency."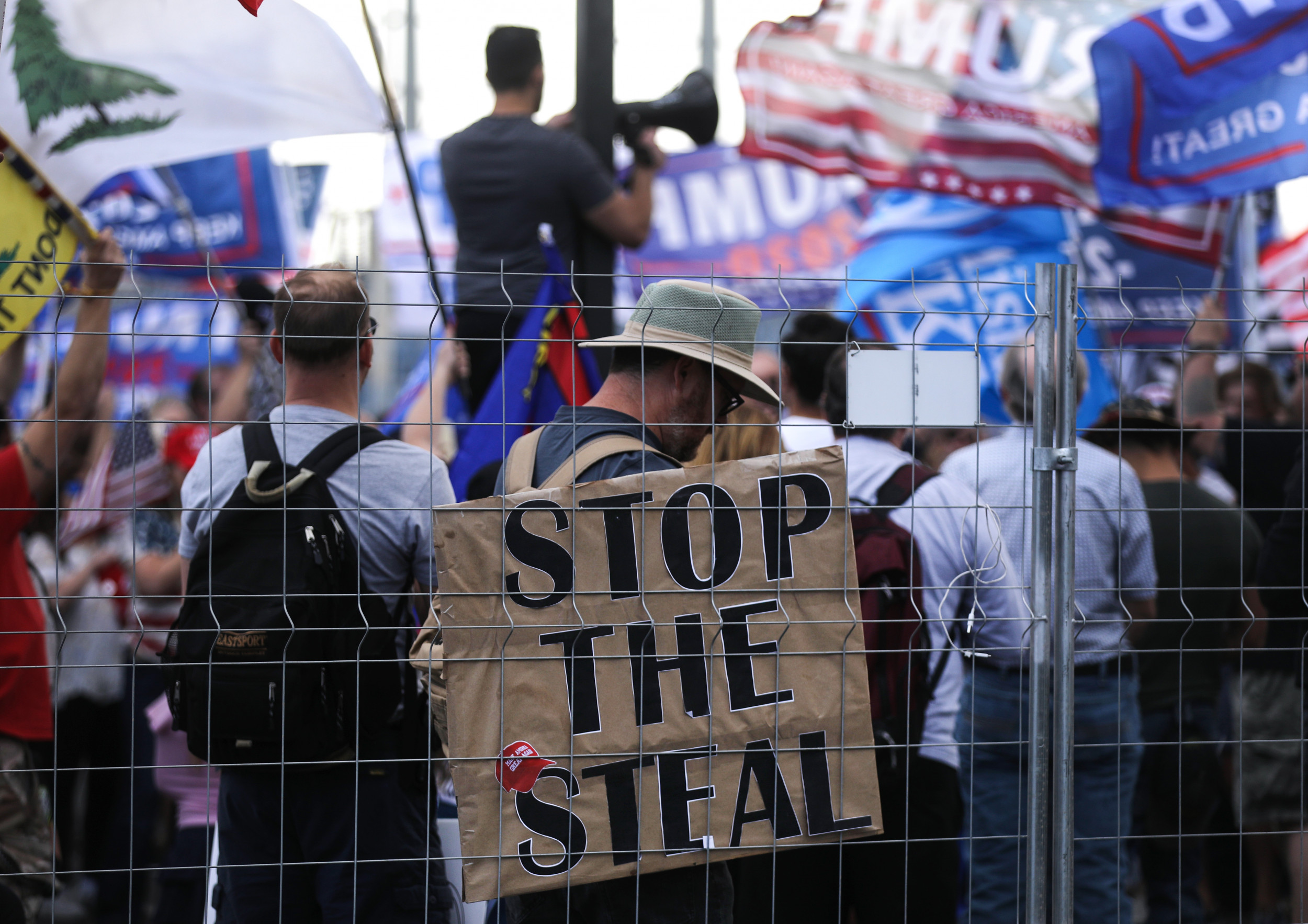 Benson said: "There is a line crossed when gatherings are done with the primary purpose of intimidation of public officials who are carrying out the oath of office they solemnly took as elected officials.
"The demands made outside my home were unambiguous, loud and threatening," she said. "They targeted me in my role as Michigan's Chief Election Officer. But the threats of those gathered weren't actually aimed at me—or any other elected officials in this state. They were aimed at the voters."
A spokesman for Benson put out the department's own statement, saying that "the voters have spoken and their will has carried the day."
"Let's be clear—Secretary Benson just oversaw the largest and most secure election in our state's history," the statement said. "Secretary Benson will continue to use every tool at her disposal to protect the votes and voices of the 5.5 million Michigan citizens who cast ballots in this election, and she would have done so no matter the president they had selected."
Michigan State Rep. Cynthia Johnson then shared several threatening voicemails she'd received, including some that said she would be lynched, the Detroit Free Press reported.
Michigan House Speaker Lee Chatfield, a Republican, released a statement saying he and his family had been targeted too.
Michigan Gov. Gretchen Whitmer tweeted, "Threats against our elected officials, no matter their party, are dangerous and unacceptable. This must stop."
But the targeting of government officials—a trend that had started as COVID protests—swept across the country.
During the first week of December, the Washington Post reported, an "enemies" list of state and federal officials "floated up from the dark corners of the Web, with home addresses listed and red targets over their photos, the latest in a string of threats to public officials."
In Cobb County, Georgia, protestors gathered in election offices, threatening workers and telling them that they were going to prison.
In Fulton County, Georgia, Elections Director Richard Barron received a voicemail saying he "better run" and that he would be tarred and feathered and executed unless "ya'll do something" about voter fraud.
In Arizona, electors met in an undisclosed location. There, Secretary of State Katie Hobbs, also responsible for administering the election, was harassed, a caller leaving a message saying she'd hang "from a fucking tree."
"They're going to hang you for treason, you fucking bitch."
In Idaho, Ada County Commissioner Diana Lachiondo said tearfully before a Zoom district health board meeting: "My 12-year-old son is home by himself right now, and there are protesters banging outside the door. I'm going to go home and make sure he's OK."
In Illinois, a man sent threatening letters to the U.S. Attorney and a federal judge. "im [sic] going to make sure you never see Christmas ... I might have someone walk in the Court House and blow all you evil [expletive] to pieces."
In Montpelier, Vermont, a protestor told workers at the Secretary of State's office that they were about to die. "This might be a good time to put a fucking pistol in your fucking mouth and pull the trigger," the man shouted. "Your days are fucking numbered."
The New York Times reported that officials in Wisconsin, Pennsylvania, Kentucky, Virginia and Nevada had been threatened.
Amber McReynolds, director of the National Vote at Home Institute, a nonprofit organization, received a threat over Twitter, a picture of a noose and a caption that read, "You're a traitor to the American people."
There were threats against elected officials in at least 11 states. In all cases, the FBI wouldn't confirm or deny the existence of a specific investigation. In a statement, the Bureau told Reuters that it takes such acts seriously, working with other law enforcement agencies "to identify and stop any potential threats to public safety."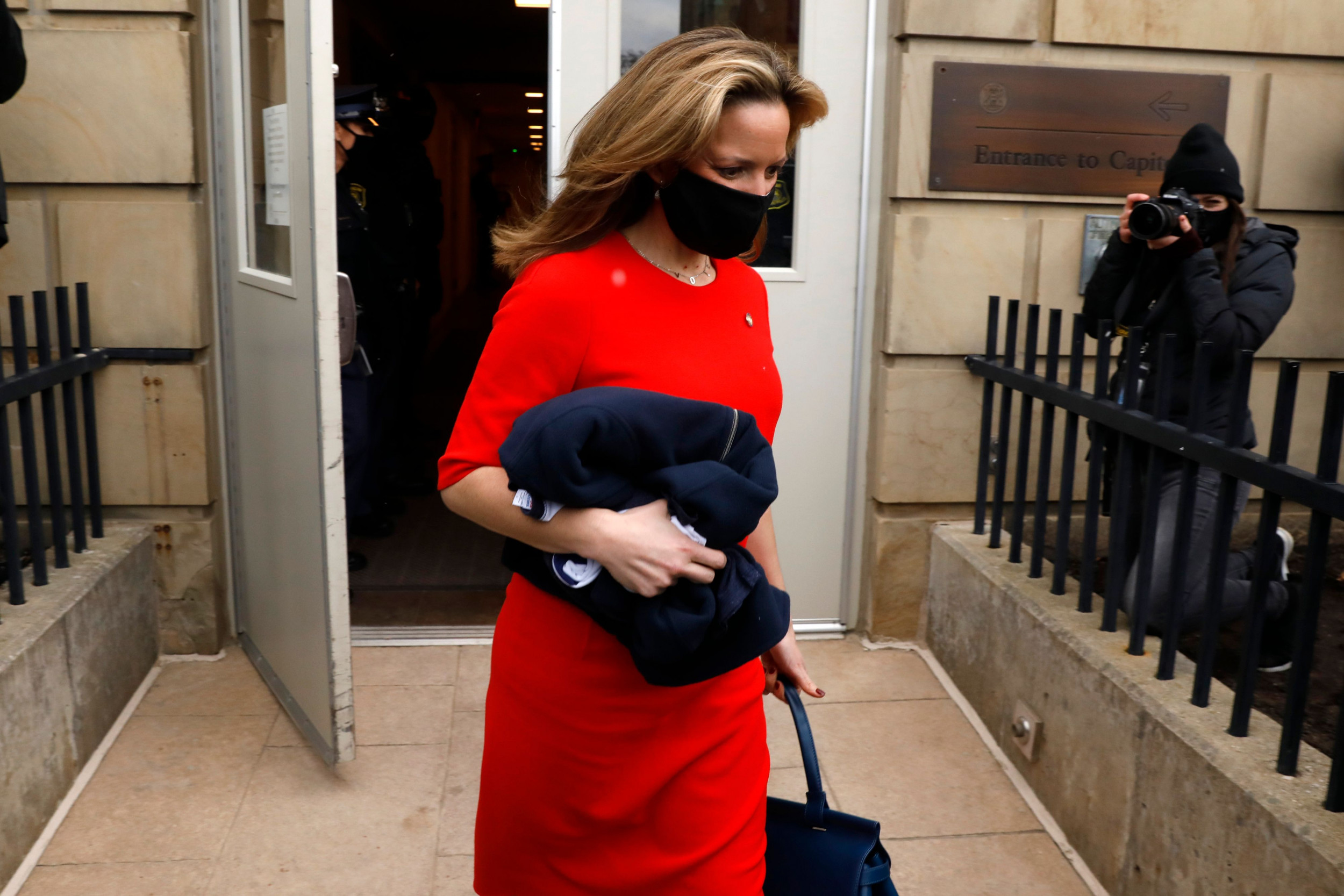 Back in Michigan, Secretary of State Benson released a formal statement. "I began my career investigating violent neo-Nazi and white supremacist organizations throughout the country," it said.
"A photo of Detroiter Viola Liuzzo, along with a replica of her Michigan license plate from the vehicle she was driving when she was murdered, hangs in my office. I am acutely aware of the risks borne throughout history of those working to stand guard over and protect our democratic process. Nothing about the incessant and graphic threats made outside my home, or those that flood my social media accounts, will deter me, my team, or the more than 1,600 election administrators across the state of Michigan from doing our jobs."