The Supreme Court recently freed companies from an obligation to enforce federally-mandated vaccine and testing policies, but nothing in the recent ruling bars companies from requiring employees to be vaccinated against COVID-19.
The Supreme Court struck down a Biden administration mandate that required companies with at least 100 employees to implement policies that required all employees to be vaccinated against COVID-19 or have unvaccinated employees submit to weekly testing and wear masks. However, businesses can implement whatever policies they want within the confines of the law, including requiring vaccinations.
So, as long as there's no state, local or federal law prohibiting businesses from implementing vaccine mandates, employees can still be faced with a choice–get vaccinated or risk losing their job.
"Unless there's a law, it's employment-at-will in the United States. Employers can ask employees to do whatever the employer wants and if the employee doesn't like it, they can go find another job. That's the default," Susan Carle, vice dean and professor of law at the American University Washington College of Law, previously told Newsweek.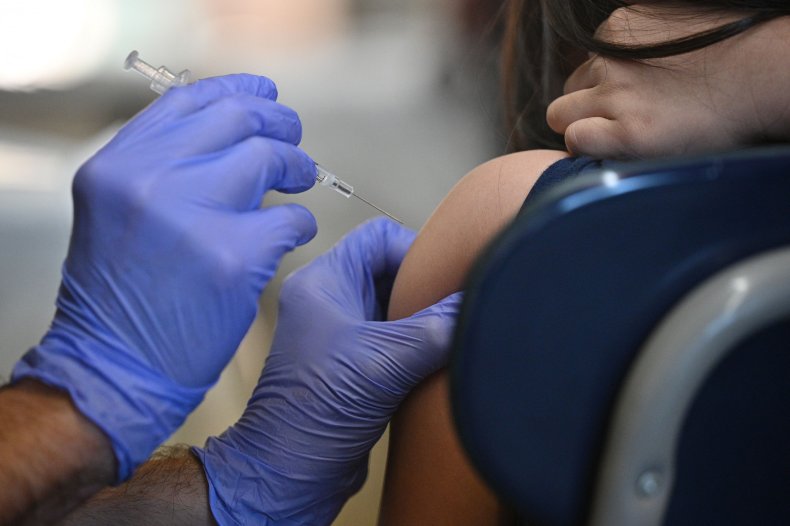 Vaccine mandates have become a contentious issue and several governors have signed laws prohibiting certain employers from making it a condition of employment. In Montana, Florida and Texas, private employers are barred from enforcing vaccine mandates and in five other states–Utah, Tennessee, Indiana, Georgia and Arkansas–the prohibition on vaccine mandates applies to state and government workers.
In New Hampshire, employers can only mandate vaccines if there is a "direct threat," which is defined as a significant risk to the health or safety of employees that can't be reduced with reasonable accommodations.
Along with staying within the confines of vaccine-mandate-specific laws, employers must also adhere to laws that are already on the books. Failing to exempt people from a vaccine mandate because of a legitimate medical reason could violate the Americans With Disabilities Act and companies could face lawsuits if they don't provide exemptions for sincerely held religious beliefs because of the Civil Rights Act of 1964.
While some employers are likely relieved at the Supreme Court's ruling, others are keeping their vaccine requirements in place. For some, like JP Morgan, it's a matter of abiding by state and local laws. Employees at JP Morgan's New York City offices will have to be vaccinated to continue working at the company because the building is a vaccine-only facility. Under New York's laws, places that are not vaccine-only must require everyone who enters the facility to wear a mask at all times.
Other companies have decided to maintain the vaccine-only requirement to maintain the safety of other employees. As long as they're allowing for religious and medical exemptions, Dorit Reiss, a University of California Hastings College of Law professor, previously told Newsweek wrongful termination lawsuits are "unlikely to succeed."