Your Next Uber Might Be a Scooter
Ride-hailing company Uber is looking to jump on the scooter craze currently overtaking San Francisco, according to Axios.
Electric scooters became a phenomenon in the city earlier this year when several companies—such as Bird, Spin and Lime Bike—started to offer cheap rides.
Scooters can be picked up anywhere and left anywhere. They cost $1 to rent and a further 15 cents for every hour they are used.
Once the day is finished, the companies collect the scooters, charge them (and repair if needed) and then place them back on the streets.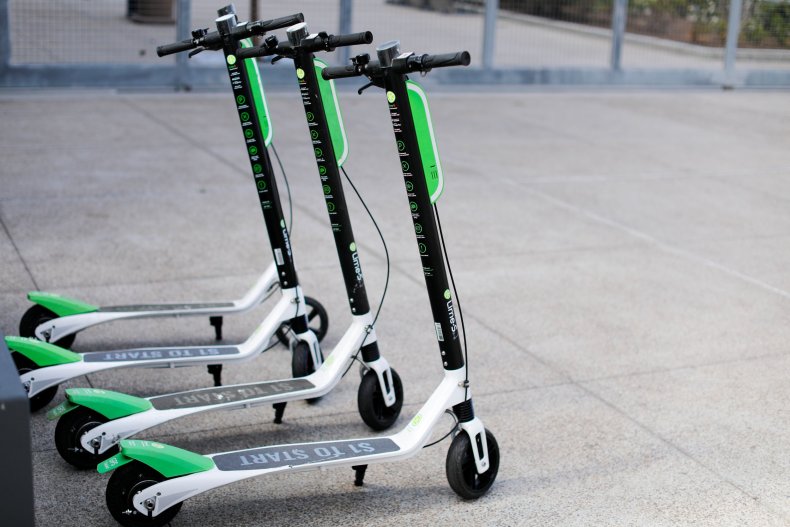 But local residents are not taking too kindly to the influx of scooters—particularly the ones riding on or left on the sidewalk. The City of San Francisco decided to intervene in April and sent out cease-and-desist letters to the scooter companies until regulations were officially introduced.
A new pilot program will allow up to five companies the chance to operate scooter rental services in the city for the next year. Uber has submitted an application, according to Axios.
Uber chief Dara Khosrowshahi has previously mentioned the likelihood of the company venturing into the scooter market.
"Let's create a cheaper form of transportation from A to B, and for you to come to Uber, and Uber not just being about cars, and Uber not being about what the best solution for us is, but really being about the best solution," Khosrowshahi said, according to Engadget.
When asked if that meant bikes and scooters, Khosrowshahi responded "bikes, perhaps scooters."
Earlier this year, Uber updated the public on its plans to offer short air travel as a faster option for commuters travelling from San Francisco to San Jose. Uber Elevate can travel between the two cities in just 15 minutes (compared to an hour and 40 minutes via an UberX car).
Air travel will start out expensive ($129 for the trip mentioned), but Uber believes once it becomes more mainstream that it could fall to just $20. It would cost a passenger $111 in an UberX.
The aircraft will fly somewhere between 1,000 and 2,000 feet above the ground (a traditional commercial plane flies at 35,000 feet) and travel at around 200 miles per hour. The battery in the aircraft—named eVTOL—lasts for 60 miles and can fully recharge in just five minutes.
"Every day, millions of hours are wasted on the road worldwide," the white paper reads. "Last year, the average San Francisco resident spent 230 hours commuting between work and home—that's half a million hours of productivity lost every single day."
Newsweek has reached out to Uber for comment.