Your Store May Run Out of Fish Sticks—Here's Why
Tens of millions of pounds of Alaska pollock lay in limbo for more than seven weeks due to a customs dispute that could threaten the supply of the key ingredient for products like fish sticks and fast food sandwiches.
Although the fish is caught in the U.S., things get complicated in transit because it is taken by ship to New Brunswick, Canada, near the border with Maine.
After it is loaded onto rail cars for a brief trip across 100 feet of track in Canada, it is then put onto trucks which take it into the U.S. through Calais, a small Maine city, about 220 miles northeast of Portland, the Associated Press reported.
However, U.S. Customs and Border Protection have alleged that shippers are violating the law which requires goods shipped between U.S. ports to be transported on U.S-owned ships.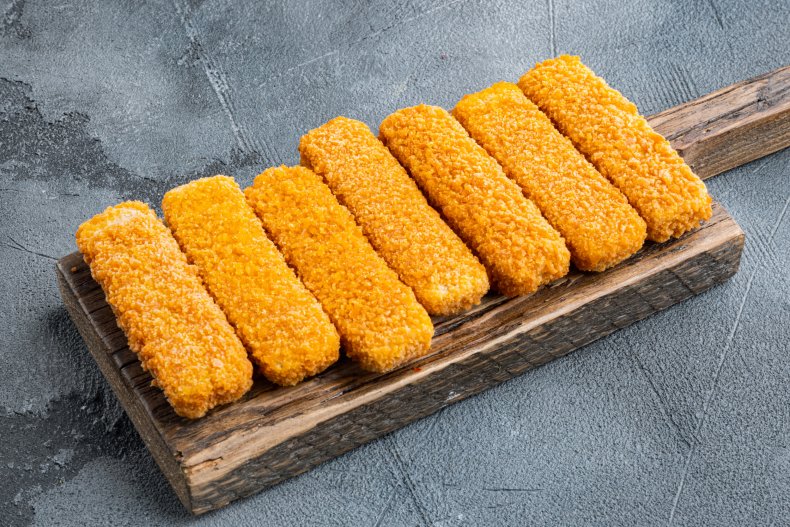 The federal government said the companies had used a specially built rail track at the port of Bayside in New Brunswick, near the border, to take advantage of an exemption in the Jones Act, the Anchorage Daily News reported. This alleged breach resulted in penalties of more than $350 million.
Two of the shipping companies, Kloosterboer International Forwarding (KIF) and Alaska Reefer Management (ARM) fought the ruling in federal court.
After 26 million pounds of fish had been stuck in cold storage in Canada for 50 days, U.S. District Court Judge for the District of Alaska Sharon Gleason issued a preliminary injunction on Sunday to finally let it come into the country.
Both companies welcomed the ruling but KIF's director of logistics and operations, Jennifer Adamski said in a statement: "It will require an all-out effort to deliver the stalled Alaska Seafood to the U.S. producers as quickly as possible."
Meanwhile, the industry fears a prolonged legal spat could cause long-term disruption to the seafood supply chain, while Calais is reliant on the border opening for its economy.
"If we can't get the pollock soon, then we will run out of time and other raw material; causing production lines—and people—to sit idle," Michael Alexander, president of seafood company King and Prince, told the AP.
Alexander said that the dispute comes at a bad time for the seafood industry which is already making preparations to supply next year's Lenten season when the fish is in high demand. Pollock is also the usual ingredient in fast-food chains fish products, such as those used in McDonald's Fillet-O-Fish.
Meanwhile, Massachusetts Republican Governor Charlie Baker, whose state is home to some of the country's major seafood processors, had appealed to President Joe Biden to resolve the dispute which threatened jobs and an industry already reeling from the COVID pandemic.
In a letter to the president, he wrote that processors in his state "will exhaust their remaining inventory, halt production, and be forced to lay off workers."
Newsweek has contacted U.S. Customs and Border Protection for comment.