Your Tax Refund Will Likely Be a Lot Less This Year
It has been exactly one month since the Internal Revenue Service (IRS) started accepting tax returns for the 2022 tax year on January 23. Early data shows that the checks sent out so far in 2023 are a lot lower than they were on average last year.
The IRS has sent out about 8 million tax-refund checks so far. On average, these were worth $1,963—11 percent lower than the checks averaging $2,200 that were given out in 2022 during this same time frame. But why are tax returns smaller in 2023?
Economist Mark Mazur from The Tax Policy Center told Newsweek that, in part, lower amounts could be because more people applied for tax returns earlier in 2023. According to the IRS, the agency has received almost 19 million filings through February 3, as per its latest data. This is some 2.3 million more than the same time in 2022.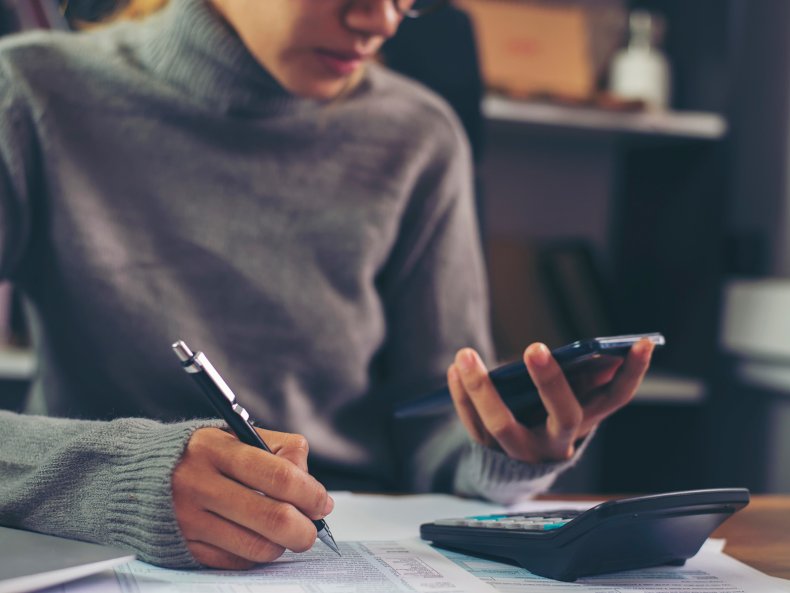 "If you look at the statistics this year and compared to last year, there are more returns that have been filed this year than last year, and maybe almost 50 percent more refunds paid this year than last year," Mazur said. In 2021, he served as assistant secretary for tax policy in the U.S. Department of the Treasury under the Biden administration.
"So, probably what that means is a couple of things. One, I guess is that more people are filing earlier just to get their withholding back," Mazur said.
Also, this year, "the filing season is better than last year," he added. "There are fewer legislative changes that affect individual taxpayers to be incorporated. So, it's a little bit calmer, and people maybe just getting a slightly earlier start."
Another reason why tax-refund checks have been lower in value so far might be that 2022 was not just your average year for such filings.
"The other thing that happened last year compared to this year, is that some people were still claiming the stimulus payments that were passed in 2021 and larger child tax credit. That could have bumped up their refund," Mazur explained.
But it's still too early in the tax-return season to say how much smaller the checks might be in 2023. Mazur said we should avoid "overanalyzing" the early filings too much. "It's basically two weeks of returns that have come in, something like that, maybe two-and-a-half weeks. So there's always a lot of volatility early in the filing season," Mazur added.
"I would expect the average refund will be slightly lower than last year," he said, "but just because of the stimulus payments not being around this year to go bump things up."
The numbers do "bounce around" every year, Mazur added.
"The larger refunds that come to taxpayers often include things like payment of the earned income tax credit. This is a tax credit for families, working families with children, lower-income families that can average $2,000 or $3,000 a year," he said. "And those don't start to be paid out until the middle of February, so next week or maybe this week, But it's not the data that you saw."