You're Fired, Again: Trump's Ex-Campaign Manager Corey Lewandowski Let Go by Right-Wing News Network, Says Report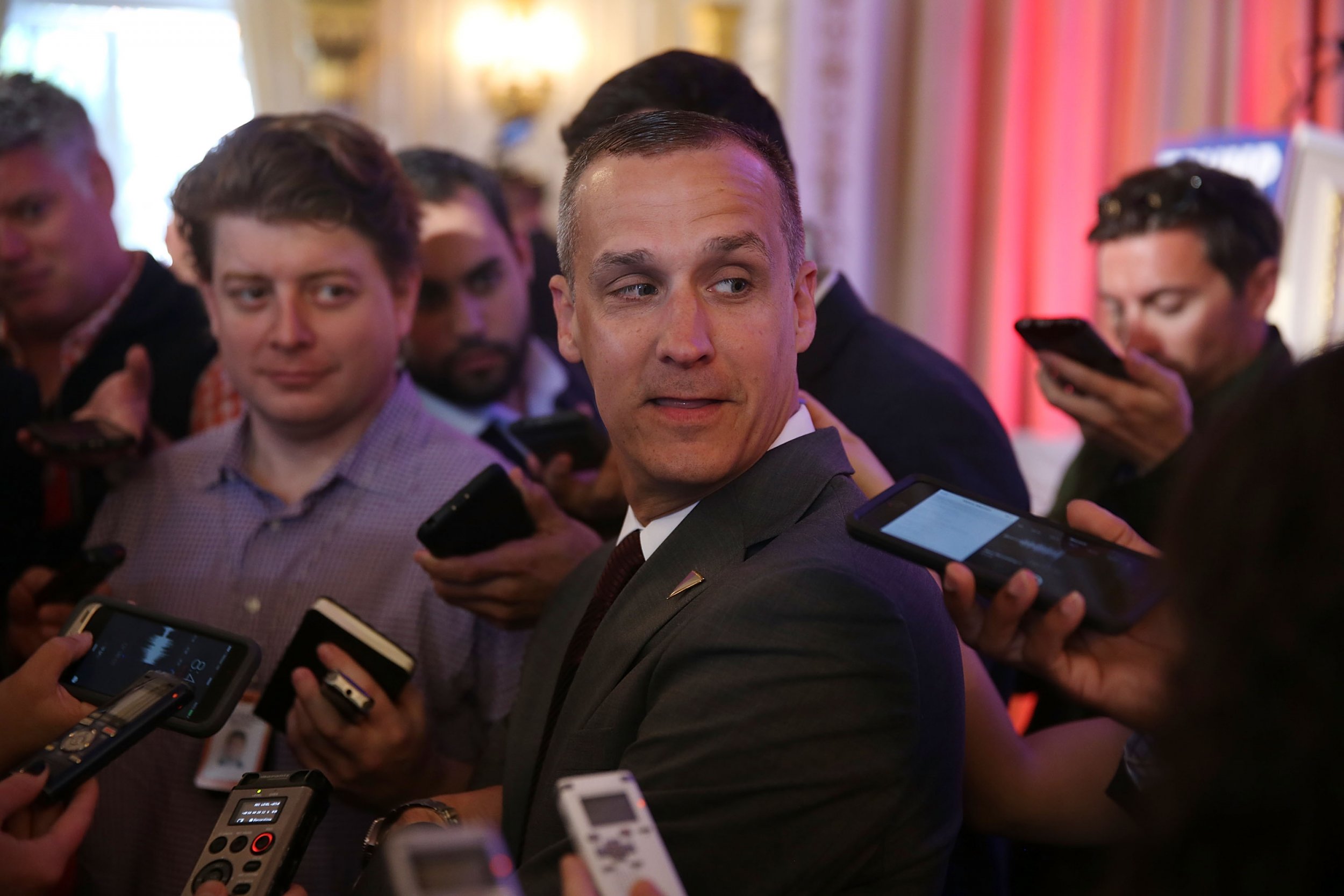 Corey Lewandowski, the former manager of President Donald Trump's campaign, is struggling to hold down a job these days.
Since leaving the Trump campaign in June 2016, Lewandowski has had roles at CNN and a political consulting firm he set up down the road from the White House. Now, he's reportedly been let go from his role at the pro-Trump One America News Network (OANN), according to The Daily Beast.
Lewandowski joined OANN prior to Trump's inauguration in January, but the Daily Beast said sources at the channel believed the leadership was angered by his repeated appearances on competitor networks, including Fox News.
The chief executive of OANN, Robert Herring, told The Daily Beast that Lewandowski had been spending a lot of time with competitors, while declining to confirm his status at OANN. But when asked if he had reason to deny the nature of The Daily Beast's report—which said that Lewandowski had been fired—Herring said: "I have none whatsoever."
Read more: Opinion | Why Corey Lewandowski would be Trump's perfect press secretary
OANN launched in 2013 and has positioned itself on the conservative end of the news spectrum, running right-wing commentary pieces. It launched the career of Tomi Lahren, a pro-Trump commentator who recently appeared in an advertisement denouncing the inquiry by special counsel Robert Mueller into alleged ties between the Trump campaign and Russia.
Lewandowski has not publicly commented on the report and has not responded to Newsweek's requests for comment. He last plugged an appearance on OANN on his Twitter account on June 27. Since then, Lewandowski has appeared at least five times on various Fox News programs.
The political commentator, who has twice run for political office unsuccessfully, joined Trump's campaign team in January 2015, six months before the businessman announced his presidential bid. He joined at a time when Trump's political team consisted of just three people: his lawyer Michael Cohen, political consultant Roger Stone, and aide Sam Nunberg.
Lewandowski's time with the campaign ended in June 2016 following several physical confrontations. Lewandowski allegedly manhandled then Breitbart News reporter Michelle Fields when she asked Trump a question at a press conference in Jupiter, Florida, on March 8, 2016; Lewandowski was charged with simple battery by police in Florida but was not prosecuted. Eleven days after the incident, Lewandowski was captured on video grabbing a young protester by the collar at a campaign rally in Arizona; Lewandowski and the Trump campaign denied that he grabbed the protester.
During his time on Trump's campaign, Lewandowski sought to play up the president's outspoken nature and refused to refine Trump's approach, which was often unconventional. Lewandowski's motto was "Let Trump be Trump," and Trump himself said of Lewandowski: "He leaves me alone, but he knows when to make his presence felt."
Paul Manafort, who was Trump's "campaign chairman" from April 2016, took over after Lewandowski's departure.
Lewandowski joined CNN as a political commentator after leaving the Trump campaign, but resigned in November 2016 after speculation that he would get a role in the Trump administration. He did not, and subsequently set up Avenue Strategies, a political consulting firm that sought to take advantage of his closeness to Trump. But by May, Lewandowski had left the firm after consumer rights group Public Citizen called for an investigation into his activities without formally registering as a lobbyist.