'You're Full of Sanctimony': Michael Wolff Knocks CNN's Brian Stelter on His Own Show
Author and journalist Michael Wolff took aim at CNN's Brian Stelter on Sunday, saying the Reliable Sources host was "full of sanctimony" during an appearance on his show.
Wolff appeared on Stelter's show to discuss his new book, Landslide: The Final Days of the Trump Presidency. As the interview unfolded, the author took aim at the media and Stelter in particular, suggesting that he represented a "flip side" version of the former president.
"I think the media has done a terrible job on this [in covering Trump]," Wolff said. "I think you, yourself—well you're a nice guy—you know, you're full of sanctimony. You become part of one of the parts of the problem of the media. You know, you come on here and you have a, you know, monopoly on truth. You know exactly how things are supposed to be done. You know, you are one of the reasons why people can't stand the media."
Stelter, a former media report for The New York Times, responded with an awkward laugh. "You're cracking me up," he said.
"It's your fault," Wolff said with a wry smile.
"So what should I do differently, Michael?" Stelter asked.
Wolff told the CNN anchor he should not "talk so much" and should "listen more." The journalist asserted that "people have genuine problems with the media," arguing that "the media doesn't get the story right" and that it "exists in its own bubble." Stelter nodded with approval, saying he agreed with Wolff.
Wolff then complained that Stelter regularly has "people saying the same old stuff" on his show. The CNN host again responded with awkward laughter and clapped his hands.
"Also you're incredibly repetitive. It's week after week, I mean, you're the flip side of Donald Trump. You know, 'fake news' and you say 'virtuous news,'" Wolff said.
Stelter cut in, saying: "No, we just figure out what is real." The back and forth continued with several more exchanges before the journalist asked the author why he chose to come on CNN if he had so much criticism.
"You know, I'm a book salesman," Wolff admitted.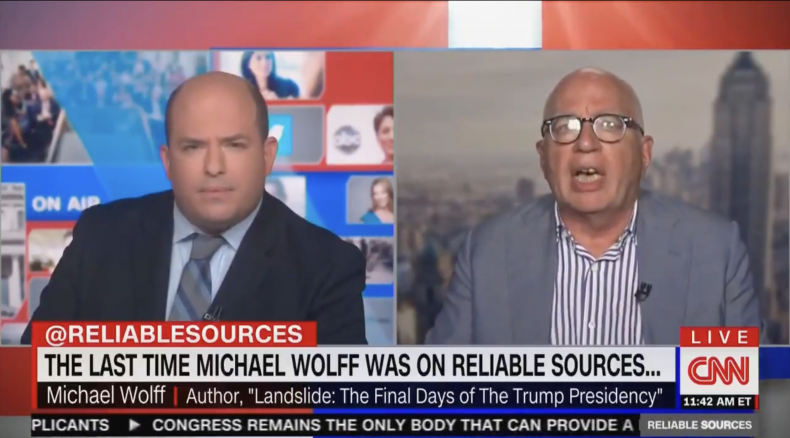 Many on social media shared the exchange, with some finding it humorous that Wolff so directly criticized Stelter on his own show. Stelter retweeted a clip of the exchange, suggesting he wasn't embarrassed by the criticism.
Stelter, 35, has hosted CNN's Reliable Sources since 2013. He graduated from university in 2007 and went on to work for The New York Times.
Wolff, 67, has now written three high-profile books about former President Donald Trump. The first—Fire and Fury: Inside the Trump White House—was published in 2018. That was followed by Siege: Trump Under Fire in 2019, and now Landslide, which was released this month.
Newsweek reached out to Stelter for further comment but he did not immediately respond.