'You're Going to Die Tonight': Video Shows Capitol Riot Mob Attempting to Breach Security
Newly released footage from the front lines of the Capitol riot give viewers a glimpse into the physical and verbal onslaught officers faced on Jan. 6.
Evidence from the Capitol riot continues to trickle out as court orders require the release of officers' body camera footage. In one video, officers are seen holding riot shields as the crowd attempts to penetrate the line by kicking the shields and throwing things at law enforcement, while making threatening comments toward the police officers.
"You're going to die tonight," one person can be heard saying and another shouts, "Wave the white flag now."
In a second video, also posted on Twitter by NBC4's Scott MacFarlane, an officer is seen being dragged headfirst into the crowd as another officer is being pulled by his boot. An officer came to the second officer's rescue, pulling him back toward the Capitol and away from the mob.
The January 6 Capitol riot left five people dead, including a police officer, and was initially widely condemned by both sides of the political aisle for being a lawless, unacceptable act. However, after leading to the historic second impeachment of former President Donald Trump, it's turned partisan in nature with Republicans looking to shift blame away from Trump, putting the onus only on those who committed crimes.
Having failed to get Senate Republicans on board for a bipartisan commission to investigate the Capitol riot, House Democrats moved forward with a select committee. They're looking to hold their first hearing when lawmakers return from their July recess regardless of whether Republicans are named to the panel.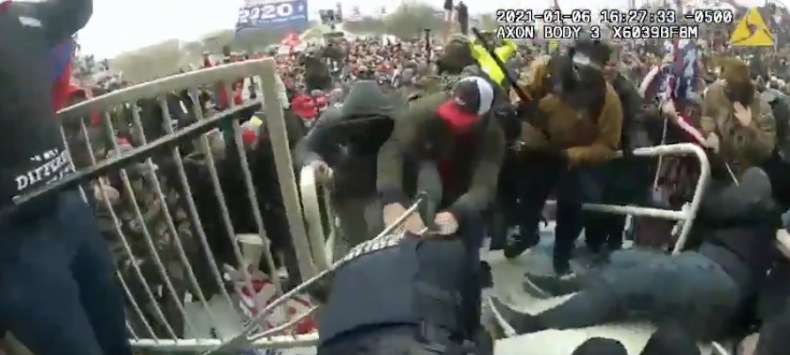 Speaker of the House Nancy Pelosi put Rep. Liz Cheney, a Republican who voted to impeach Trump, on the committee and House Minority Leader Kevin McCarthy is rumored to be deciding which Republicans to select for it as well. However, it's unclear if or who McCarthy would appoint for it.
"I was shocked that she would accept something from Speaker Pelosi. It would seem to me, since I didn't hear from her, maybe she's closer to her than us," McCarthy said at a press conference with regard to Cheney's place on the committee.
The committee, according to Rep. Stephanie Murphy, who is serving on it, will start its investigation by hearing testimony from law enforcement officers. The onslaught they faced has been a focal point of the day's criticism and many have used video footage and the death of Officer Brian Sicknick to rebuke claims it was a peaceful protest or that those present respected law enforcement.
It's possible McCarthy could also be called to testify, specifically about a call he had with Trump during the riot, where Trump reportedly said the rioters were "more upset" about the election than the House Republican.
Hundreds of people have been charged in connection to the Capitol riot on an array of crimes. At least 13 defendants have pleaded guilty, including three people who are connected to the Oath Keepers, a militia organization that's accused of conspiring to carry out the riot. Only one defendant, Anna Morgan-Lloyd has been sentenced.