'You're Gonna Rot in Jail': Meghan McCain Hits Back at Michael Avenatti
It took all of 15 minutes for Meghan McCain to reply to a Twitter insult from attorney Michael Avenatti on Tuesday.
In his tweet, Avenatti suggested that McCain wasn't qualified to comment on politics, despite the fact that she is a political analyst at ABC and was a prominent figure in her father's 2008 campaign for president.
Avenatti wrote: "Other than being born as the daughter to John McCain, can someone please again remind me what the hell Meghan McCain has ever accomplished in her life? Especially as it relates to publicly commenting on issues like degrading children in custody?"
To which McCain replied: "Coming from the guy who stole 4 million dollars from a paraplegic veteran I consider it a compliment coming from you. You're gonna rot in in jail for the monstrous, evil things that you have done...."
McCain is likely referring to reports earlier this month that said Avenatti, the lawyer who represented porn star Stormy Daniels in lawsuits against President Donald Trump, was being sued by a paraplegic former client who has accused him of siphoning away a $4 million settlement he had won.
The reports, however, did not specify if the paraplegic man is a veteran.
In the past, McCain has called Avenatti "sleazy" and a "con artist," but her commentary on Tuesday also comes from a longer thread of Twitter counter offensives to a number of her critics this month.
On Sunday, McCain blasted journalist Joan Walsh on Twitter for criticizing her husband, Ben Domenech, for advertising T-shirts with the phrase "Kamala is a cop."
Walsh wrote (in part): "But wait, @MeghanMcCain's husband @bdomenech is selling these t-shirts? Are they doing it because they support Kamala? Or they're just being trolls and gremlins?"
In a follow-up tweet, Walsh called McCain and her husband "creepy."
McCain replied to Walsh in less than 10 minutes, saying: "Do you hold Ben accountable for everything I say on @TheView? I know this is a hard concept for some but we are not the same person, believe different things and love and respect each other's differences. This is why I have no patience or place with third wave modern feminism."
According to her bio on ABC News' website, McCain graduated from Columbia University with a degree in art history and ambitions to pursue a career in music journalism.
McCain wrote Dirty Sexy Politics: A True Story and a children's book. Both were inspired by her time on the campaign trail during her father's presidential run. Her most recent book, America, You Sexy Bitch: A Love Letter to Freedom, chronicles her 2011 cross-country road trip with liberal comedian Michael Ian Black.
She is the daughter of Senator John McCain.
McCain joined ABC's The View as a co-host in 2017. She is also an ABC News contributor, making appearances on Good Morning America and This Week.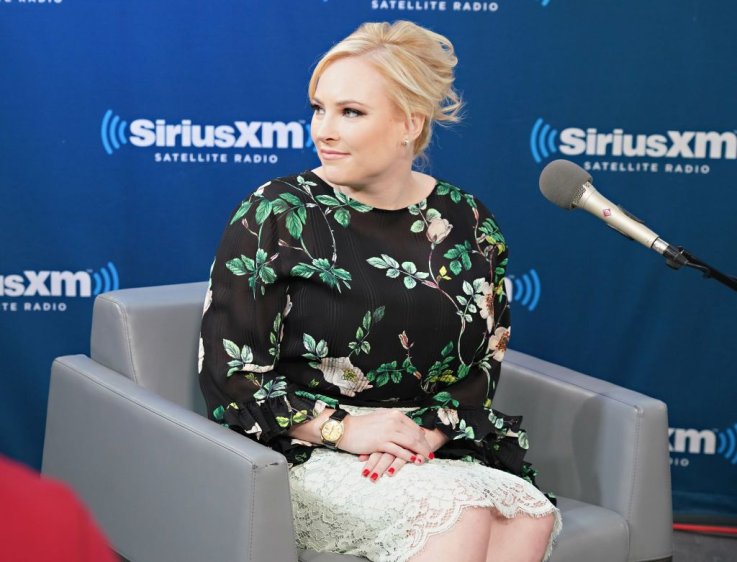 'You're Gonna Rot in Jail': Meghan McCain Hits Back at Michael Avenatti | U.S.