'You're Such a D***': NJ Gov. Murphy Confronted At Family Dinner After Ordering Limited In-House Gatherings
New Jersey Governor Phil Murphy showed up in a social media video Sunday night for having dinner with his family. But why the hysteria on Twitter? The Democratic governor and his crew were eating while wearing no protective masks. That didn't sit well with some apparent Republican bystanders.
Still, why the hoopla for an elected official eating dinner with no masks at a public restaurant? Probably because not long ago, Gov. Murphy suggested families in his state to keep Thanksgiving gatherings at a minimum to help stop the spread of COVID-19.
"We're urging everybody to keep their Thanksgiving plans as small as possible because we know that indoor gatherings and homes are particularly dangerous places for COVID-19 to spread," Murphy said during a state coronavirus briefing last Monday. "The smaller the gathering is, the less likely it is that someone is infected and puts their loved ones at risk. It is that simple."
Then, a video surfaced Sunday night of Murphy having dinner with several folks. Behind the video was apparently a woman who said "f***" many times to not just the governor, but to other people in his party who engaged in conversation with the woman.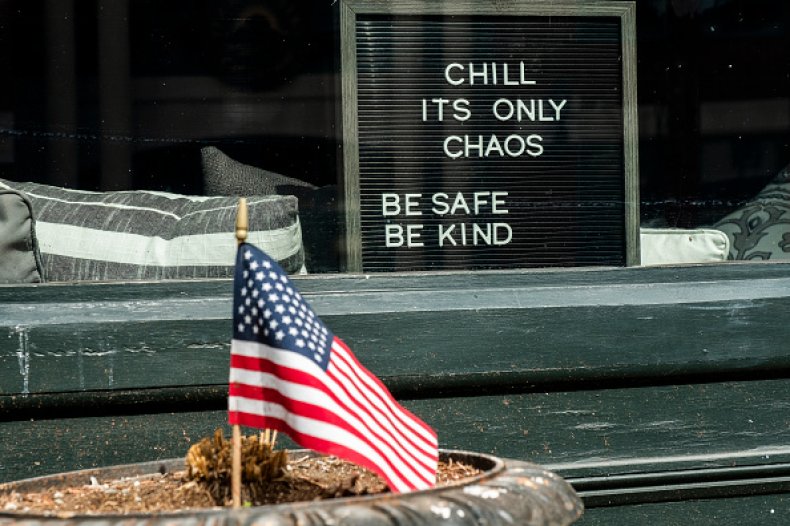 The video first focuses on the governor while he's at a large tabletop with his party. A woman's voice is then heard.
"Hey, how ya doing?" the woman asks the governor. Another voice in the background is heard saying, "you're such a d***."
The main woman's voice is heard again saying, "You're having fun with your family and in the meantime you're having all other kind of bulls***going on." The governor can be seen taking a bite of food as the berating continued.
Note: The video below has explicit language.
A young man at the governor's table pointed at the person holding the camera and mentioned that person's Donald Trump clothing worn, and said, "Guess who Trump likes, he likes my dad."
The lady behind the camera said, "No, he doesn't like your dad."
As the video ended, one woman could be seen holding a face mak, and the governor was seen, ultimately, with a protective mask on at the end of the video.
Governor Murphy's office told Newsweek that:
The Governor was dining only with his immediate family, including the First Lady, his three sons, and his daughter, and that they were outdoors.
All health policies and guidance were followed by Governor Murphy and his family during this dinner.
Governor Murphy and his family have supported many restaurants with their personal business during this difficult time.
The COVID-19 pandemic has reached a new wave in the United States, and Murphy's office issued a warning last week, when New Jersey reached more than 14,500 new positive COVID cases, bringing the state's total to more than 280,000 this year. The previous four days had brought 5 percent of the state's total since the pandemic began in March, which Murphy called "sobering."
"So let that sink in. Our highest case counts are now no longer from when this virus first began rampaging across our communities. They have come now, when we are grappling with pandemic fatigue and when we know people have begun to let their guards down," Murphy said.
"We have got to get back in front of this virus as best we can right now, so that when a vaccine or multiple vaccines, which looks increasingly likely, are ready for wide-scale distribution, what we hope is just a matter of a few months, we are in a stronger position for our vaccination program to work."
And as the governor declared indoor gatherings be limited to 10 people or less—including recreational activities and the upcoming holidays—he was spotted in a group eating dinner.
However, the video doesn't appear to show the governor and his party indoors, and there appears to be less than 10 people.