Youths Swallowed Thousands of Dollars in Cartel Money Using Latex Capsules, Authorities Say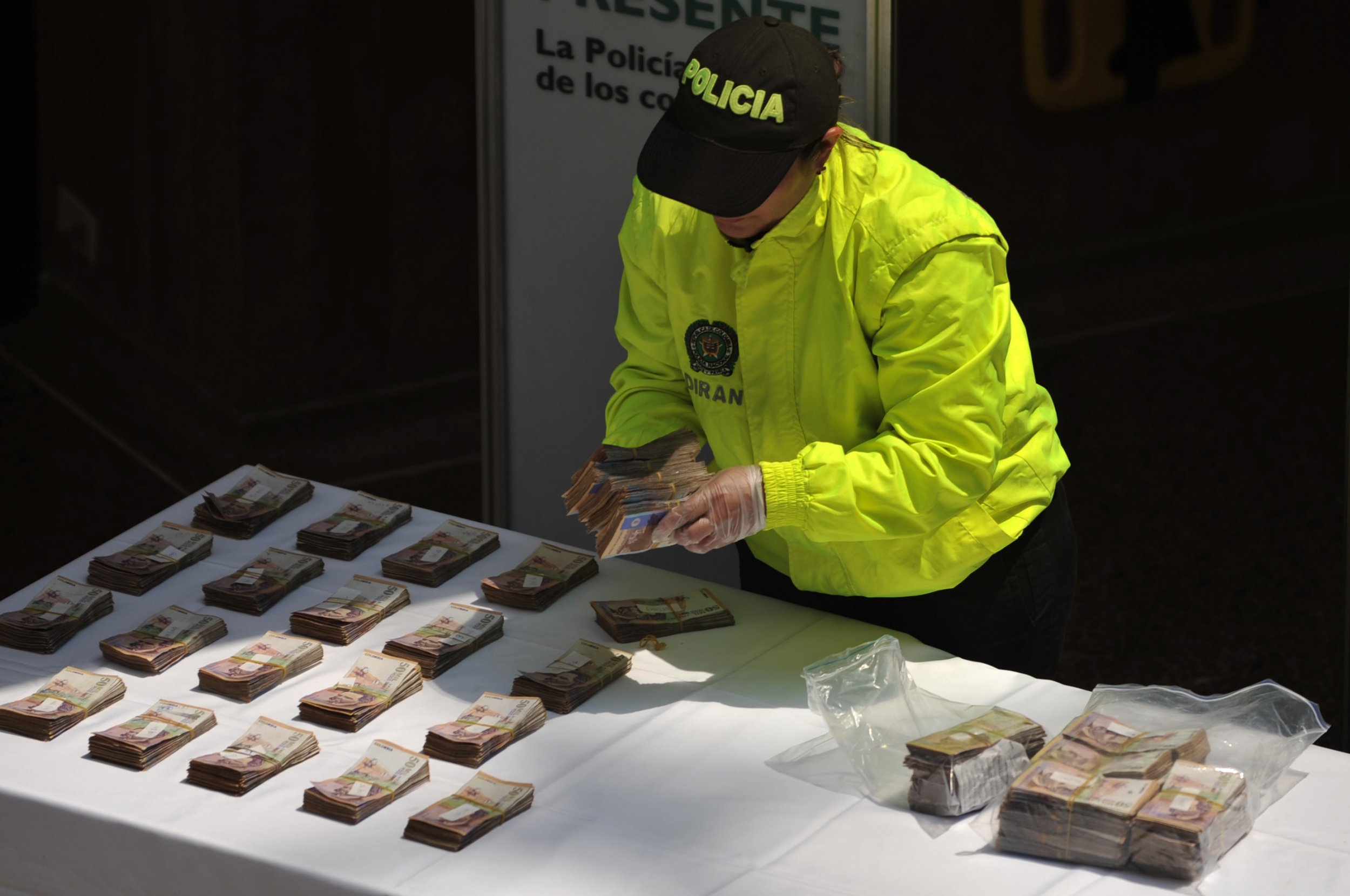 Colombian authorities on Thursday apprehended 27 people who are allegedly part of four smuggling networks that recruited youths to ingest thousands of cartel money in latex capsules and send them from Mexico to the South American country.
The suspects were arrested as part of an operation called "Link," Colombian newspaper El Espectador reported. The swallowed capsules contained money from undisclosed Mexican cartels, which was later used in exchange for cocaine shipped by Colombian organized crime, National Liberation Army and dissidents from the now-demobilized Revolutionary Armed Forces of Colombia, Reuters reported.
Smuggling networks used other methods to send money to Colombia, such as attaching cash into an individual's body or hiding it in double-bottomed suitcases. Those arrested would face charges of conspiracy, money laundering and illicit enrichment.
The networks, which were disbanded with the assistance of the U.S. Immigration and Customs Enforcement agency, recruited poor young people who had to swallow between 80 and 120 capsules with money before traveling back to Colombia, Colombian national police General Jorge Hernando Nieto told Reuters. The members of these networks traveled between Colombia and Mexico at least 250 times since 2015.
"With each ingestion they could bring in up to $40,000, there's even a case where they brought in $75,000 in one traveler," Nieto told reporters. "The confiscated money in this investigation reaches $11 million."
An investigation from the Colombian Attorney General's office found that "the people chosen for currency trading were, mainly, university students or unemployed, preferably between 25 and 35 years old." The same entity added that "the organizations had people whose specific role was to locate men or women who fulfilled these profiles and were determined to travel in exchange for a remuneration that could amount to 5 million pesos ($1,588)."
In February, Colombian authorities reported eight cases of money smuggling in a span of two weeks, Colombian radio station La FM reported at the time. Once the so-called "mules"—people who hide illicit goods in carry-on items or even in their own bodies—were arrested and sent to welfare centers in Bogotá, where they received treatments to expel all the money from their body.
In addition to facing criminal charges, they also risk their own life. Authorities reported that one man lost part of his intestines because one of the capsules burst, while others have reported throat and stomach issues.
Operation "Link" also confiscated $2,700 in cash, six passports and 13 cellphones, El Espectador reported.
Colombia continues to be the world's top producer of cocaine, which mostly ends up in the United States—one of the world's top cocaine consumers. The U.N. Office on Drugs and Crime found in September that 422,550 acres were used to grow coca leaves, a 17 percent increase from a year prior. Since 2013, land used for coca crops have gone up about 45 percent on average each year, the report noted.