YouTube Says Anti-Amber Heard Videos Do Not Violate Policies
YouTube has said that a channel on the platform that posts videos dedicated to anti-Amber Heard content does not violate its community guidelines.
The channel is called Just In but appears to have been formerly named Film Streak. It recently posted a job seeking a researcher to source content that "proves how guilty Amber Heard is."
The post listing has since been deleted, but the channel was seeking researchers to gather content for $8 per hour that presents the Aquaman actress in a negative light to appeal to Johnny Depp fans.
"Basically, we are looking for content that concerns something that proves how guilty Amber Heard is as our fans are all Johnny Depp Fans, so they prefer videos about new evidence, celebrities, or something else that goes against Amber Heard or supports Johnny Depp," the job description read at the time.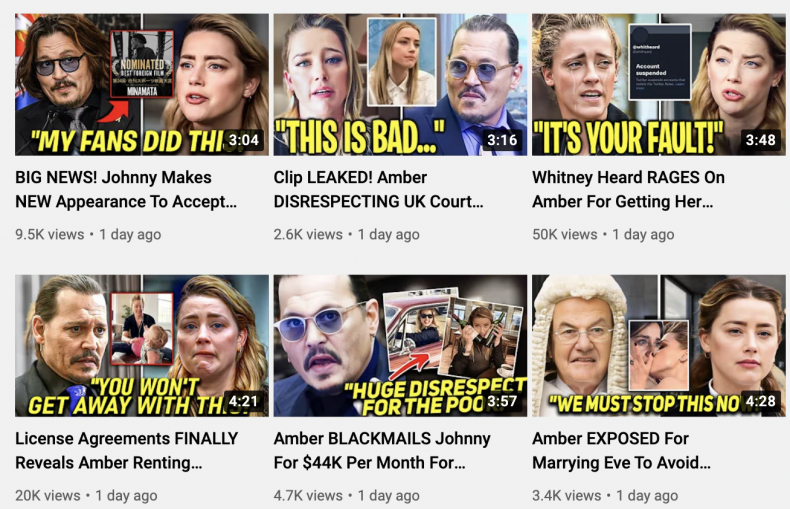 Depp sued Heard for defamation after she wrote a 2018 Washington Post op-ed, saying she was the survivor of domestic abuse. He ultimately won the case in June against his ex-wife who has faced severe scrutiny on social media during the multimillion-dollar defamation trial.
Videos on the channel contain titles such as "Amber SEEKS OUT S*x Worker To Help Pay Her Debt To Johnny!" and "New RUMOUR: Amber's Baby Was Only A PR Stunt To Gain PITY!"
At the time of writing, Just In has posted 13 anti-Heard videos on YouTube within the last 24 hours.
It appears to be a content farm and the job listing said it is based in Cyprus. Newsweek has contacted the channel for comment.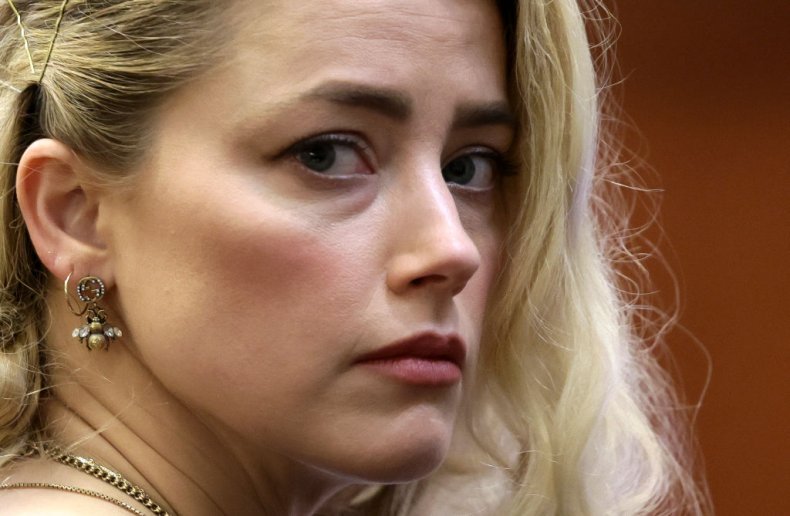 Despite the channel posting blatantly ridiculous videos that negatively target one individual, YouTube told Newsweek that it does not violate the platform's guidelines.
"Hate speech is not allowed on YouTube. Our hate speech policies strictly prohibit content promoting violence or hatred against individuals or groups based on certain protected attributes," a spokesperson for YouTube said.
"We enforce our Community Guidelines rigorously and removed over 95,000 videos for violating our hate speech policy in the first three months of 2022."
The platform reviewed the channel and a number of its videos and concluded: "Upon review, the flagged videos do not violate our Community Guidelines or our advertiser-friendly guidelines."
Despite the jury siding with Depp, Heard has continued to face ongoing abuse online with a report in July finding that the actress was subjected to intense trolling during the defamation trial.
Just In is just one avenue dedicated to anti-Heard content. The trial saw an influx of hugely misleading videos flood YouTube, with one overriding theme—they're all distinctly against the actress.
Evan Nierman, CEO of international crisis PR agency Red Banyan, previously told Newsweek that "there is no feasible way for the platforms to eliminate or even rein in opinion content masquerading as journalism."
Newsweek also reached out to Heard's reps for comment.