10 YouTube Stars Share Their Earliest Memories of YouTube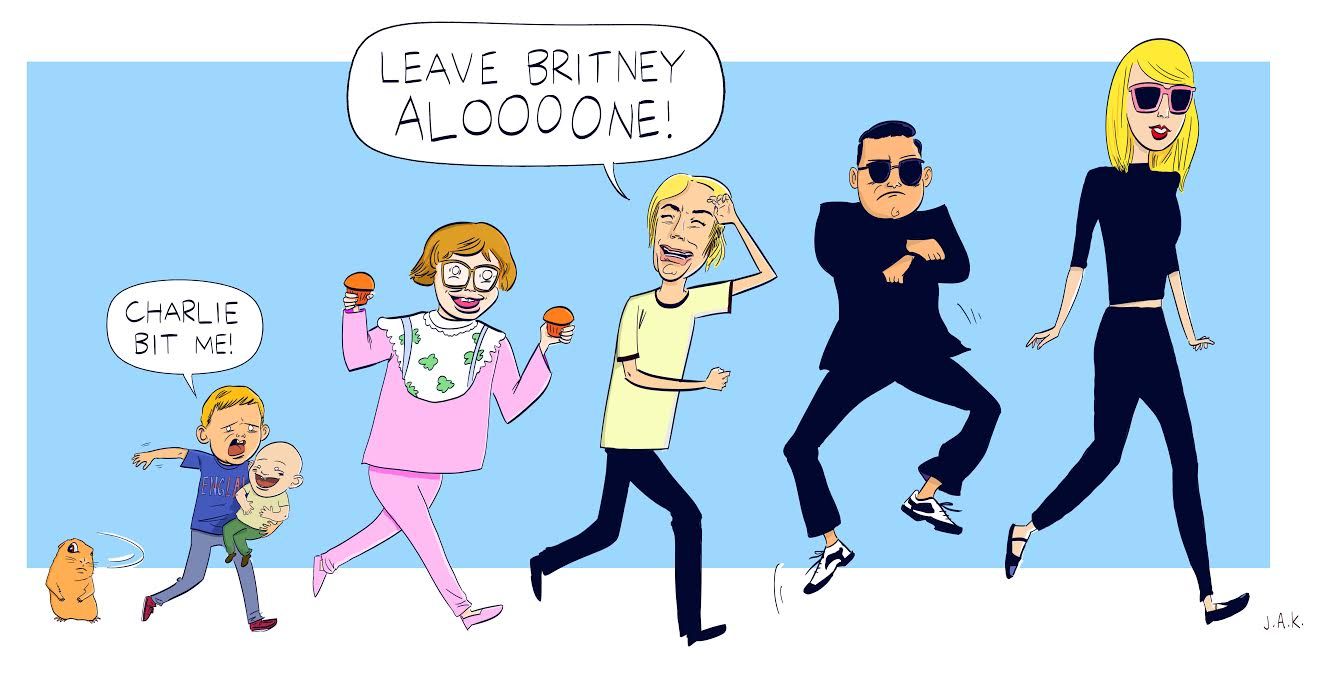 Ten years ago today, the first-ever YouTube video was posted. (It's not that thrilling: a 19-second clip of YouTube founder Jawed Karim standing around at the zoo.) So let's revisit the surreal, viral wormhole of old-school YouTube. Remember those days, when everyone in your homeroom knew the words to the "Shoes" song and a shaky cellphone clip of your kid recovering from dental surgery could turn you into a celebrity? Remember when "viral media" was a new Internet phenomenon and not a cynical business model? Oh, 2007....
We reached out to 10 iconic YouTube personalities of past and present, including those behind such classics as "Leave Britney Alone!" and "Chocolate Rain," and asked them to recall their earliest memories of the platform. As a bonus, David DeVore also provided some recollections from his son, "David After Dentist" star David DeVore Jr. In the boy's now-famous words: "Is this real life?"
ANTHONY FANTANO, host of The Needle Drop
My earliest memories of YouTube are probably back in '06, as I used to watch hilarious videos with my friends in college. I actually used to post cover songs over there every once in a while under a different channel. I was pretty into Internet humor at the time, and YouTube was essentially another avenue for that. Back then, it was all about Tunak Tunak, Yatta, Star Wars Kid. I watched guys like the Angry Video Game Nerd religiously back then, too. I remember how small the whole thing felt back then pretty vividly. There were some vloggers who got caught making multiple accounts and subscribing to themselves in order to fluff up their subscriber numbers. YouTube proudly posted the top subscribed channels out there for all to see, and that list was pretty central to the site's cultural hierarchy. I can't remember any of the names of these ollllld vloggers who came and went off the top of my head, but it's worth looking into.
AMBER LEE ETTINGER, aka "Obama Girl"
My first memory of YouTube is the first video I shot for Barely Political. Back in 2007, I was contacted by Ben Relles, the creator of "Obama Girl," to shoot a funny lil music video and lip-sync and dance about Barack Obama. I liked to sing and dance, and I thought Obama was pretty cool, so I did it. We called it "Crush on Obama." He said the video might get picked up and a few people might ask me about it. On YouTube alone, 26.6 million views later, I think it made a lil splash.
TAY ZONDAY, singer of original song "Chocolate Rain"
I watched Google Video before I knew about YouTube and before Google bought them. In 2006, YouTube took the lead as the dominant platform. I remember watching Paul Robinette, aka "Renetto," in the summer of 2006. I still watch his videos today. I remember the late Peter Oakley. His elder storytelling rocketed the Geriatric1927 channel to most-subscribed on YouTube. I remember when Ryan Leslie was the top-subscribed YouTube musician at 17,000 subscribers.
My early YouTube memories are slides and vignettes, not narratives. In early 2007, I acted on a growing itch to build a presence on the platform for myself.
SHANE DAWSON, star of ShaneDawsonTV and author of I Hate Myselfie
I discovered YouTube back in 2006. I've been making videos since I was a kid, and in high school, my teachers let me do video projects instead of writing essays. One of the videos I made spread through my school, and all the teachers started sharing it with each other. This was back when "sharing" actually meant sharing—literally. They were passing each other a VHS tape that had my video on it. One of my teachers told me I should upload it to a site called YouTube. I had never heard of it, so I went on my dial-up Internet later that night and made an account. The rest is history. I've been posting weekly content ever since, and it's been much easier than recording everything to a VHS tape and sharing that one tape. Not to mention cheaper.
CHRIS CROCKER, star of "Leave Britney Alone!"
I first became aware of YouTube because I began making satirical rant videos, [which] were exaggerated, heightened versions of how I feel, on MySpace. My first video got 8 million hits on MySpace, and one particular fan created a YouTube page for me and started uploading my videos from MySpace to YouTube. So my first videos to YouTube weren't necessarily intended for YouTube, but uploaded by a fan who later gave me the account log-in.
DAVID DEVORE, creator of "David After Dentist"
My earliest memories of YouTube go back to 2009 when we posted our video, "David After Dentist." I had never really used it before this. I wanted to post it so I could share our video with family and friends with a link because emailing it was too much of a hassle. I decided to make it public because the private option limited it to emails addresses you had to enter—way too much work! I do recall asking David if it would be OK if other people might see his video. He said, "Sure!" We had no idea what was about to happen.
It was Super Bowl weekend, and I posted it on that Friday night. I didn't pay attention to it till Sunday. We had 10,000 views and started freaking out! By that Wednesday we had 3 to 4 million views and were getting calls from media from all over the world. We have had a lot of fun with that video. We've been able to do a lot of things because of it, even six years later. YouTube has certainly had a big impact on our lives, especially David's.
DAVID DEVORE JR., child star of "David After Dentist"
I've had a unique experience with YouTube. When I was 8, my dad posted a video of my reaction after having dental surgery. You may remember it too. It's called "David After Dentist." I was too young to really be that much into YouTube itself. YouTube was new and not as big as it is now. While I did watch some of the parodies of my video, I was more into watching videos on TV back then. I did enjoy all the fun things we did because of "David After Dentist" being so popular. We got to go to New York, L.A., Boston and even Brazil, among many other things.
Now that I am older (I start high school this fall), I use YouTube all the time. I am really into gaming and like to watch gameplay videos. I also watch the fail and injury videos, but I always hope the people are OK. I watch trailers for upcoming movies and new video games coming out, like Star Wars and Age of Ultron. I also use YouTube videos to learn about something I'm interested in. For example, I love sports and I play football and lacrosse, so I look at videos that help me get better. I even look for videos that can help me with my homework!
JESSICA ROSE, star of "Lonelygirl15" series
The first YouTube video I watched would have probably been one of Paytotheorderofof2's. She was one of the YouTubers the producers mentioned for me to look up while doing research for my character on "Lonelygirl15." I had never heard of YouTube before I booked "Lonelygirl15." At the time, I barely even knew how to check my emails, let alone browse the Web!
CONNOR FRANTA, YouTuber and newly published memoirist
My first memory of YouTube—probably in seventh grade—was of friends referencing the videos "Muffins" and "Shoes." They didn't say, "Hey! Have you seen this YouTube video?" but we talked about viral videos and went over to YouTube to watch them. And then "Charlie Bit Me" blew up, and everyone knew what YouTube was, and it became a real source for entertainment. After I got into viral videos, I realized people were posting content of themselves regularly, and I figured I could too. That's when I uploaded my first webcam video. Horribly edited. Horribly lit. But it's where I started, and I'm proud of it. You have to start somewhere.
AUSTIN HALL, creator of Daft Punk video "Daft Hands"
I remember first being aware of YouTube late in high school; it served as a distraction during late-night newspaper-editing. A couple other editors and I would put on videos of old Muppet Babies episodes or whatever else we could find (it felt like there were only a handful of videos back then). The first video I remember was Smosh's Pokémon theme song dub—I think it has since been removed due to copyright?—and it was charming. Back then, YouTube just seemed like a silly little hub for anyone's wacky experiments. What little we knew.
JOEY GRACEFFA, star of channels JoeyGraceffa and JoeyGraceffaGames, author of forthcoming In Real Life
Creating video content has been a passion of mine since I was 8 years old. At first, it was just short and simple home videos that I thought made complete sense, at least to a young child. When I was 15, I discovered a platform called YouTube, and it changed my life forever. I had no idea that my love for creating short films would allow me to amass a loyal audience of millions from all over the world.
Illustration by Jason Katzenstein