David Dobrik hasn't posted a vlog on his YouTube channel since late April, leaving many to wonder what happened and if he would ever upload again.
The content creator with over 17.5 million subscribers had been uploading two to three videos a week that are four minutes and 20 seconds long for the past four years.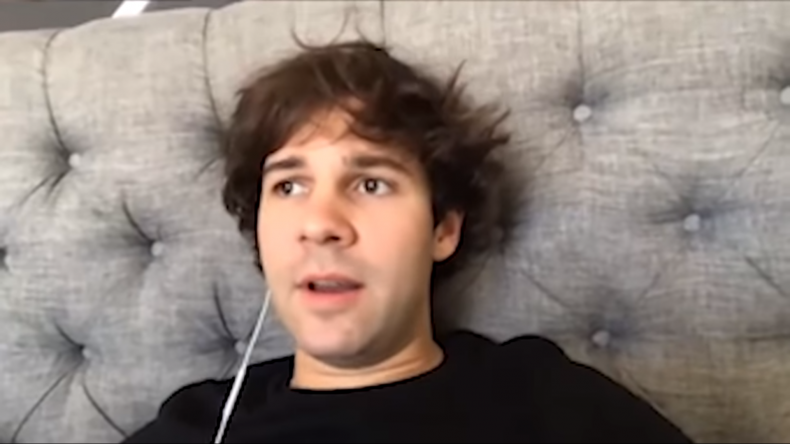 On Thursday, Dobrik appeared on Jackass star Steve-O's podcast Wild Ride! to discuss what has been going on in the content creator's life and why he hasn't uploaded any videos.
He explained that he "hasn't seen anyone do this quarantine" and has been staying in his house, making it impossible to create content with the usual members of the vlog squad such as Jonah, Scotty and Jason Nash. He also said that he received some "serious backlash" when he uploaded his last vlog, where he went outside and saw his friends.
Dobrik made a comparison to Jimmy Fallon's current setup, noticing that the late-night talk show host will be able to "to bounce back to his studio, so even if people don't like this version, he will be able to go back to that high quality production where people are going to notice the difference and say that Jimmy is back."
"If I start posting during this quarantine, by default my content is going to be so watered down just because it's going to be me inside my house," Dobrik said. 'I'd rather just quit cold turkey and stop until I'm able to create the videos I want to make exactly how I want, then I'll start again."
For those missing Dobrik and his over-the-top antics, the conversation with Steve-O was worth a lesson. They discussed how they met for the vlog and how they are dealing with quarantine. As two of the most popular stunt-driven content creators, Dobrik and Steve-O had a lot to talk about.
Rumors had been circulating about Dobrik romantically linked to singer Madison Beer. He did not mention her in the podcast and denied that the two were dating in an interview with Entertainment Tonight in early May.
Just because Dobrik isn't posting doesn't mean the vlog star isn't busy. On June 5, he will be hosting a table read with the voice actors of SpongeBob SquarePants, which will premiere on Nickelodeon. This isn't the first time Dobrik has worked with traditional media, hosting the 2019 Teen Choice Awards on Fox and America's Most Musical Family on Nickelodeon. While it might not be a vlog showing the gang hanging out again, it's something to watch in the meantime.