Adam Saleh Allegedly Kicked Off Plane for Speaking Arabic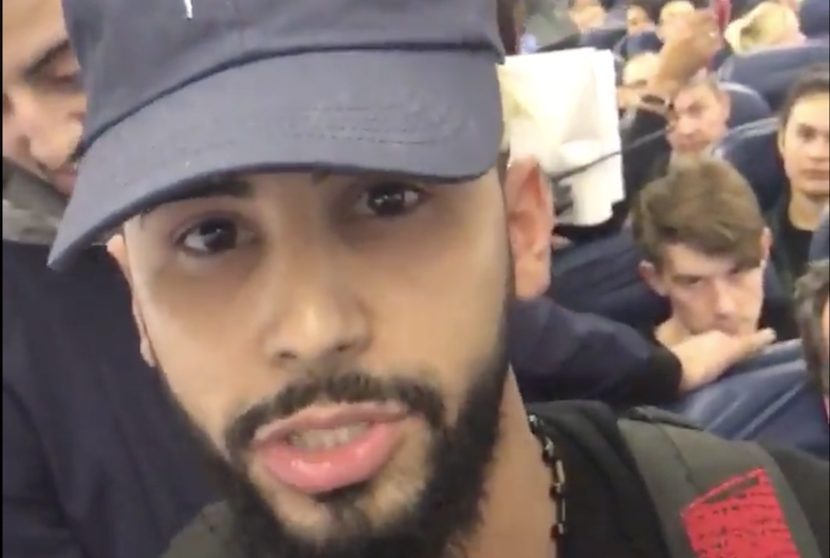 Early Wednesday morning, the Muslim American social media personality Adam Saleh, who has more than 1.6 million YouTube subscribers, tweeted a video that appears to show him and a friend being kicked off a Delta Air Lines flight. The tweet quickly went viral, racking up over half a million retweets by the early afternoon. "We spoke a different language on the plane, and now we're getting kicked out," Saleh said into the camera as confused passengers looked on in the background. Others waved goodbye, apparently relieved that he was being ejected. "It's six white people against us bearded men," Selah continued. "I feel uncomfortable."
Saleh says he was thrown off the plane for speaking Arabic, but many have questioned the veracity of his claim. The video is lacking in context, and Saleh is well known for his prank videos, some of which involve Muslim stereotypes and/or planes.
Delta has confirmed, however, that Saleh and a friend were indeed kicked off a flight. "Two customers were removed from this flight and later rebooked after a disturbance in the cabin resulted in more than 20 customers expressing their discomfort," Delta said in a statement. "We're conducting a full review to understand what transpired. We are taking allegations of discrimination very seriously; our culture requires treating others with respect."
Judging by some of Saleh's previous videos, it seems possible that he could have been speaking Arabic with the intention of getting a rise out of other passengers. Speaking with The New York Times, Saleh refuted this idea, implying that the incident occurred organically. "The only thing I can say is, I would never film a phone video," he said. "That's when it's really serious, and I must film."
Delta has said that it is continuing to investigate the issue, but for now it appears that Saleh and his friend were removed from the plane because their conversation in Arabic made other passengers uncomfortable. That Saleh is a prank video artist known for instigating these exact types of confrontations could be a bizarre coincidence.
This isn't the first time YouTube prank video artists have found themselves in the middle of controversy. In May, four members of the Trollstation YouTube channel were sentenced to jail time for a number of illegal pranks, including faking a kidnapping and faking a robbery at London's National Portrait Gallery. The latter "prank" involved the individuals entering the museum wearing pantyhose on their heads, carrying fake paintings and blaring a siren. "The hoaxes may have seemed harmless to them, but they caused genuine distress to a number of members of the public, who should be able to go about their daily business without being put in fear in this way," said Robert Short of London's Crown Prosecution Service.
In February, a YouTube prank video artist named Sam Pepper tricked someone into believing he had just witnessed the murder of a friend. The cruel stunt was not received well, and even resulted in a Change.org petition for YouTube to delete Pepper's account. The blowback became so intense that Pepper ultimately deleted all of his YouTube videos, as well as all of his tweets.
It's not uncommon for YouTube stars who specialize in prank videos to cross the line from fun to terrifying. In addition to faking a murder, Pepper filmed a prank in which he pinched the backside of unsuspecting women walking down the street. Another YouTube prankster "pretended" to steal someone's car, and then promptly got beaten up. Others have taken Saleh's idea of portraying Muslim stereotypes to unsettling extremes, planting fake bombs in public places and filming the reactions of terrified onlookers.
The goal behind a prank video is to rack up views. The simplest way to do this is to prey on people's broad fears, like sitting next to a terrorist on a plane, being sexually harassed or having their lives taken from them. Most of Selah's prank videos have been relatively goodnatured. Though some may be alarmed to hear someone count down in Arabic on a plane, it's perfectly legal, and anyone who is offended can comfortably be branded a racist. Despite Selah's background, and that he has been outed as a liar before, it appears his latest viral video may have captured just that: a plane carrying a number of racists. But if we've learned anything from prank video culture, it's that appearances can be deceiving.