Town Hall YouTube Views Suggest Trump Beat Biden Where It Mattered Most to the President—Ratings
Fewer people may have watched Democratic presidential nominee Joe Biden's town hall meeting on Thursday than President Donald Trump's meeting, which occurred at the same time.
The town hall meetings were arranged after Trump was diagnosed with COVID-19. Instead of the previously scheduled in-person debate, the Commission on Presidential Debates announced that the debate would be held virtually. Trump declined to participate. On the evening that the debate was slated to occur, Biden appeared at a town hall meeting on ABC News. Trump held a concurrent town hall meeting on NBC News. While final television viewership numbers for the meetings have yet to be announced, Biden may have attracted more viewers online than Trump.
At the end of Trump's town hall, the NBC News YouTube channel showed 153,660 viewers were watching. ABC News's YouTube channel showed 507,445 viewers at the end of Biden's town hall.
By 5:15 p.m. EST on Friday, Biden's town hall was still more widely watched at 3.1 million views on ABC News' YouTube channel compared with 1.6 million for NBC News. However Trump's town hall was also broadcast on the CNBC and CNBC Television YouTube channels, which together racked up another 3.1 million views, giving the president's event an audience of 4.7 million.
Newsweek reached out to YouTube and the Biden campaign for comment.
Trump's obsession with ratings dates back to his days as the star of reality television show The Apprentice. Trump frequently bragged about the ratings of the show during his tenure and trashed his successor when the audience declined. As president he could not stomach reports that his inauguration had drawn smaller crowds than President Barack Obama's and dispatched his spokesman to contest them. And during the pandemic he would talk up the ratings of his daily coronavirus briefings even as the economy collapsed and tens of thousands of Americans died.
In August, when reported television ratings showed that the Democratic National Convention had garnered more viewership than the Republican National Convention, Trump said the ratings were incorrect.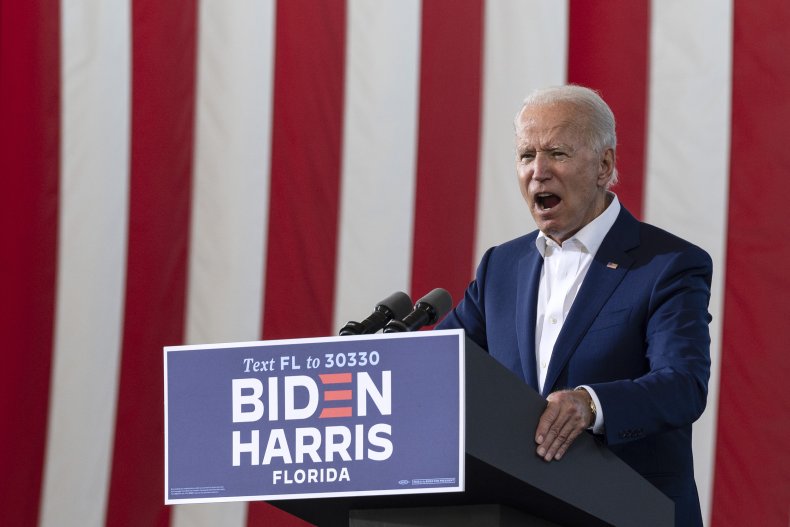 "Wow! Despite the Democrats views across TV and online lie (Con!), we had 147.9 million, the Republican National Convention blew the Democrat National Convention AWAY," Trump tweeted. "Not even close! Just like their lies on Russia, Football (PLAY!) and everything else! NOVEMBER 3rd."
According to Nielsen ratings, the Democratic National Convention averaged 21.6 million viewers over four nights while the Republican National Convention average 19.4 million viewers over four nights.
In a July tweet, Trump alleged that a Biden presidency would mean low ratings for media outlets. "With no ratings, media will go down along with our great USA!" Trump wrote.
Trump disparaged NBC for scheduling the town hall meeting, telling the crowd at a campaign event in Greenville, North Carolina that the network was "the worst."
"I figured, what the hell, we get a free hour on television," Trump said.
Some critics, including employees of NBC parent company Comcast, decried the network's decision to broadcast Trump's town hall meeting. On her MSNBC program immediately following the simulcast of the event, host Rachel Maddow explained that her network was not responsible for the broadcast.
"Let me remind you that what you just saw was a production of NBC News," Maddow said. "We are MSNBC. We did not produce that event." Maddow also described Trump's town hall meeting as a "strange replacement" for the originally scheduled debate.
Correction (10/16/2020, 5:15 p.m.): This article originally did not take into account the simultaneous streams on the CNBC and CNBC Television YouTube Channels. Newsweek regrets the error.