YouTuber Count Dankula Who Taught Dog Nazi Salute Faces Jail for Hate Crime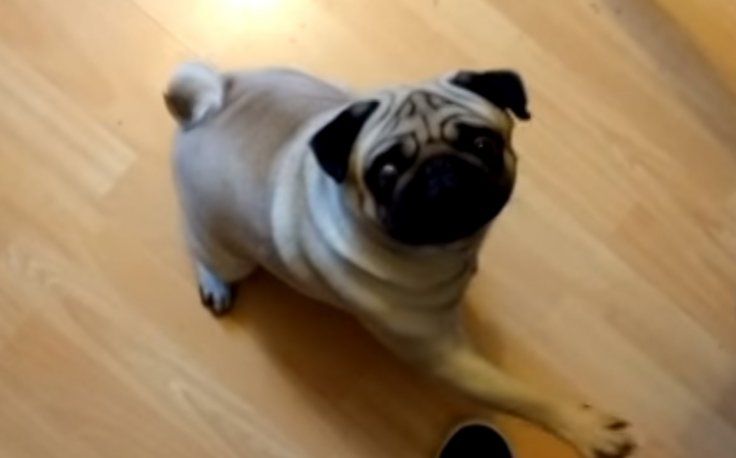 A man is facing jail after he was convicted of a hate crime for uploading a video of him teaching his girlfriend's dog to give a Nazi Sieg Heil salute and respond excitedly to the phrase "gas the Jews."
Markus Meechan, 30, from North Lanarkshire, Scotland, went viral in 2016 after he posted a video on YouTube entitled "M8 yer dugs a Nazi,"—Scottish argot for "mate, your dog is a Nazi."
In the video, which went on to be viewed more than 3 million times, Meechan explains he wanted to turn his girlfriend's pug, Buddha, into the "least cute thing I could think of" and so wanted to turn it into a Nazi.
The clip then shows Buddha raising his paw whenever Meechan calls out "Sieg Heil" and react to the question "you want to gas the Jews?" The video also sees Meechan playing speeches by Adolf Hitler to the dog.
Following outcry over the video, Meechan was arrested and charged with suspicion of a hate crime and an alleged breach of the electronic communications act.
Meechan denied the allegations and insisted he was not anti-Semitic, saying that teaching the dog to act like a Nazi was nothing more than a joke intended to upset his girlfriend.
"I don't actually hate Jewish people and the video was just an insight into the darker side of my humour, a prank to annoy my girlfriend and that I did not intend for people, other than people who knew my comedy, to see the video," he said, reports the Jewish Chronicle.
Following a trial at Airdrie Sheriff's Court in Scotland, the 30-year-old has now been convicted of a hate crime and could face jail when he is sentenced at the same court on April 23.
Sheriff Derek O'Carroll told the court: "The accused knew that the material was offensive and knew why it was offensive. He would have known it was grossly offensive to many Jewish people."
During the trial, Ephraim Borowski, director of the Scottish Council of Jewish Communities, who lost family members during the Holocaust, said the video was "grossly offensive. It stuns me that anyone should think it is a joke," he said, according to The Times.
"My immediate reaction is that there is a clear distinction to be made between an off-hand remark and the amount of effort that is required to train a dog like that. I actually feel sorry for the dog."
Meechan attracted support during his trial from British Jewish celebrities and prominent members of the British far-right, who felt his case highlighted an issue of free speech.