YouTuber Count Dankula Who Taught Dog Nazi Salute Raises $100,000 to Pay Legal Fees
YouTuber Mark Meechan, who was fined for uploading a video of him teaching his girlfriend's dog to do a Nazi salute, has received tens of thousands of dollars in donations to help with his legal fees.
Meechan, 30, also known as Count Dankula, was fined £800 ($1,117) after he was found guilty following a trial in a Scottish court of breaching the Communications Act 2003 by posting a "grossly offensive" video on the internet.
In the clip, which was viewed more than 3 million times, Meechan teaches his girlfriend's pet pug to raise its paw when he says "Sieg Heil" and to respond excitedly when he says "gas the Jews."
After receiving the fine at Airdrie Sheriff Court on April 23, Meechan set up a fundraising page asking for nearly $140,000 to help cover his legal costs. In less than 24 hours, the page has raised more than $110,000.
"This conviction will be used as an example to convict other people over the things they say and the jokes they make, it sets a standard where courts will be able to willfully ignore the context and intent of a person's words and actions in order to punish them and brand them as criminals," Meechan wrote on the GoFundMe page.
"This is the amount that has been quoted by my lawyer, the reason it has been quoted so high is my lawyer wishes to bring in top legal representatives to ensure that we have the highest chance of reversing the standard that this case sets," Meechan wrote. "I cannot allow the two years of litigation I went through and having my life put on hold, to happen to anyone else."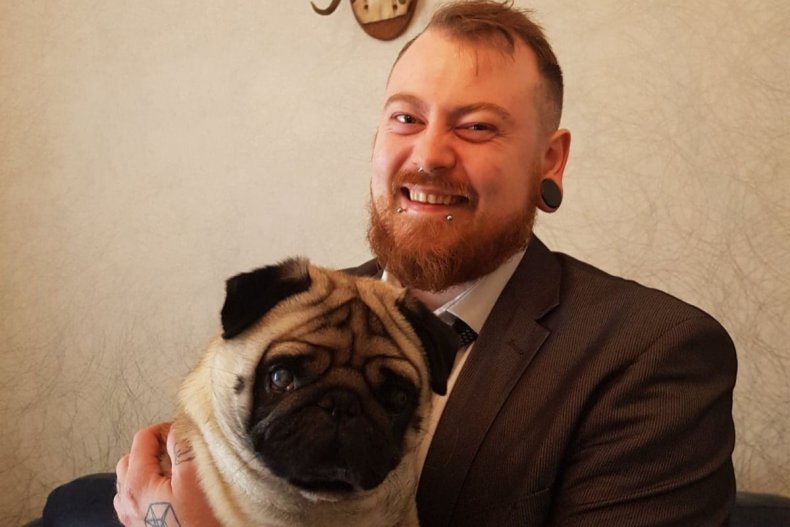 Meechan added he will be "100% transparent" with the funds and will make all bills with regards to the case public.
The 30-year-old repeatedly said the video was only ever meant to be a joke to annoy his girlfriend and should never have resulted in him being brought to trial.
Speaking outside the Airdrie Sheriff Court following his conviction in March, Meechan said the guilty verdict raises serious questions regarding freedom of speech.
"What is most worrying is that one of the primary things to be considered in any action is context and intent, and today, context and content was completely disregarded," he said.
"For the system to disregard things like that means your actions no longer matter, they decide what your context and intent is," he continued.
In his sentencing remarks, Sheriff Derek O'Carroll dismissed his defense and said Meechan did breach the Communications Act, which states it is an offense to post messages that are "grossly offensive or threatening."
"The evidence before this court was that the video was viewed as grossly offensive within Jewish communities in Scotland and that such material tended to normalize anti-Semitic attitudes and provoke further unpleasant anti-Semitic messages and as such, this video using menacing language, led to great concern," O'Carroll said.
"I also found it proved that the video contained anti-Semitic, and racist material, in that it explicitly and exclusively referred to Jews, the Holocaust and the role of the Nazis in the death of 6 million Jews in a grossly offensive manner," O'Carroll said.