Youtuber Jeffree Star Responds to Backlash Over 'My Cremated Palette' Makeup Collection
Jeffree Star is speaking out against the recent backlash he received for his latest makeup collection. The YouTube star previously unveiled "My Cremated Palette" on May 16, which is set to launch Friday.
"This is a smokey eye dream," the YouTuber said, showing off the new palette in the debut video. The monochromatic palette had shades of gray and black, named "Grave Digger," "The Morgue," "Hearse," and "Casket Ready," among others.
Many fans found offensive and of poor taste as the coronavirus pandemic continues to kill thousands of people around the world. One called him "tone deaf," for releasing a grotesquely-named makeup collection right now.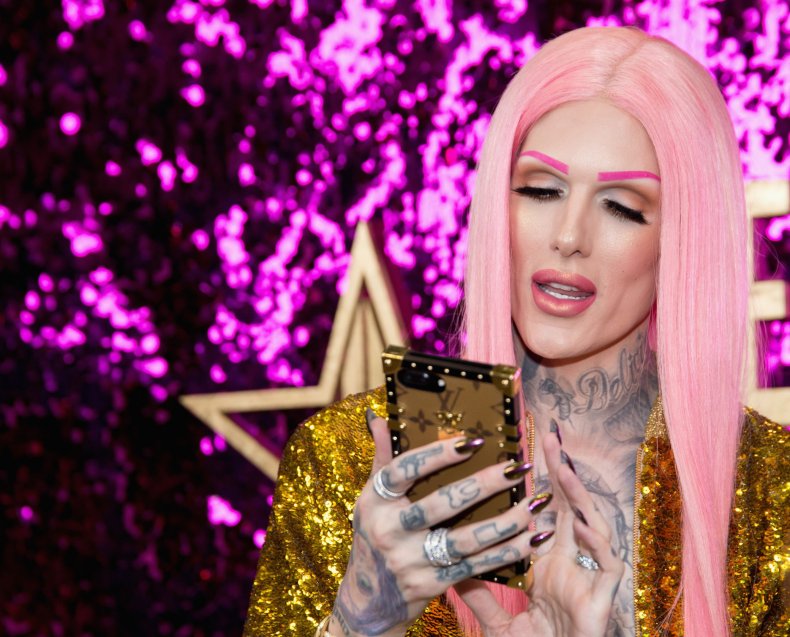 "I'm sorry but with everything going on in the world to launch a palette themed after cremation and the shade names being death related doesn't feel right," one user wrote on Instagram.
"Cremated with the slogan 'get ready to be deceased', during a health pandemic of proportions never seen in the history of humanity? Thanks, but no thanks," another wrote on social media. "My grandma had to be cremated after she died from Covid-19. This seems like bad timing for such a product," a third chimed in about the morbid theme.
Star uploaded a video on YouTube on May 20 where he addressed the backlash he received, and explained why he unveiled the pallet now. "In no way was this created to ever be offensive," Star began. He noted that he created the Cremation Palette over a year ago. Due to the production schedule of the makeup world, if he pushed back the launch for this collection, it wouldn't go out until 2021 and consumers would wind up with expired makeup. Star also explained that he wanted it to be available before his summer collection.
Star continued, "I'm never discrediting anyone's feelings. Everyone is allowed to feel what they want and interpret things how they do. Just know that I only come from a good place."
The makeup artist previously addressed the controversy in a since-deleted Snapchat story. "There's a lot of talk on Twitter," Star started. "Now listen, Cremated, and any palette I've ever created, it's my art. To me, it's not just an eyeshadow palette, it's way more than that. There's always so many meetings with my art and that's what it is, it's mine. I created it for the world and it is allowed to be interpreted any way that anyone wants to take it." He reiterated that the makeup palette and his creations "come from a good place."
Star ended the video on a more sober note. "On a real level, my own father was cremated, my two dogs that passed away last year were cremated, so nothing ever comes from a negative place in my life," he revealed. "If you take it that way, that's how you articulate things, but b*tch, not me!"