YouTuber Maya Maxwell of Tic Tac Toy Turns 8 Today and She's Already Got a Second Career
One of your favorite, child YouTubers is celebrating their birthday today, and continuing to grow their wild online presence at the same time. Maya Maxwell, one of the children from Tic Tac Toy, turns eight on December 2 and her YouTube success isn't slowing down.
Though she's only eight, Maxwell is one of the stars of Tic Tac Toy, a family-led YouTube channel designed for children and families. They specialize in toy reviews and silly videos that advertise trending kid's items from the Mini Brand capsules you see all over TikTok to the classic American Girl Dolls.
Since the Maxwell family—parents Lucy and Jason and kids Maya, Addy and Colin—started their channel in 2015 they've gained 4.13 million subscribers and over 2.2 billion views. It's a wild feat for any channel, especially one geared toward such wholesome content.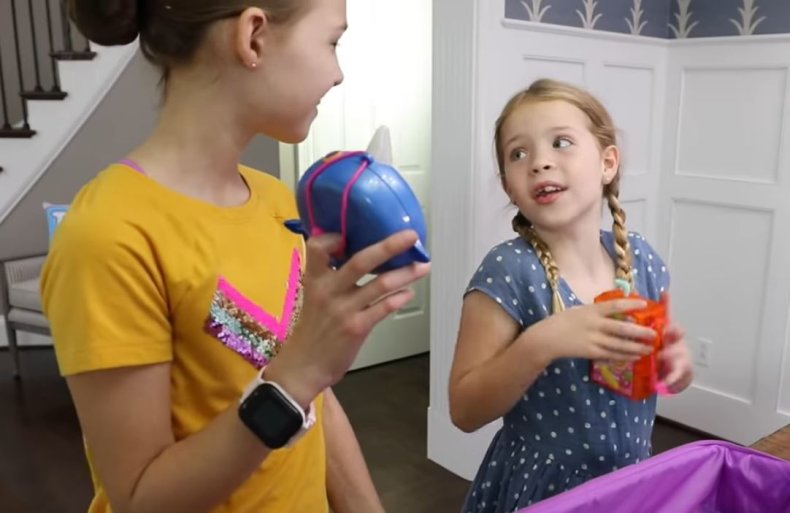 Now that she's eight, Maxwell is still acting as one of the lead stars of the channel. She and sister Addy often star in scripted videos together, like the channel's pinned video "The TOY MASTER is Back!" In series like this, the family scripts "dangerous" situations that add suspense to the toy videos.
Unlike other family channels, for Tic Tac Toy, it really is all fun and games. Even videos with other angles, like "toy home school," use their time to include the kids playing with toys, educational or otherwise.
The success of Tic Tac Toy has brought in muti-millions for the family, and it's all because of Maxwell's love of toys. Before their channel took off, Maxwell spent her free time watching toy unboxing videos on YouTube. The family wondered why they were so fascinating for the child until their own videos took a similar shape.
"I'm seeing dozens of these videos getting tens of millions of views. And I did more research, and people get paid for clicks," Jason told the Tennessean in 2019. "I turned to Lucy and said, 'We're in the wrong business. I think we can do this.'"
Now that the family is so beloved by their YouTube following, they've even branched into their own toy creation. Maxwell and sister Addy have a toy collection available in stores like Target and Walmart and even online retailers including Amazon.
Though Maxwell is only eight, she's one, working part of a multi-million dollar fortune thanks to her love of unboxing, wholesome toy obsession and hardworking family.
You can browse the entire Tic Tac Toy YouTube catalog here.