YouTuber Myka Stauffer, Who 'Rehomed' Her Autistic Son Huxley, Previously Asked For $5 Donations To Raise Him
YouTube personality Myka Stauffer, who adopted a young child from China two and a half years ago, has confirmed that she and her husband have "rehomed" the autistic 4-year-old.
The 32-year-old lifestyle blogger and her husband James have come under fire on social media after revealing their decision about their son Huxley, who also has a brain tumor.
In a tearful video posted on Tuesday, the Ohio-based couple explained their decision to 716,000 subscribers, opening up about how difficult they found caring for Huxley and his special needs.
"I can't say enough how hard Myka has tried throughout this entire journey, the amount of effort she has put in helping Huxley as much as she can," James said. "With international adoptions, there's unknowns and things that are not transparent on files, and once Huxley came home, there was a lot more special needs that we weren't aware of, and that we were not told."
James elaborated on the "numerous therapies" Huxley had received but that his medical needs were ultimately too complex for their family.
Myka added: "There's not an ounce of our body that doesn't love Huxley with all of our being.
"There wasn't a minute that I didn't try our hardest and I think what Jim is trying to say is that after multiple assessments, after multiple evaluations, numerous medical professionals have felt that he needed a different fit and that his medical needs, he needed more."
She also explained she felt "like a failure as a mom."
The couple are also parents to four biological children, Kova, Jaka, Radley, and Onyx. They adopted Huxley in 2017, with Stauffer at the time announcing details of their new arrival in an emotional YouTube video, saying he had "stolen" their hearts.
Stauffer is now experiencing intense backlash from her followers, with thousands of comments decrying the influencer for treating a child like a pet and claiming that she would never "rehome" one of her biological children.
The hashtag #cancelmykastauffer is also being widely used, with many accusing Stauffer of monetizing videos and content about Huxley.
In some of her videos, Stauffer promoted fundraisers she organized for Huxley's needs.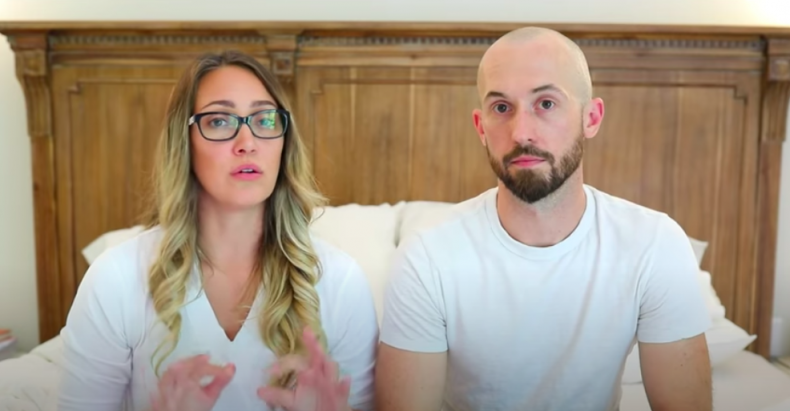 In one from January 2017, Stauffer asked fans to donate $5 to "unlock a puzzle piece" that would one day go into Huxley's baby book so he could see "all the people who helped to generously bring him home."
In May the same year, Stauffer posted a sponsored video saying she was using the money raised form YouTube ads to go towards the adoption, writing in the description: "All Profits are going towards bringing our SON home from China!"
Writer Sophie Ross tweeted: "Extremely depressed reading about the influencer who raised funds to adopt a son, made this her 'brand,' discovered he has special needs, secretly rehomed him, blocked ppl asking about him (after her followers helped fund the adoption) & put out a video making herself the victim."
She added: "To be clear she pretended he didn't exist for MONTHS and deleted comments from concerned followers. Finally JUST addressed it today bc people were tagging her sponsors asking why they're paying someone who, like... gave up their child after gleefully profiting off him for years."
Addressing the outrage, Stauffer said the "insidious, hurtful comments" make the situation worse.
"It's not about me at all, it's just this journey, the last couple months have been like the hardest thing I could have ever imagined to going to choosing to do because ultimately, after pouring our guts and our heart into this little boy..."
The couple has said that Huxley is now "happy" and "thriving" in his new home with his "forever family", adding: "His new mommy has medical professional training, and it is a very good fit."
Since "rehoming" Huxley, Stauffer has changed her Twitter bio to: "Subscribe and follow my life with 4 kids through motherhood."
Stauffer last shared a photo of Huxley to Instagram in March, writing: "Last month was the hardest month I have ever had as a mama. And I'm still working through all of it. But instead of leading with my heart, I'm following yours! #adoptiontrauma #adoptee #adopteevoice #reactiveattachmentdisorder."
Newsweek has reached out to Stauffer for comment.