YouTubers Fined for Dressing Up As Clowns Carrying Fake AK-47s in Prank Video
Two YouTubers have been fined for dressing up as scary clowns and carrying a fake AK-47 assault rifle while trying to film a prank video back in January 2020, as reported by The Brussels Times.
Following their arrest, the 24-year-old men from the Flemish municipality of Waregem, Belgium, were not remorseful and said that scaring some people would be worth the video. They said in a statement: "Frightening a few people is not so bad if you can please a multitude of people."
The police confiscated the YouTubers' memory card—as well as the gun and costumes—meaning the prank video never appeared online.
However, the YouTubers managed to get some content out of their arrest, as they filmed the proceedings during their first appearance in court—despite this being prohibited—and managed to upload the video to YouTube. This resulted in the trial being postponed to June 29 and forced the original judge to step down.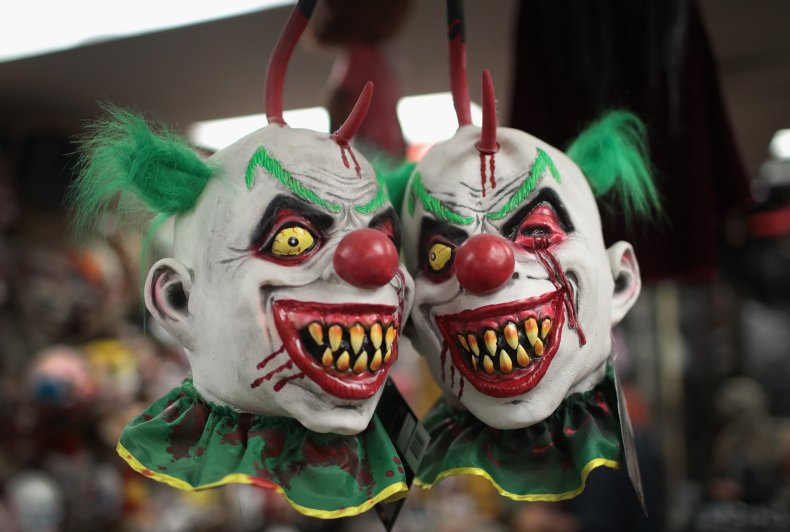 Today, The Brussels Times reported that the pair were prosecuted and that they received a suspended sentence of four months and a fine of €800, which is approximately $945.
Scary clown pranks remain popular on social media, though they were a craze back in 2016. Four years ago, neighborhoods across the U.S.—and internationally—experienced sightings of creepy clowns. There were reports of children being chased by scary clowns, thieves dressed as clowns robbing a fast-food restaurant, and a school was even put on lockdown due to a clown's threats.
While 2016 was a big year for creepy clowns, as the case of the Flemish YouTubers proves, the weird trend has not died out yet.
In 2019, children in England were seen screaming and running away from a clown, dressed as Pennywise from Stephen King's It, in a forest. They pleaded with a passerby for help, who then called the police, but when the clown lifted his mask the children appeared to recognize the man.
In July 2019, in Los Angeles, a man in a mask and clown wig led police on a chase for approximately 35 miles, with some of that distance spent standing up through his car's sunroof. The clown led the police from Orange County to Venice Beach and then ran towards the ocean before the police caught him. When the police caught up with him, he was playfully helping bury someone in the sand.