YouTubers Come Together to Fundraise for Team Trees to Help Combat Climate Change
YouTubers are rallying together to help plant 20 million trees by 2020 through fan donations to the Arbor Day Foundation in an attempt to help the planet. Calling the movement "#TeamTrees," the dozens of YouTubers have already reached a quarter of their goal.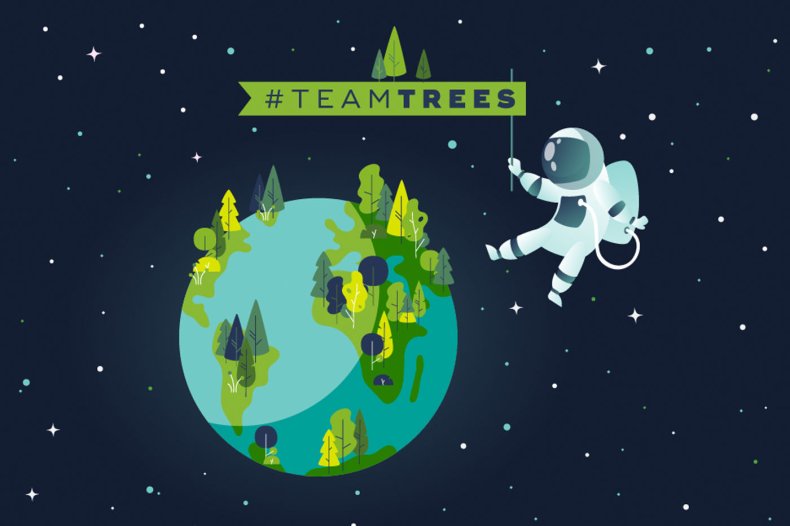 Starting with Jimmy "MrBeast" Donaldson and former NASA scientist turned YouTuber Mark Rober, dozens of collaborations and fundraising efforts have been started over the past week. The idea originally stemmed from Donaldson's fan base messaging and tweeting at him to do something good with his time and money, like planting 20 million trees for hitting 20 million subscribers on his channel. The idea appealed to the YouTuber who worked behind the scenes over the past five months to create a collaboration with as many YouTubers willing to jump on board.
Donaldson and Rober reached out to the Arbor Day Foundation, which is the largest nonprofit dedicated to planting trees. During the past 50 years, the organization has helped plant more than 350 million trees among the United States national forests and around the world.
"Our mission is to inspire people to plant, nurture and celebrate trees," Woody Nelson, the vice president of Marketing Communications of the Arbor Day Foundation told Newsweek. "This has been fantastic, just to know this community of young people cares. They are really stepping up to make a donation."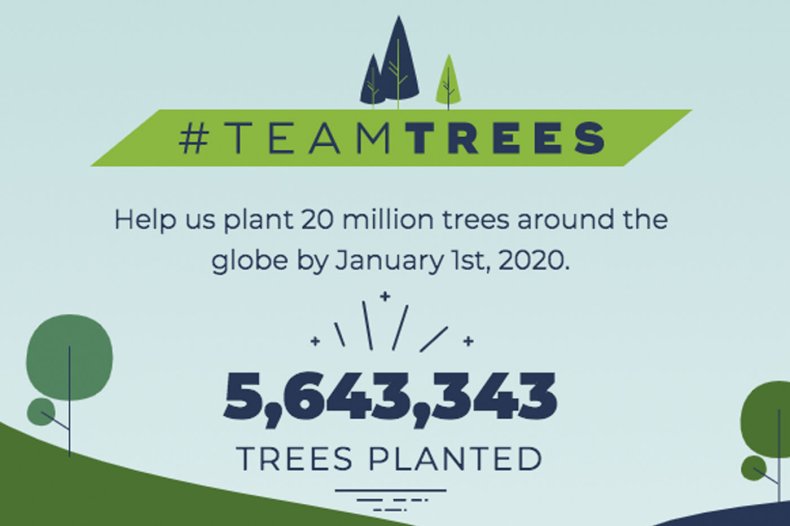 In just more than two days, more than 5.3 million trees have been planted thanks to do the donations and fundraising efforts by YouTubers and fans alike. For each dollar donated, the Arbor Day Foundation will plant one tree "in a forest of high need around the globe" according to the Team Trees FAQ. According to Nelson, most of the money raised will go towards the "Reforestation" program that "brings forests back to their natural state which takes a lot of trees."
Content creators from all across the internet are working together on this collaboration. Seán William "Jacksepticeye" McLoughlin held a Minecraft stream on his channel, raising $153,000 to planting trees. Donaldson's original video announcing the initiative has acquired 24 million views and has been hovering at the top of the trending charts since the announcement.
Other collective channels like Linus Tech Tips, the Try Guys, HowToBasic and dozens of others have already posted their own videos. YouTubers fundraising for charity is nothing new; over $20 million was raised in 2018 alone for dozens of different causes.
Musician Alan Walker donated $100,001 to the initiative, helping spread the cause further.
The "#teamtrees" has been trending for days on Twitter, with thousands of tweets getting spread every hour. The movement that includes so many large personalities with a worthy cause has managed to catch on like a social media wildfire.
"The way our world is today, it's wonderful that so many people in this YouTube community really care," Nelson said. We think that's fantastic. If ever there's been a time to plant trees, now is that time."